This dining room was a builder basic as they come. Soulless. Zero character. Zero style. It. Was. Bad.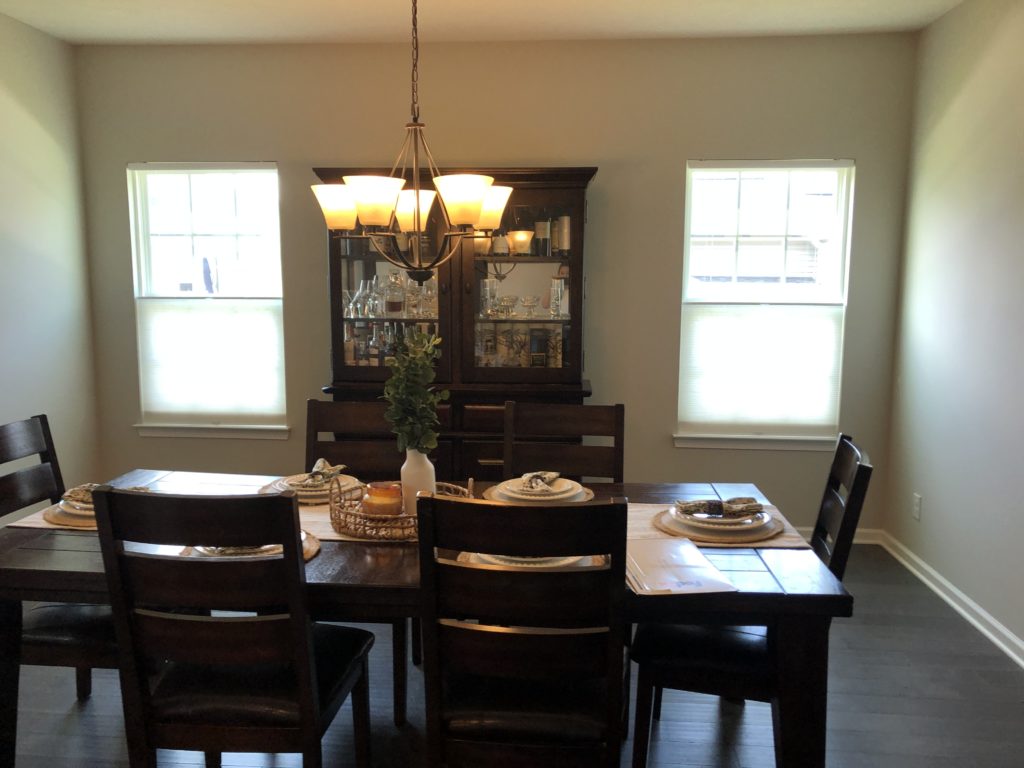 Together with Anthony Slabaugh Remodeling & Design, we transformed this lackluster dining room into a beautiful, custom retreat filled with functional storage and comfortable details.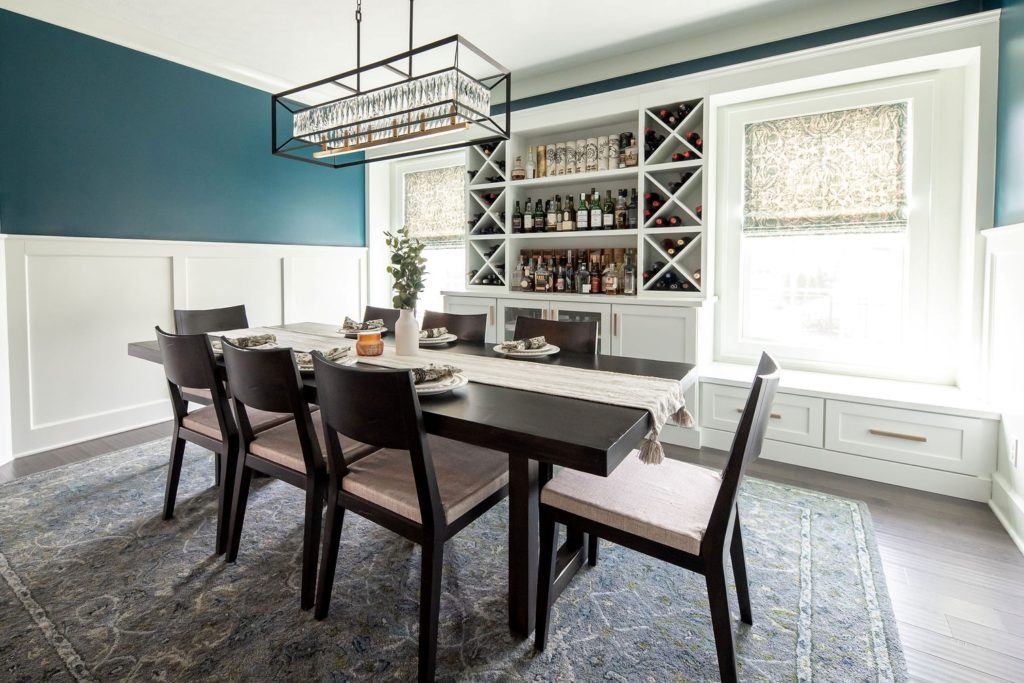 Why yes, that is the exact same room. It's amazing what custom woodwork, quality furniture, beautiful lighting, and custom window treatments can do for a room!
Custom Woodwork
Let's start with the woodwork. There was literally no woodwork in the room, other than the baseboards. As you can see, we added a LOT of woodwork to the room.
The main woodwork goal was STORAGE! The owners have an extensive whiskey and wine collection, and their old dining room lacked storage for all of their treasures.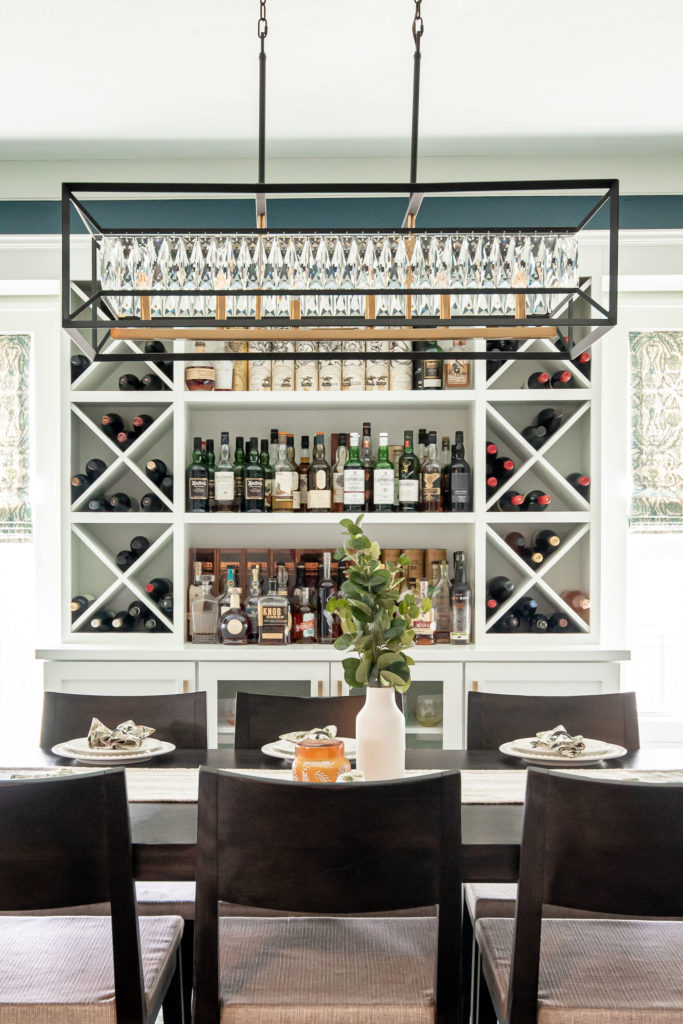 Woodwork does wonders to increase the personality of a space. This room is a great example of more modern woodwork that doesn't make the room feel too stuffy or overly formal.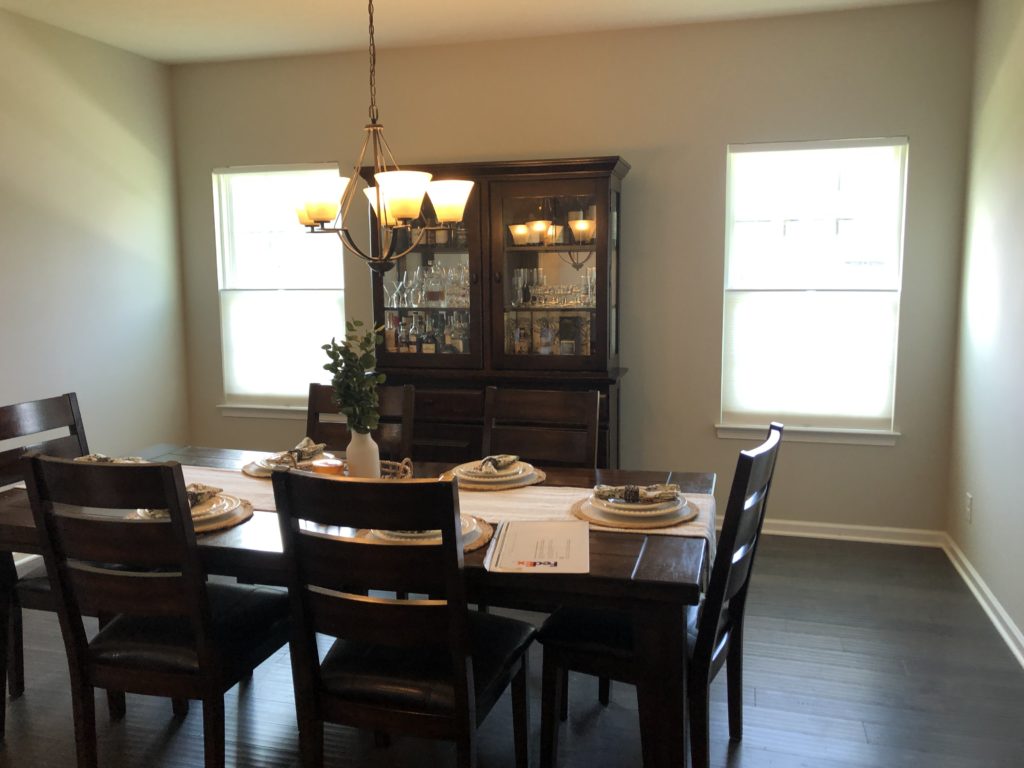 Because the room had zero soul before, we couldn't just add a built-in in between the windows. The windows had no casing. There was nothing else on the other walls. Plopping a big built-in on one wall, with zero supporting character, would have looked majorly unbalanced.
To remedy this issue, we added built-in window seats with deep drawer storage under the windows.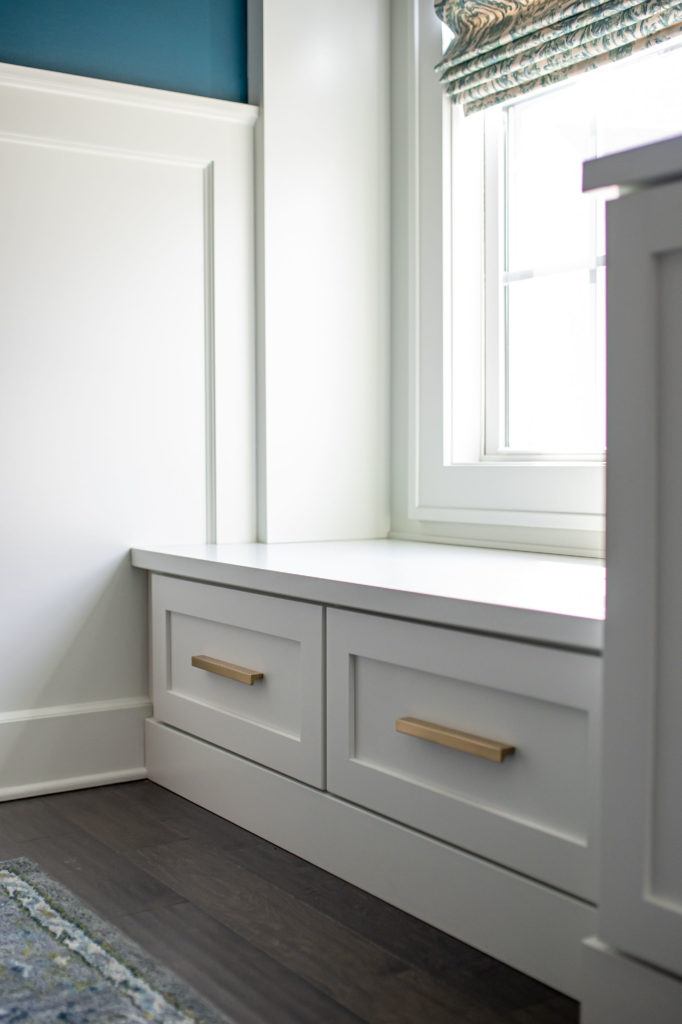 We also added casing around the windows. Honestly, I hate windows with no casing. They don't look finished. And when you're adding custom built-ins and storage all around them, they'd especially look unfinished if we hadn't added casing!
Lastly, the other walls were still looking a little plain, so we added some simple wainscoting. This style of wainscoting is called "board and batten." It is less formal than some of its counterparts.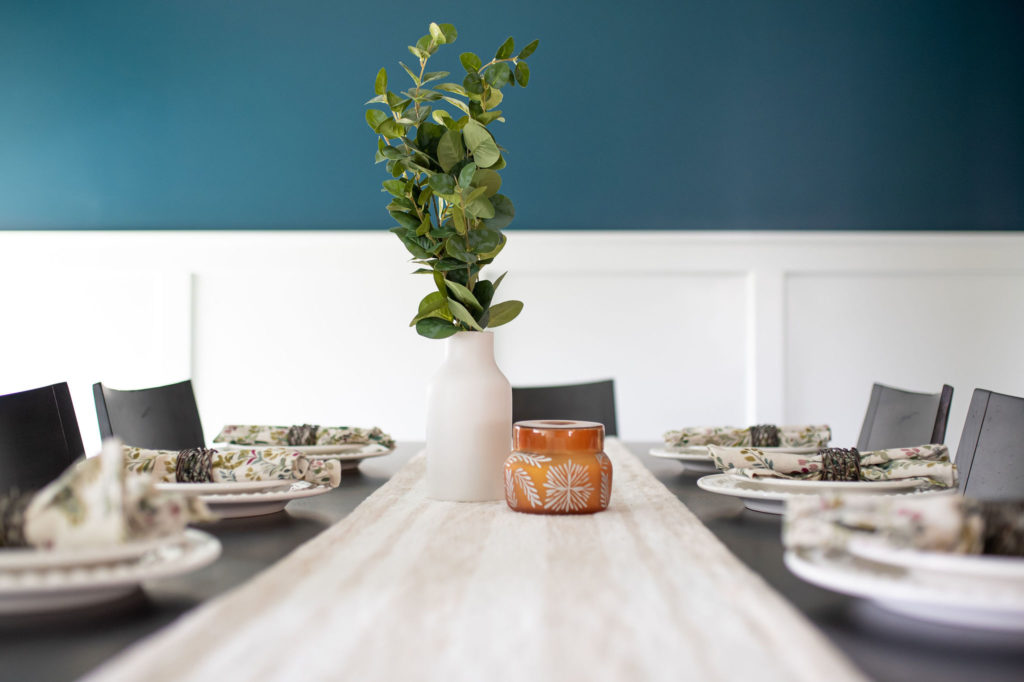 Now that we've discussed all the structural changes, let's talk about the rest of the design!
Wall Color
Because so much of the dining room was going to be white woodwork, I encouraged them to select a bolder color for the walls. Why? Bold colors will make white woodwork stand out. Light colors will blend into the woodwork. If you're building all this custom woodwork, why not have it be the star?
My clients tend to gravitate toward neutrals, but they have a dark teal chair in their family room that they both adore.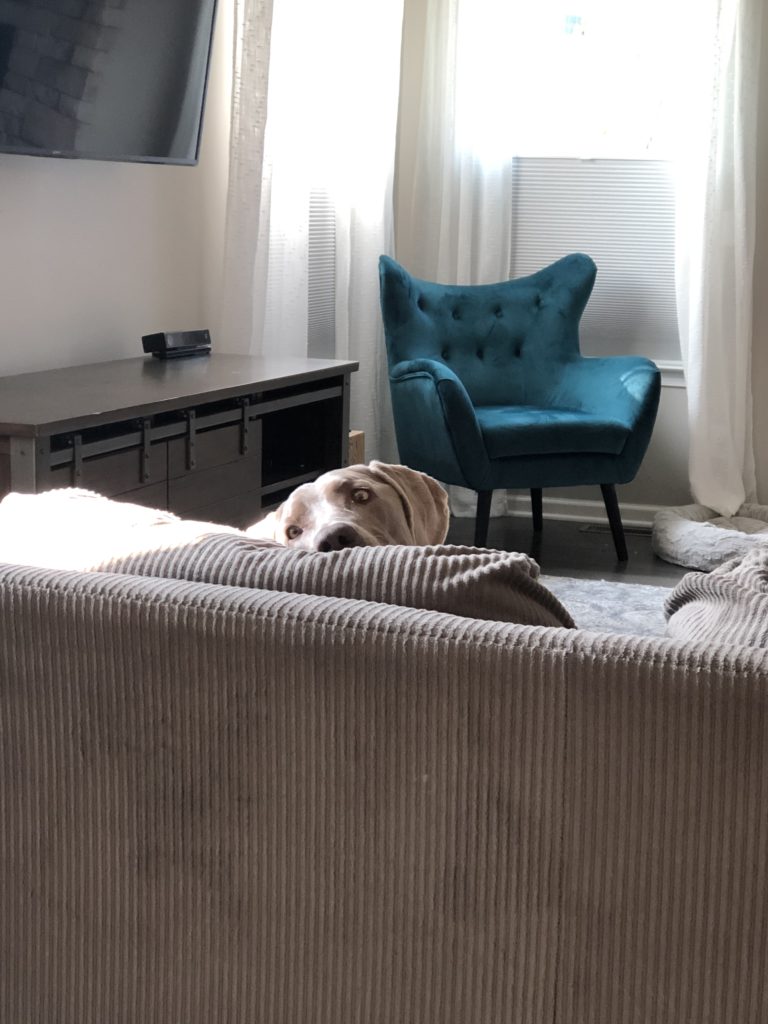 I recommended carrying this dark teal into the dining room for some bold contrast. The teal doesn't overwhelm the room because there's so little of it on the walls. As you can see below, there's a large opening between the dining room and the hallway, essentially eliminating one wall. The built-ins take up a whole wall, and the wainscoting takes up half of the two remaining walls.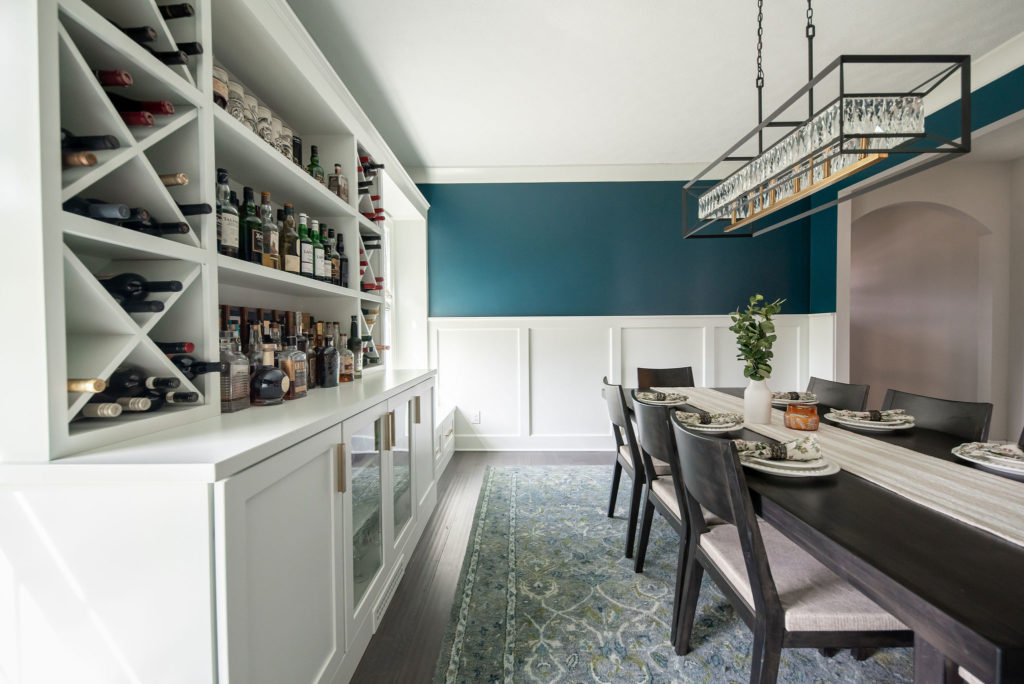 The moral of the story: you can go bold in small increments. Just try it!
The Rug
Next up, we had the rug. There wasn't a rug before, but a dining room feels pretty incomplete without one. My clients had a large gift certificate to a random home decor store that was generally way too traditional for their taste. They asked me if I could try to find ANYTHING from there that would work for the room, and lo and behold – I found this rug!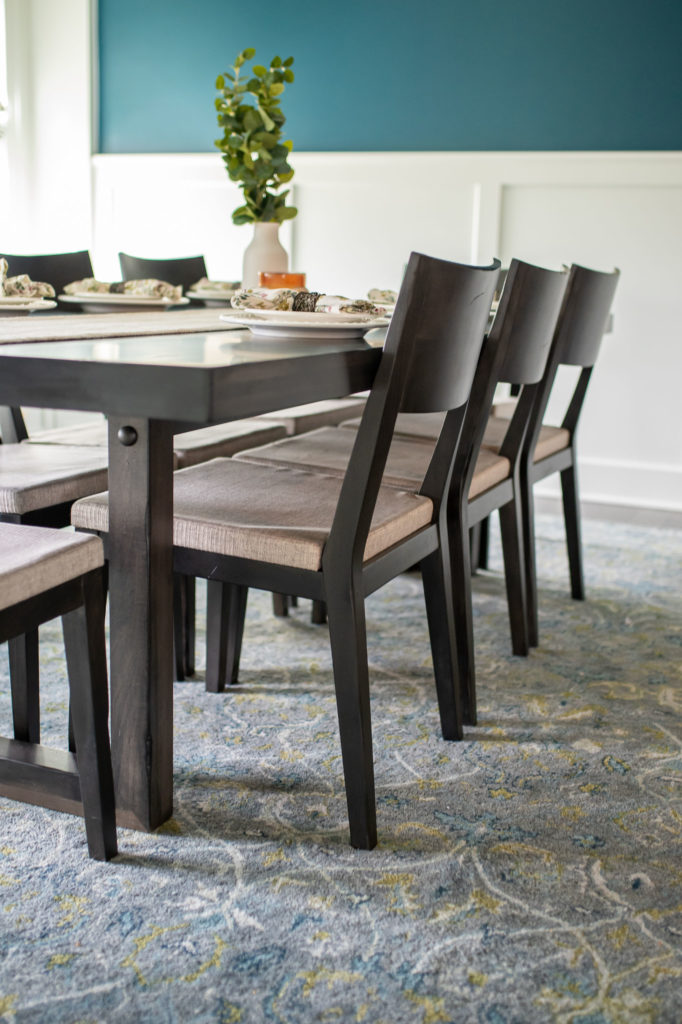 The rug has grays and whites that are prevalent throughout the rest of the home, plus the dark teal that we selected for the walls. It's wool, so it'll last for decades. It was a great find, and it ended up being the inspiration for the roman shade fabric.
Window Treatments
Speaking of these roman shades, we elected to do internally mounted romans to make sure none of the brand new custom woodwork was covered up.
I love a good fabric hunt – it's one of my favorite parts of my profession. When I was hunting for teal fabrics, this one spoke to me!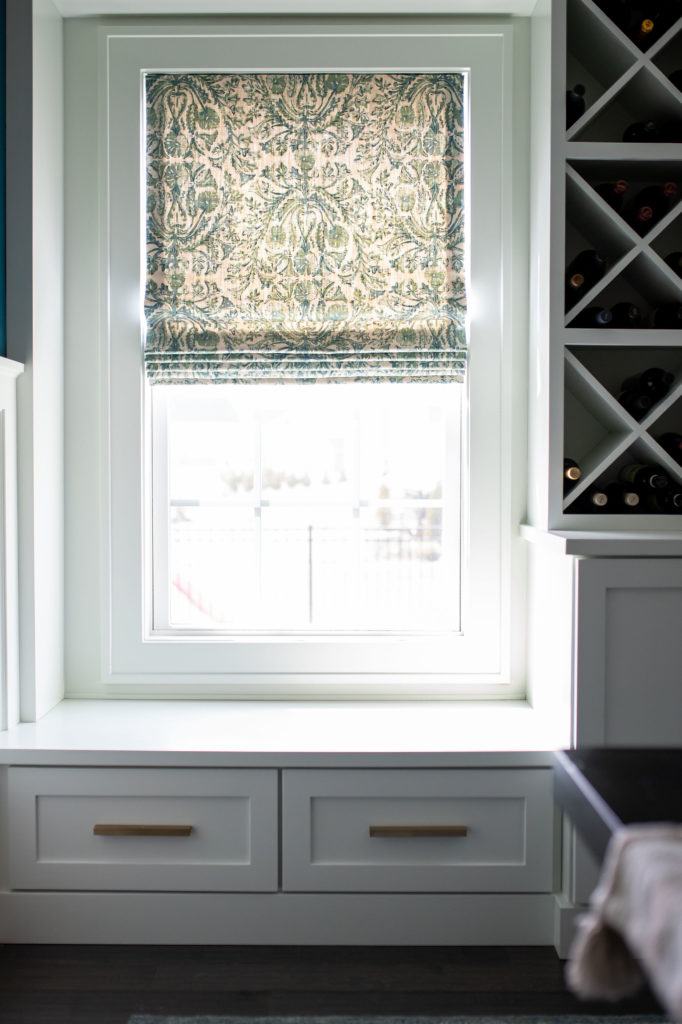 The pattern's curves mimic the curves in the rug so well! The color palette was also perfect. Yes, there's SOME teal in the fabric, but there is also plenty of neutral space. The teal isn't overwhelming, yet it coordinates nicely with the teal walls and the teal in the rug.
The Furniture
My clients wanted furniture that didn't scream "this is a stuffy dining room," and that they'd be comfortable sitting at during an informal party.
The set we selected accomplishes just that. Its dark charcoal finish is a lot less formal than a traditional cherry or walnut stain. The table and chairs have sleek, modern lines.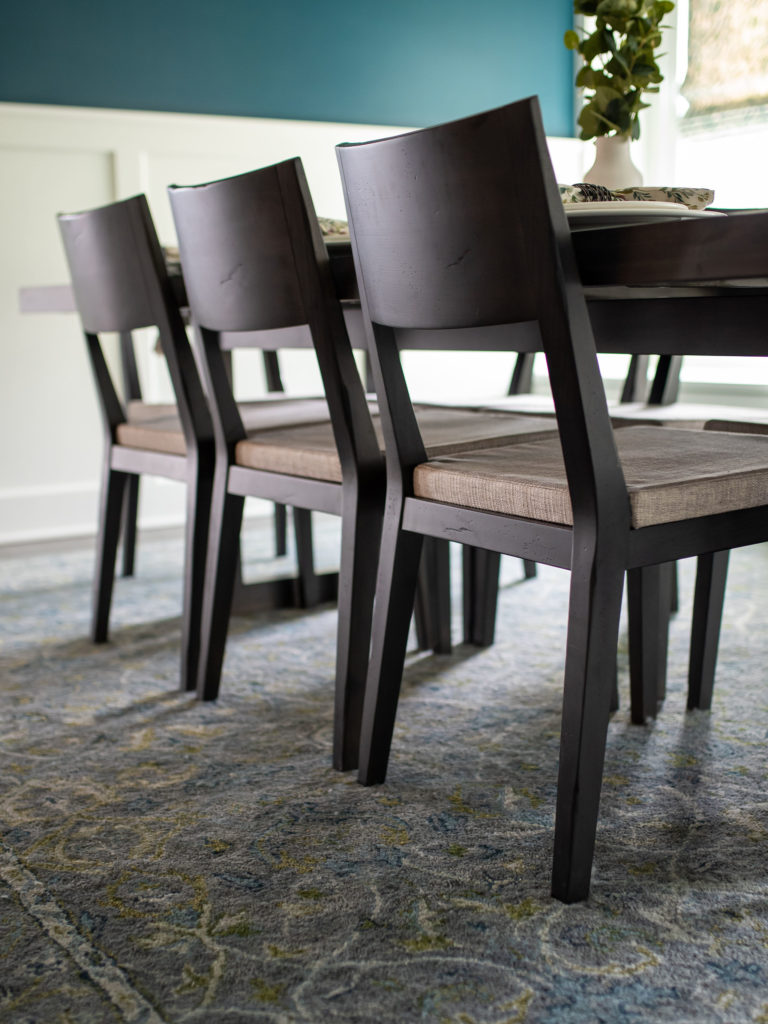 The best part about this set? It's hand made in the USA with North American hardwood! This is durable furniture.
The Chandelier
Last up – that chandelier! There is usually one sticking point in ever room. In this case, it was the lighting! My clients really didn't like the look of most traditional chandeliers. Anything with a candle-like fee? No. Round orbs? No. Lots of bling? No. Super basic? No.
It is just as useful for a designer to understand what our clients don't want. By process of elimination and some skillful online searches, we found this beauty!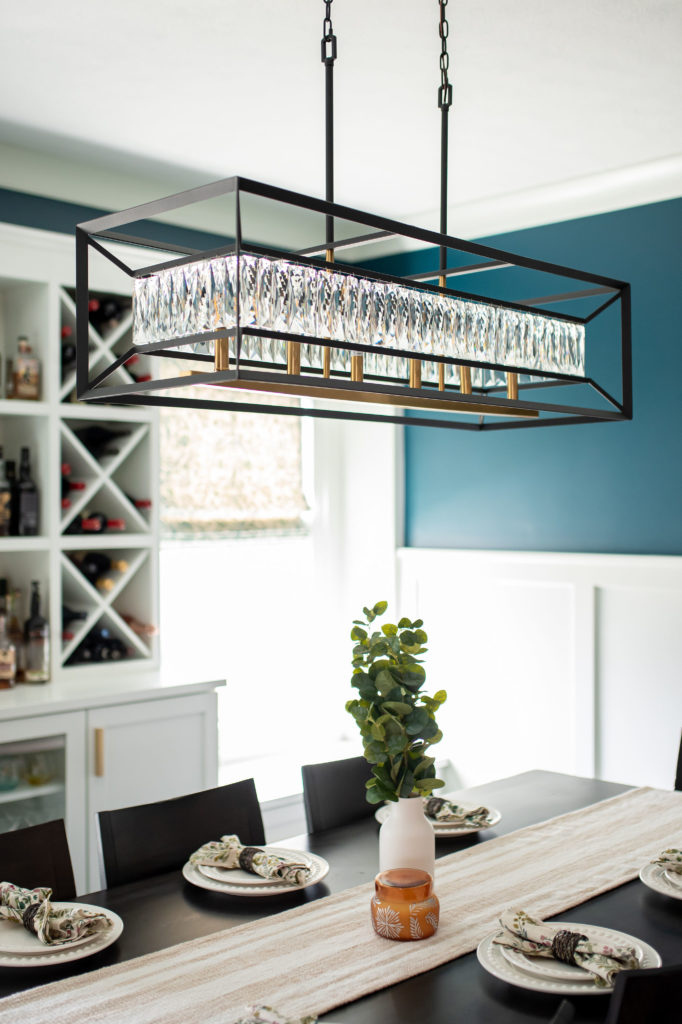 It's hard to tell from the photo, but the crystals are really shiny and cast beautiful prisms when the light hits them. The rectangular shape was perfect for the space, and the light is neither overly blingy nor overly plain. It took a while, but we nailed this one!
Is your dining room under-used and under-decorated? Contact us to chat about transforming your space into a room that people want to be in!