This room needed a little love. The bones were fantastic: gorgeous woodwork and pillars, beautiful blue walls, and lovely wood floors. But the furniture and décor needed some attention.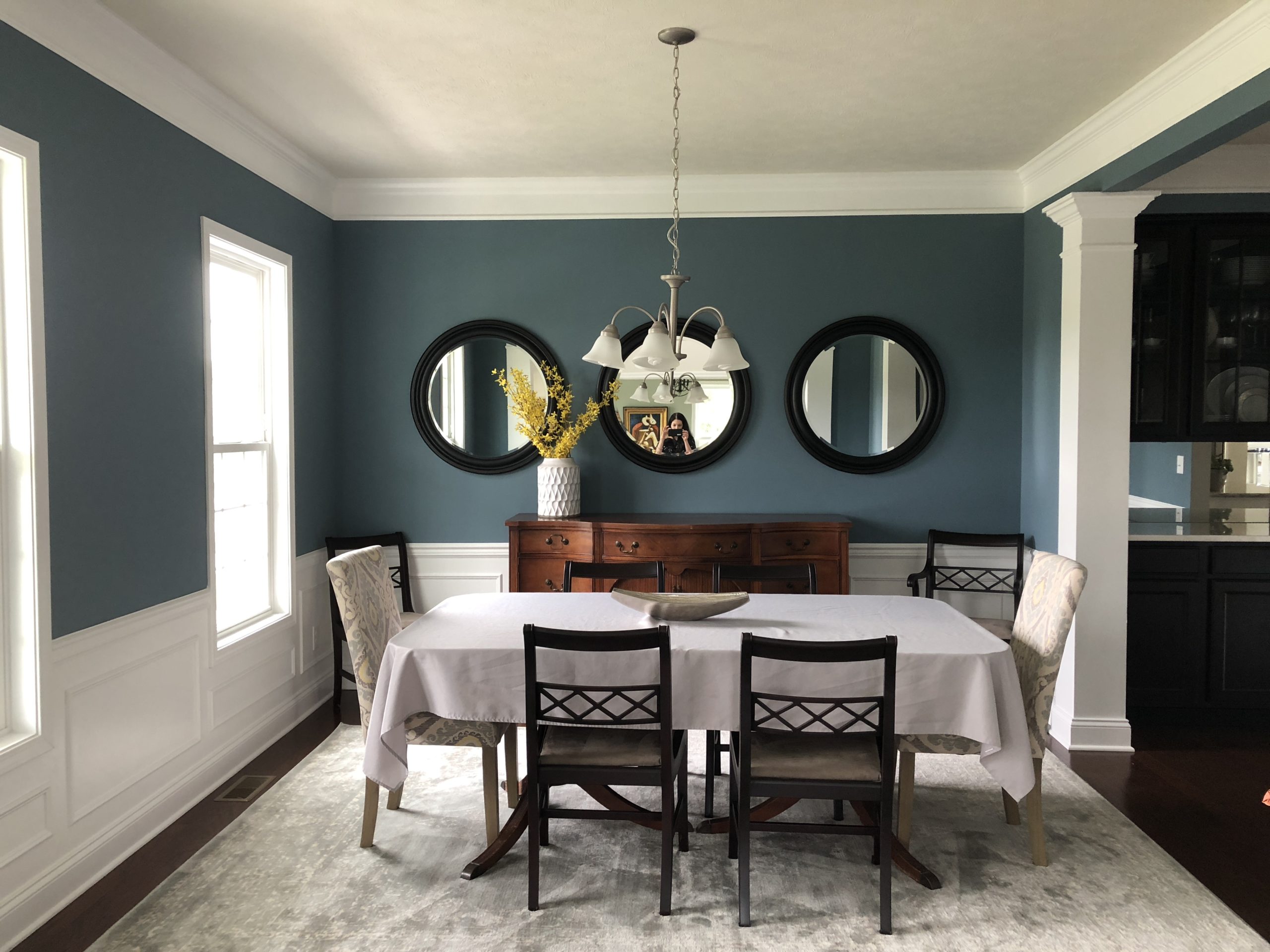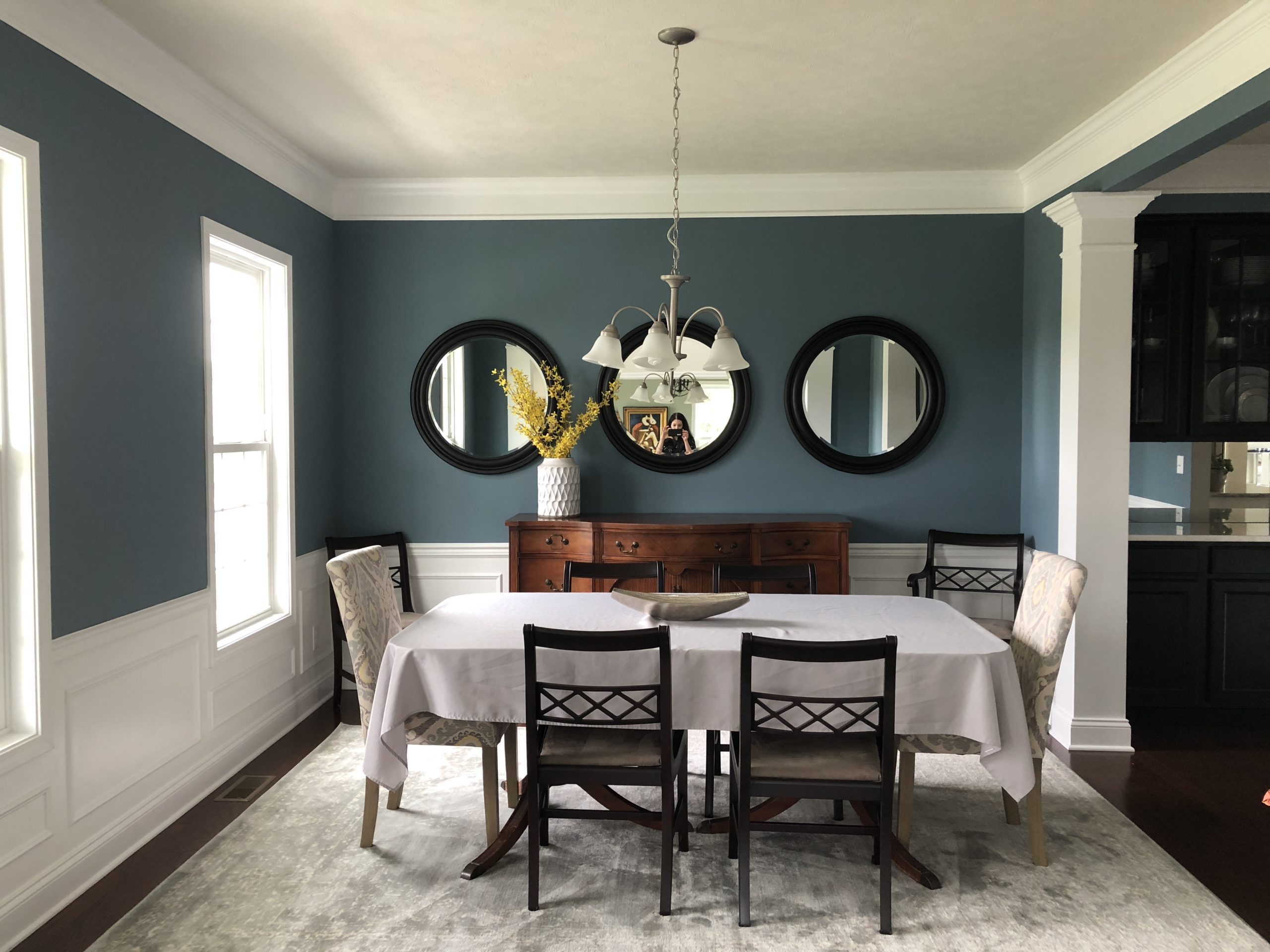 Sigh. That chandelier makes my blood boil. This is a very upscale home in a really nice Hudson development…and the builder hangs THAT THING in the dining room. I can't even.
Obviously, the chandelier had to go. The dining table, side chairs, and buffet are all family heirlooms. If you've ready any of my previous posts or know me at all, you know my opinion on family heirlooms.
For those of your who are new here, I am INCREDIBLY SENTIMENTAL AND TOTALLY ON BOARD with keeping as many family pieces as possible in my clients' homes. Does that mean I can't sell a client as much new stuff? Sure, but that's not my mission. My mission is to create a unique home for each of my clients – a home that reflects their family history. Who wants a cookie cutter furniture store display dining room? If you do, I am probably not the right designer for you, and that's totally ok.
Ok, enough of my little soapbox rant – back to the furniture! The table itself was just a little too beat up and rickety to stay in the dining room. (It got repurposed as a craft table, so it still wasn't completely scrapped for no good reason.) The buffet and side chairs, however, were a great scale and in good shape. So we burned them in the back yard and dumped the remains in the river.
Hahaha – kidding! We of course kept the beautiful pieces and just spruced them up a little!
Here's another view of the dining room before: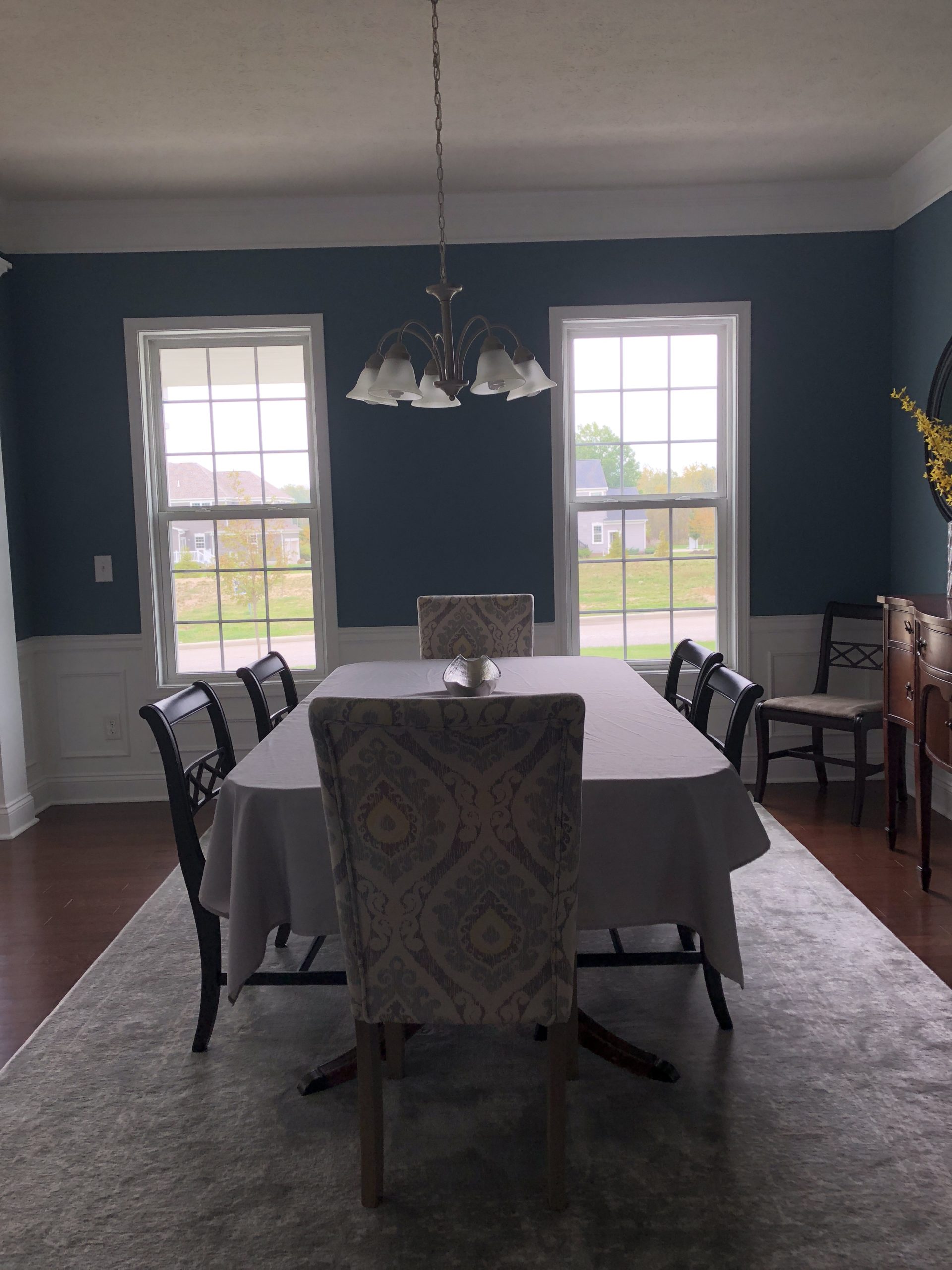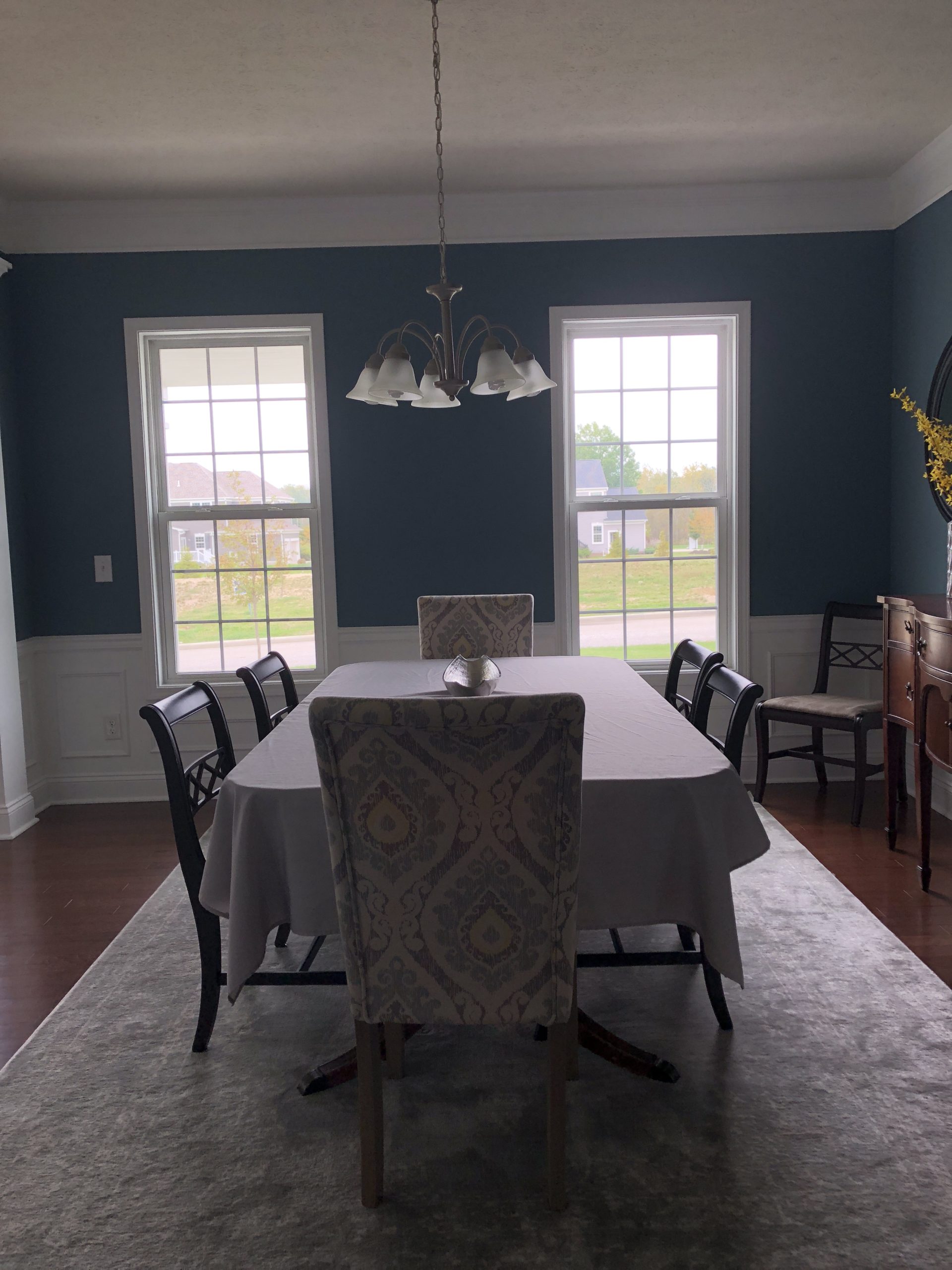 I know – my photos are TERRIBLE. I honestly think the "before" photos I did for this house are by far the worst and most sparse of any project I've ever done. Oh well. Let's look at some "afters!"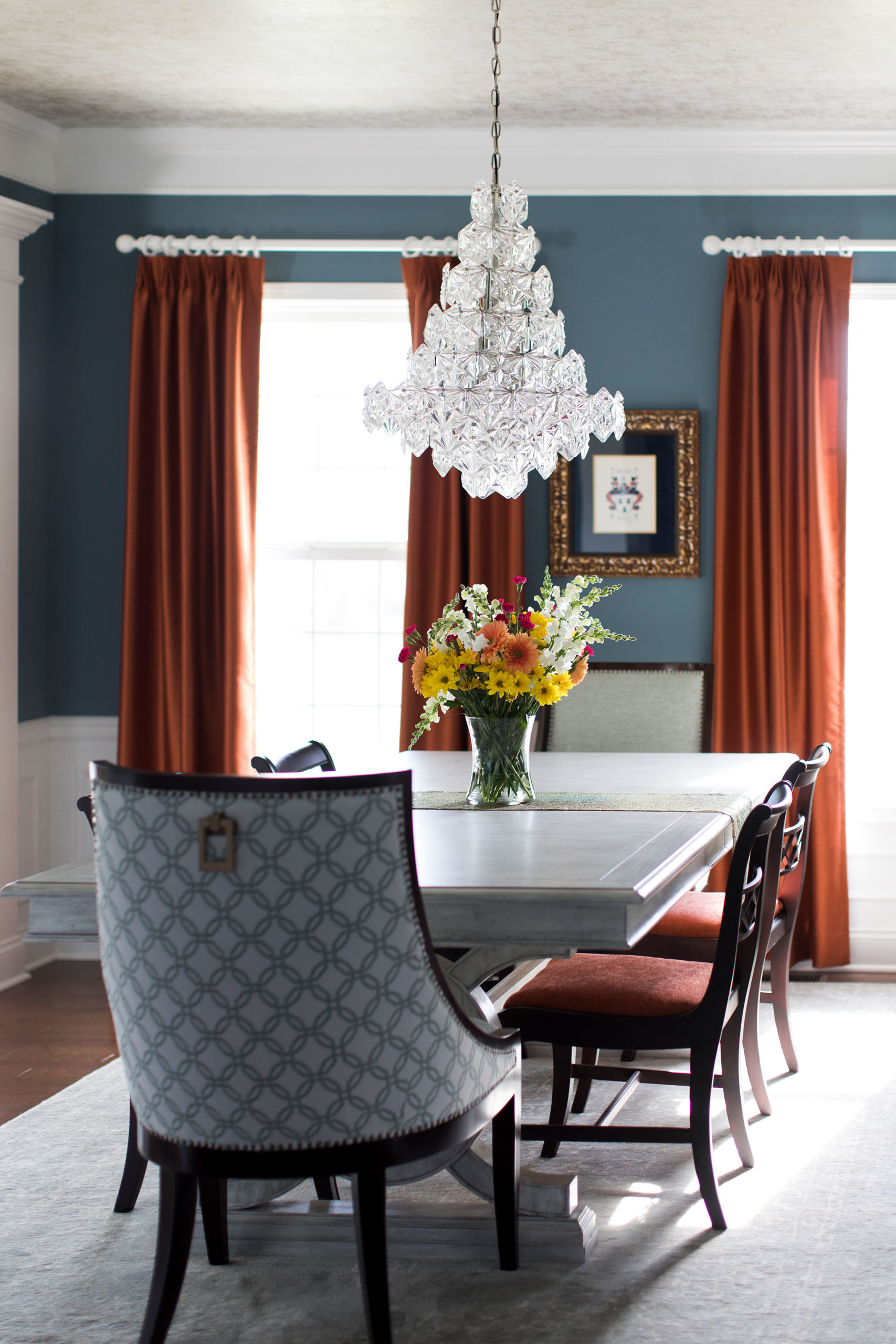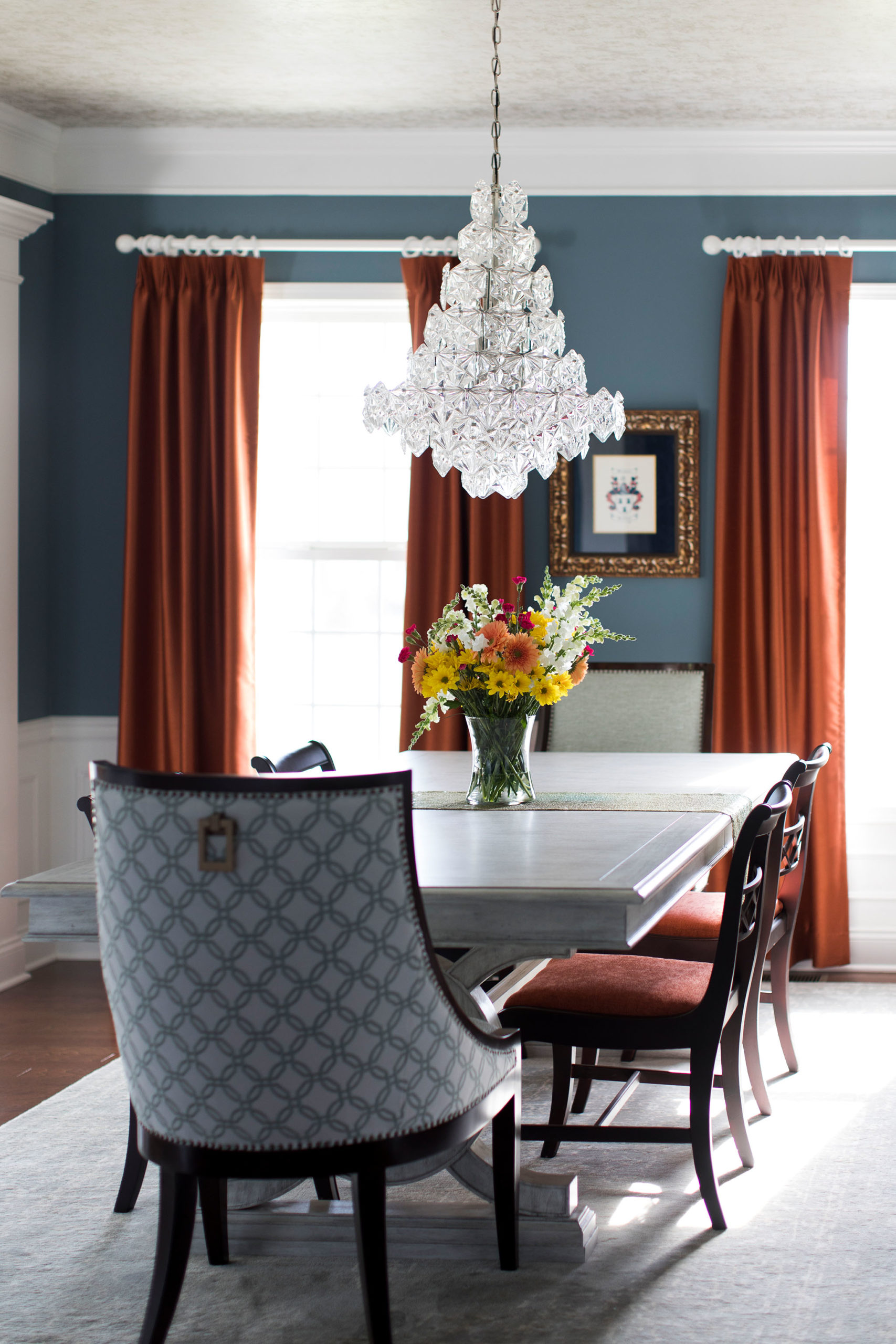 We kept the beautiful blue walls and of course all of the woodwork. We ALSO kept the original rug! The chairs were recovered with a beautiful rusty orange performance fabric. I also replaced the big box store host chairs with two custom host chairs.
I chose the fabric on these chairs specifically to coordinate with the rug I knew my clients wants to keep.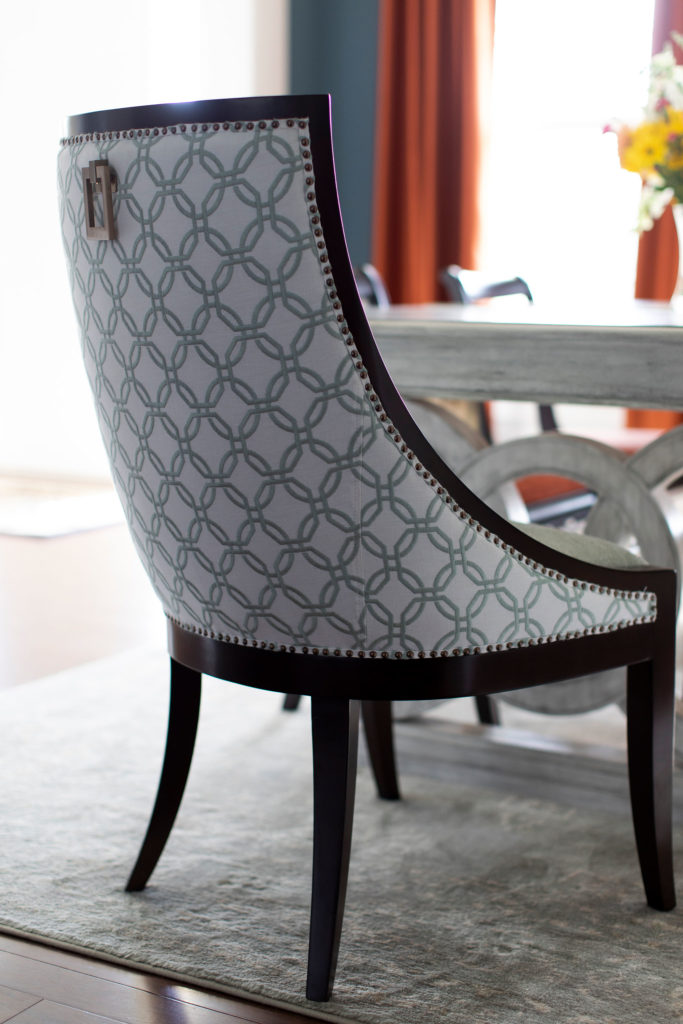 The outside is an embroidery. This is what I call a "semi-fussy" fabric. It's perfect for the OUTSIDE of a chair, since you generally don't eat on the outside of the chair. Ever.
The inside fabric is a performance Crypton that can be cleaned super easily with some warm water. It's the opposite of fussy, and perfect for kiddos, wine spillers, and anyone else who has trouble with the whole "fork to mouth" thing. (…she types, as she avoids eye contact with herself, knowing she's super guilty of major spillage…)
Next up, let's discuss the buffet and the artwork above it.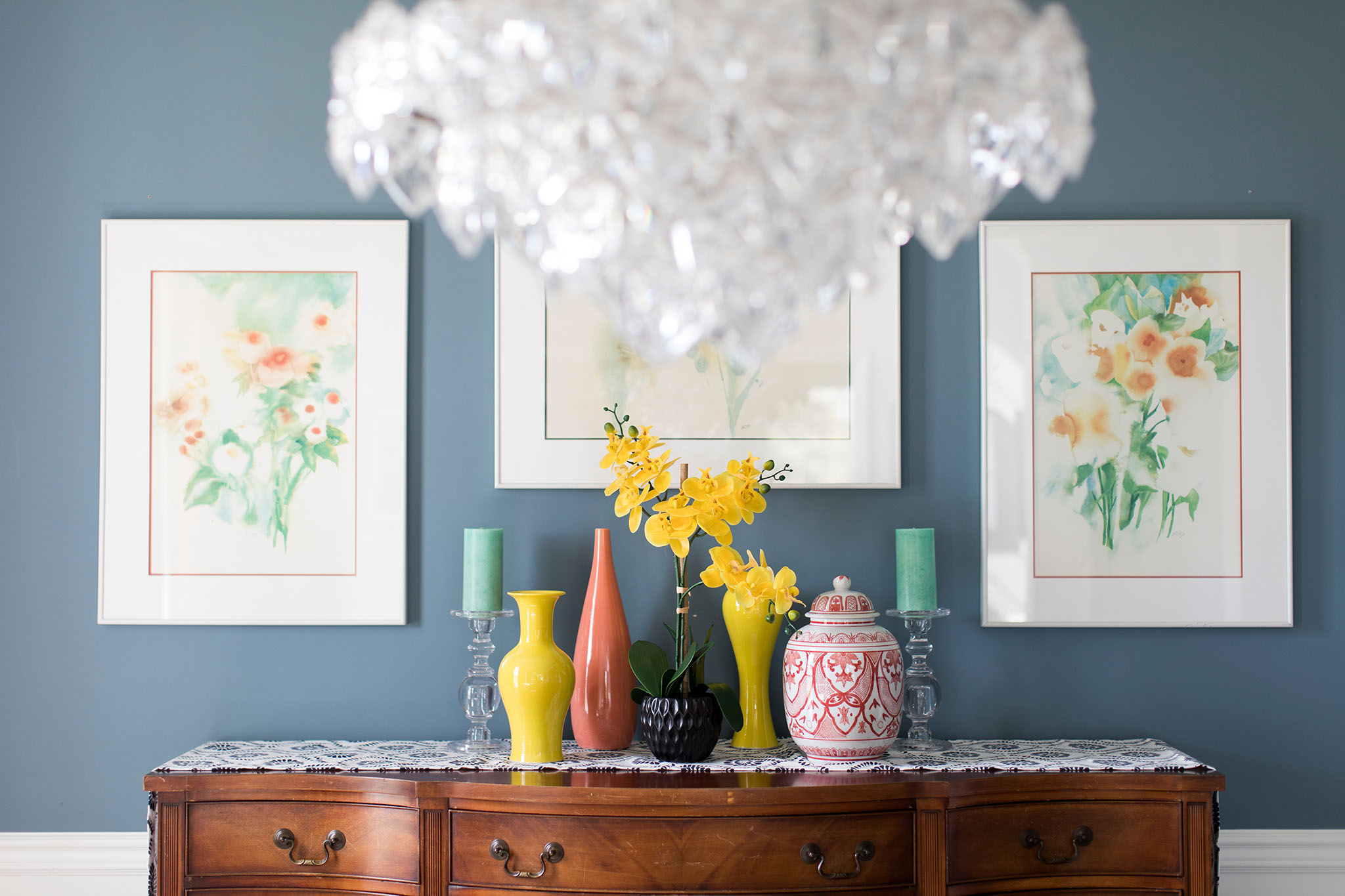 The buffet itself didn't need any sprucing. It's perfect just as-is. It just needed a few accessories on top! I combined some of my client's existing accessories with some fun punchy yellow and coral vases. The sea foam green candlesticks are also a perfect addition to tie into those beautiful watercolor florals.
The florals are also family pieces that the client already had. Aren't they just lovely in this space?
The triple round mirrors ended up looking a little too much like portholes and had to be rehomed.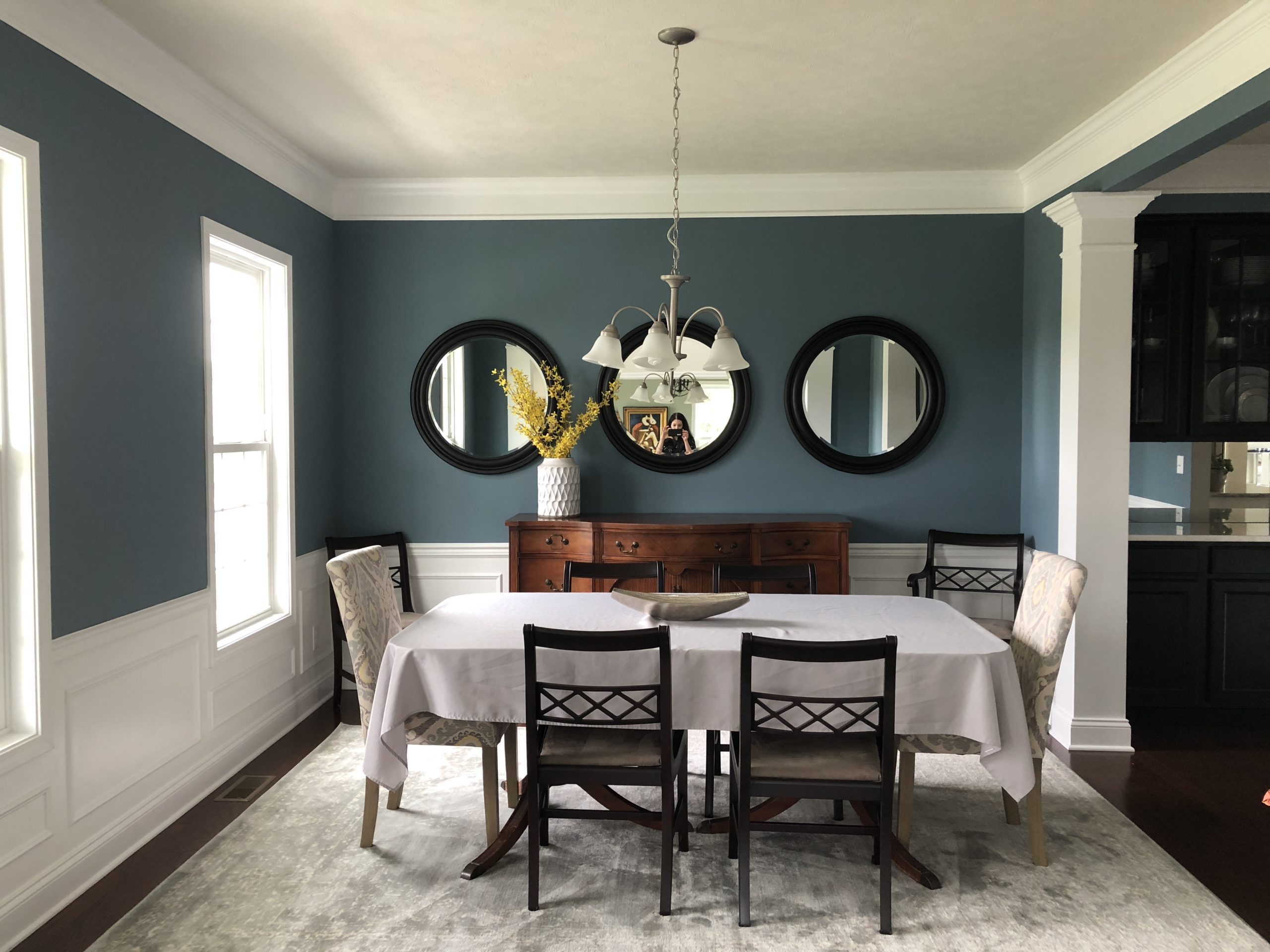 Take one more look at the "before" photo above. Then, marvel in the glory of the new chandelier: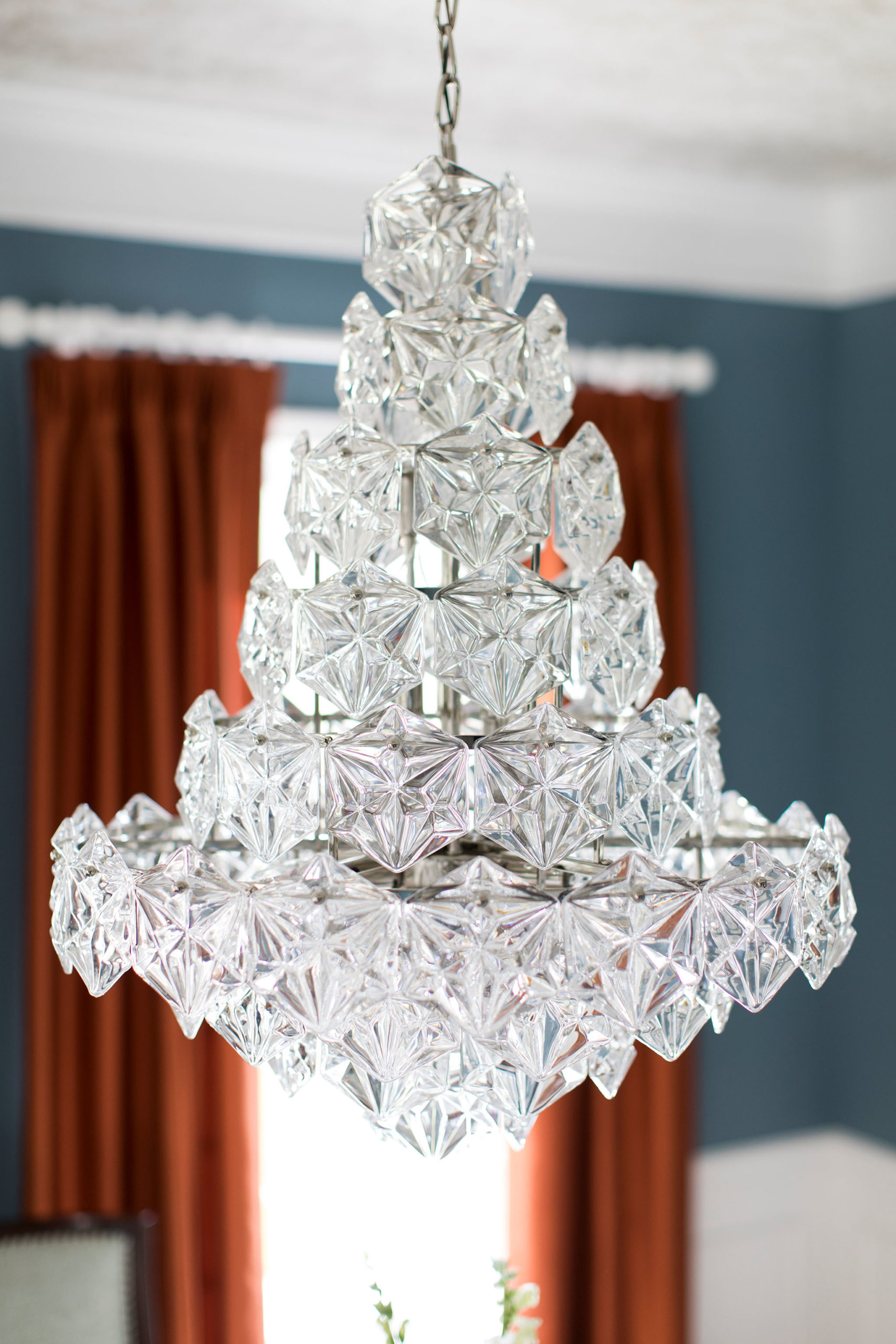 It's so fantastic. And really is the crown jewel of the room.
See?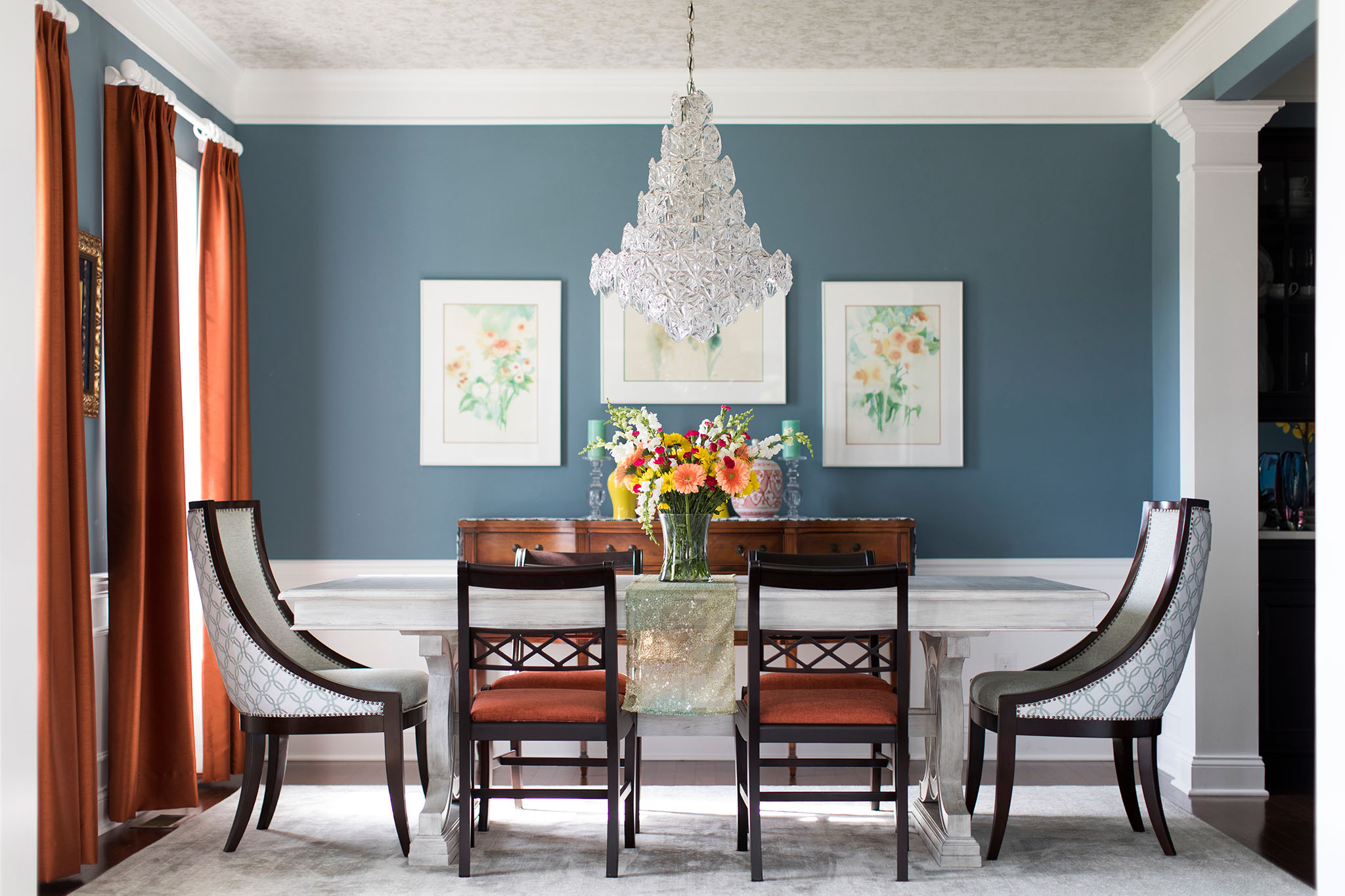 Oh wait – what's that we see on the ceiling? Why, it's wallpaper! YES! I selected a subtle gold and silver paper to jazz up the flat ceiling.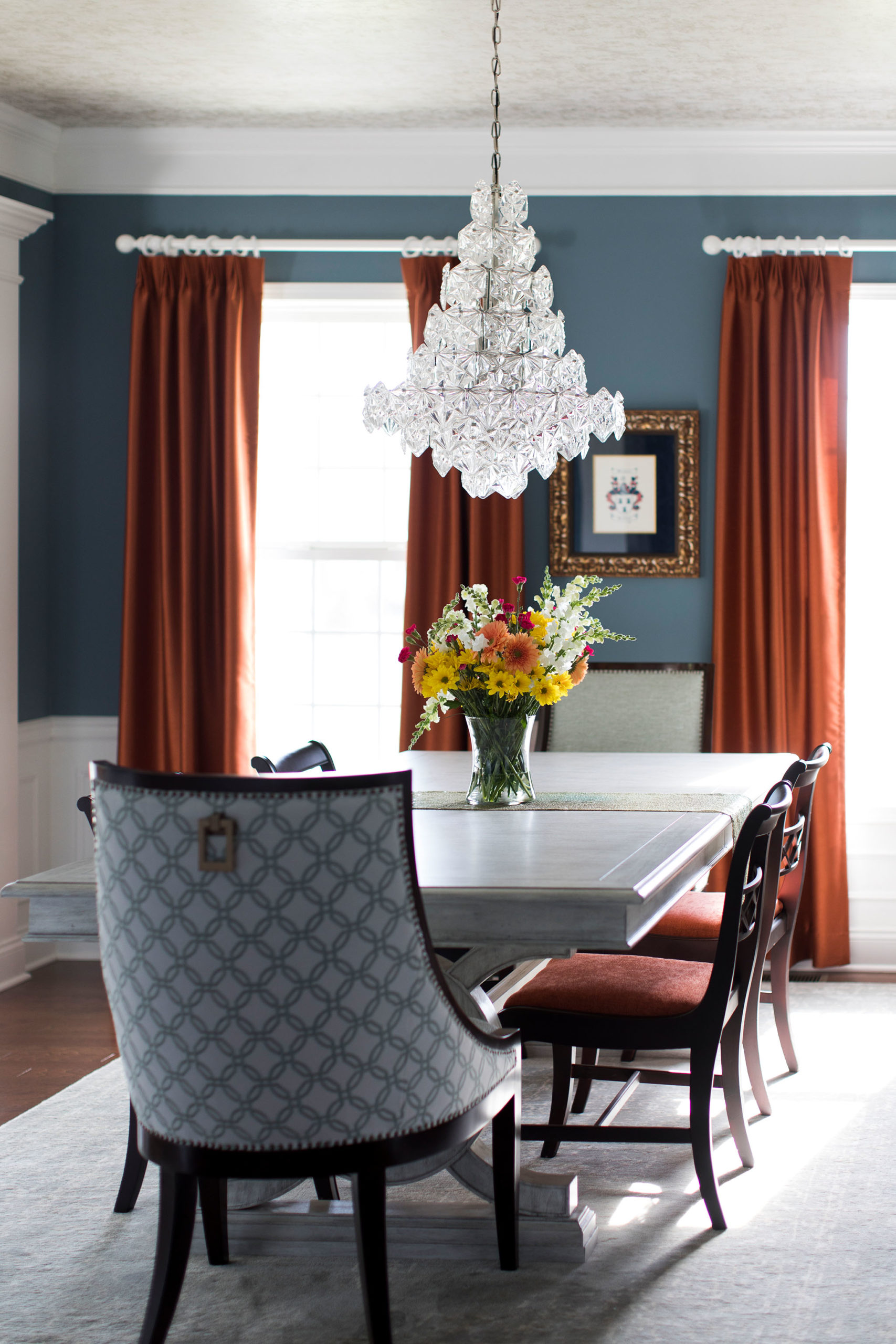 When you're done staring at the wallpaper, check out the beautiful new dining table I selected to bring some contrast and lightness to the space. Isn't she pretty?
Lastly, let's talk draperies. The vast majority of dining rooms can benefit from draperies. It's a room filled with wooden furniture. Draperies provide a soft contrast to all that hard wood. I strongly encourage most of my clients to add draperies to the dining room – even clients who really aren't keen on having window treatments in most of the other rooms in the house. They make a HUGE difference!
Remember this?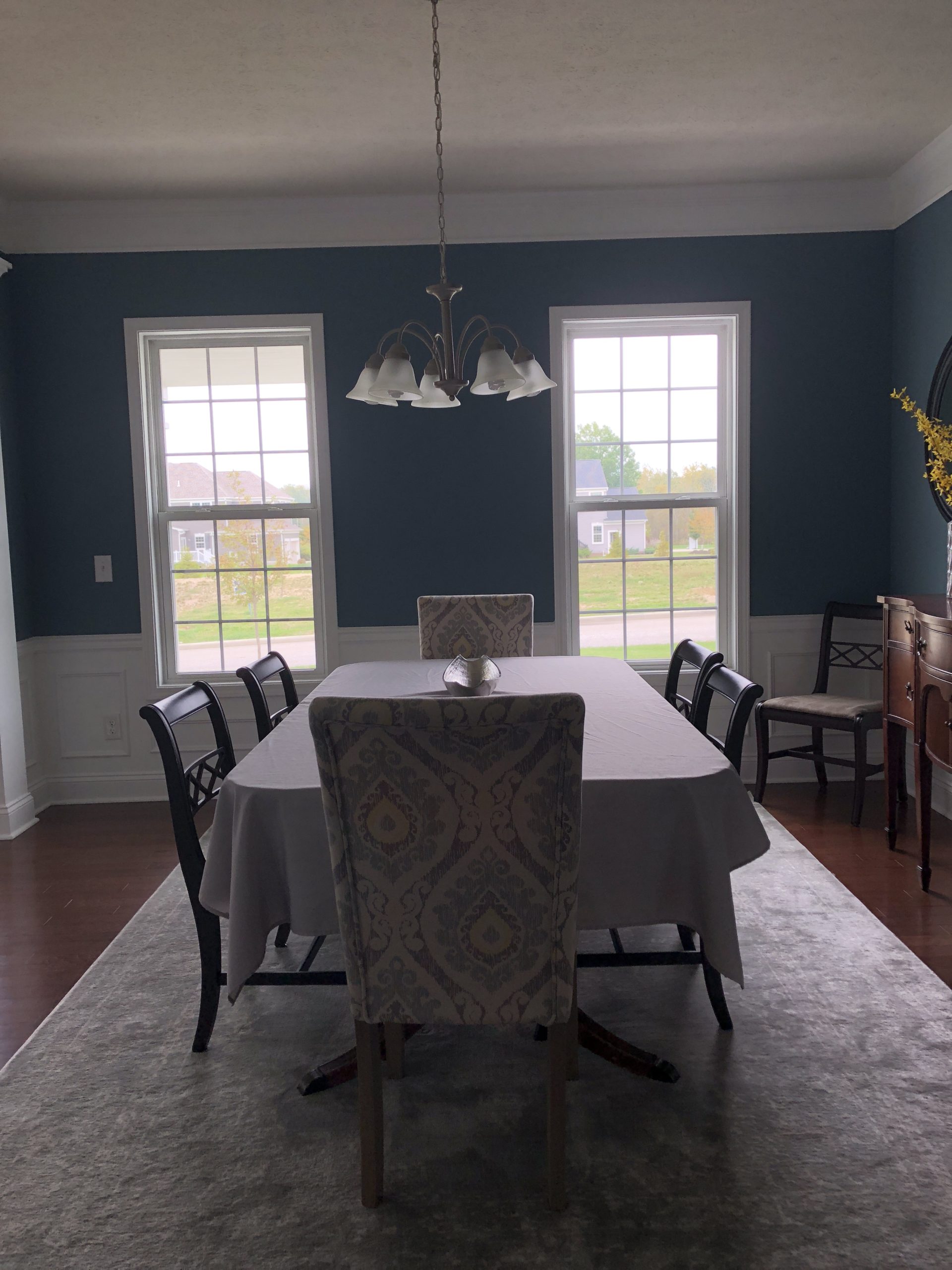 So plain. Now, let's look at the "after."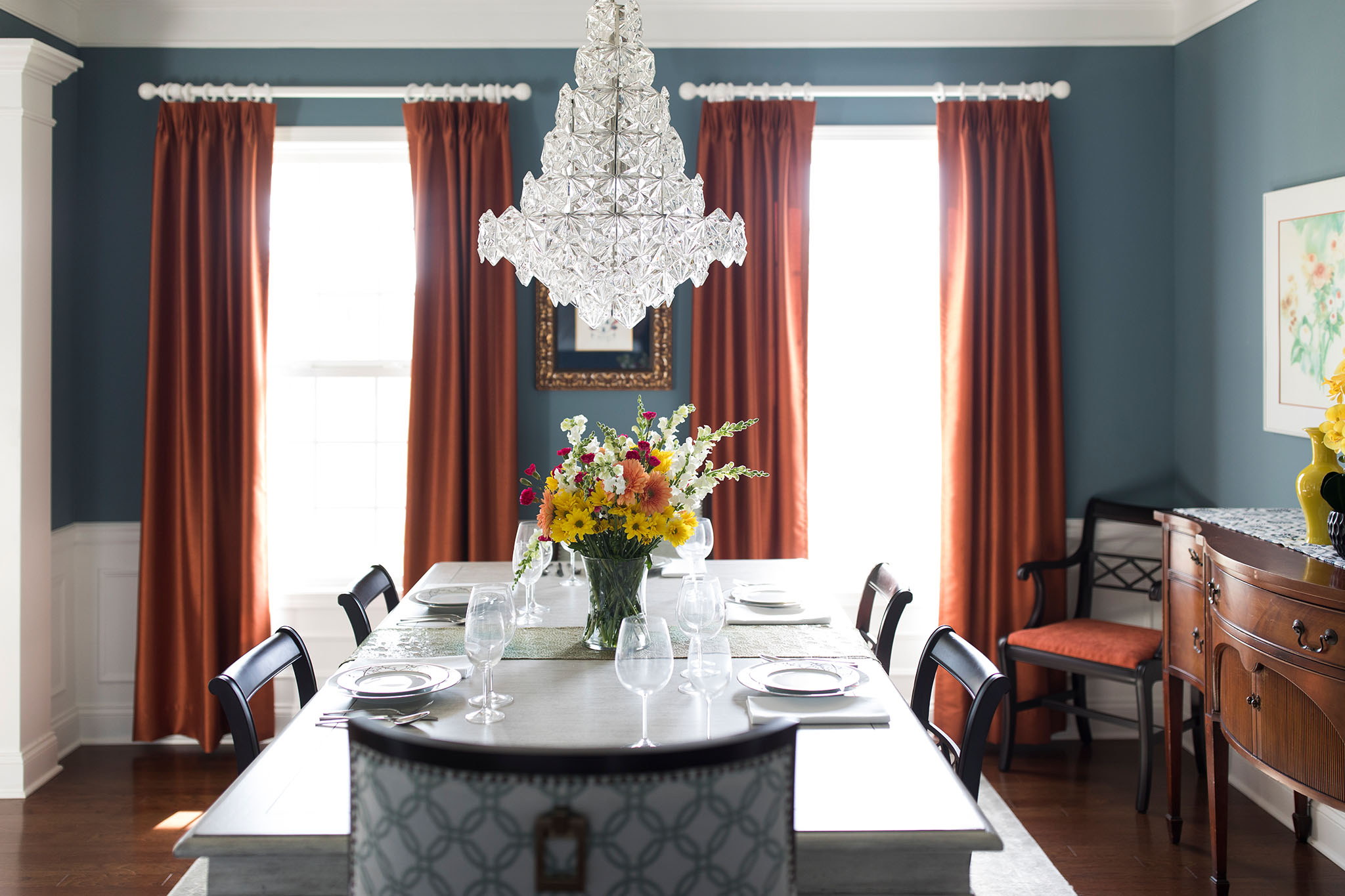 So much more depth and interest, just by adding four stationary (a.k.a. "non-moving") drapery panels to the windows!
Here's a close-up for your enjoyment: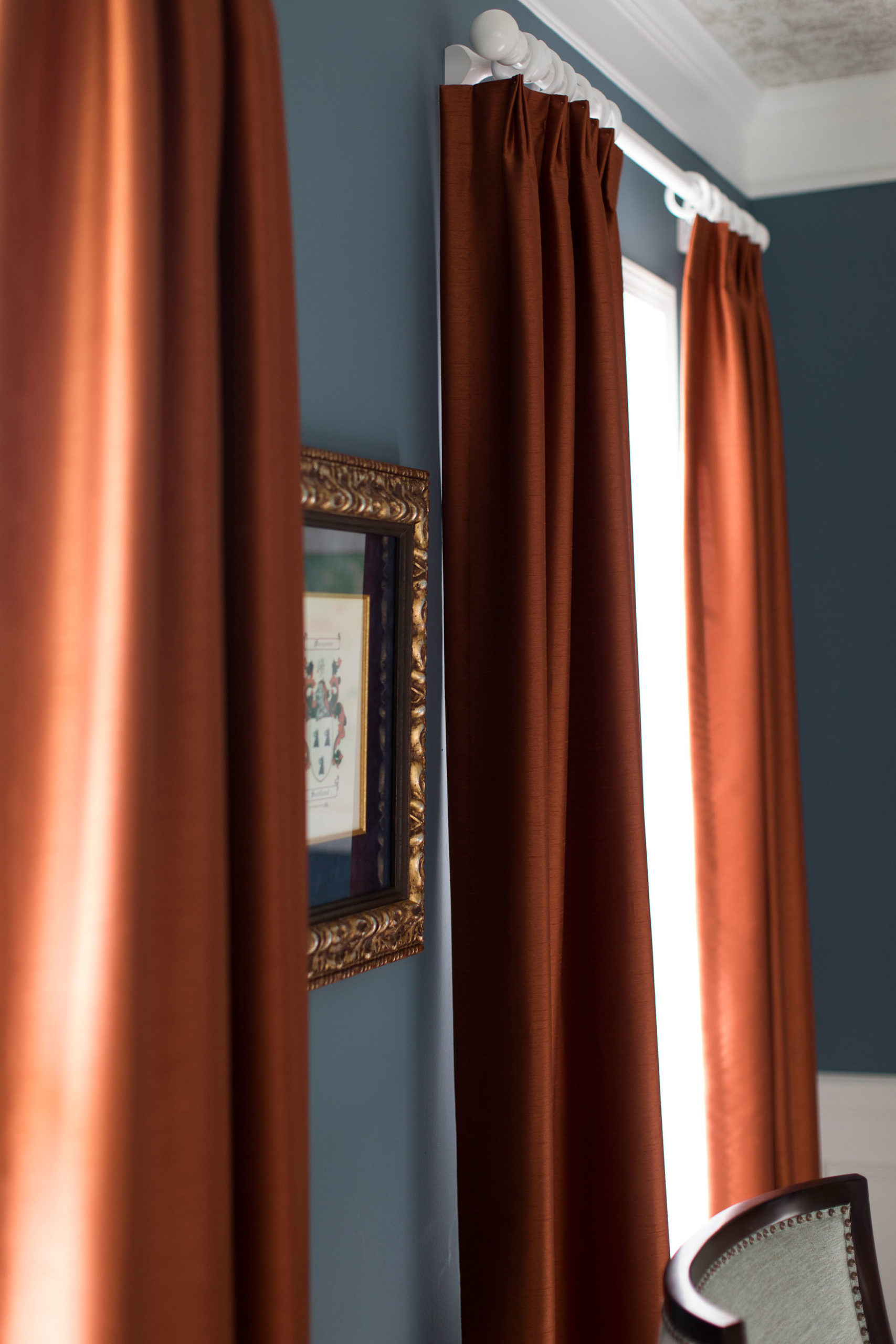 This pleat style is called a "Euro pleat." It's wonderful for a more transitional look, versus the more traditional (and super timeless!) finger pleat. Oh and also, enjoy that little sliver of ceiling! Isn't it just so fun? Don't forget the fifth wall!
Alright, that's about it, folks! Here's a summary: Keep what you love. Repurpose. Reupholster. Add some glam and some color, and the results will be fantastic!