Last time, I took you through the downtown Hudson condo's living room. Check out that post if you haven't seen it yet!
The downtown Hudson condo started out a little (ok, a lot) too contemporary for my clients. My clients wanted to bring their existing traditional furniture into the space, but didn't want it to feel dated and drab. By combining different fabric patterns in the window seat, rug, and seat cushions, we updated the space without replacing their furniture.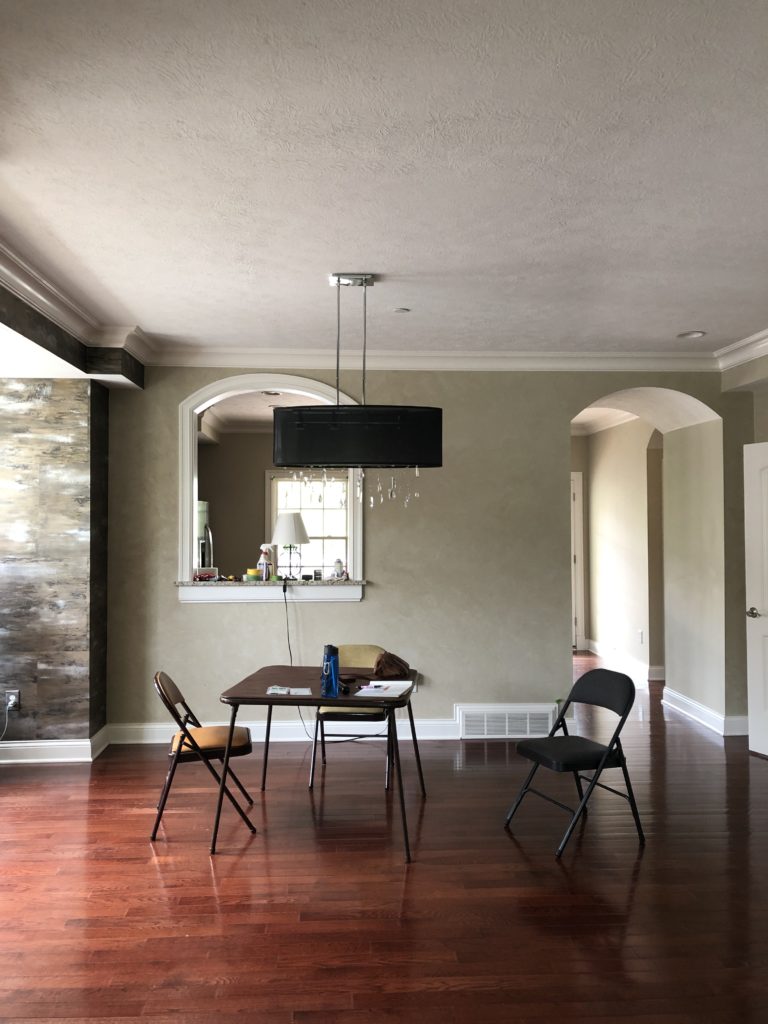 The green walls made the cherry floors look even more red. The "interesting" wallpaper choice really didn't coordinate with their more traditional aesthetic.
And that window bench was SADLY underdressed.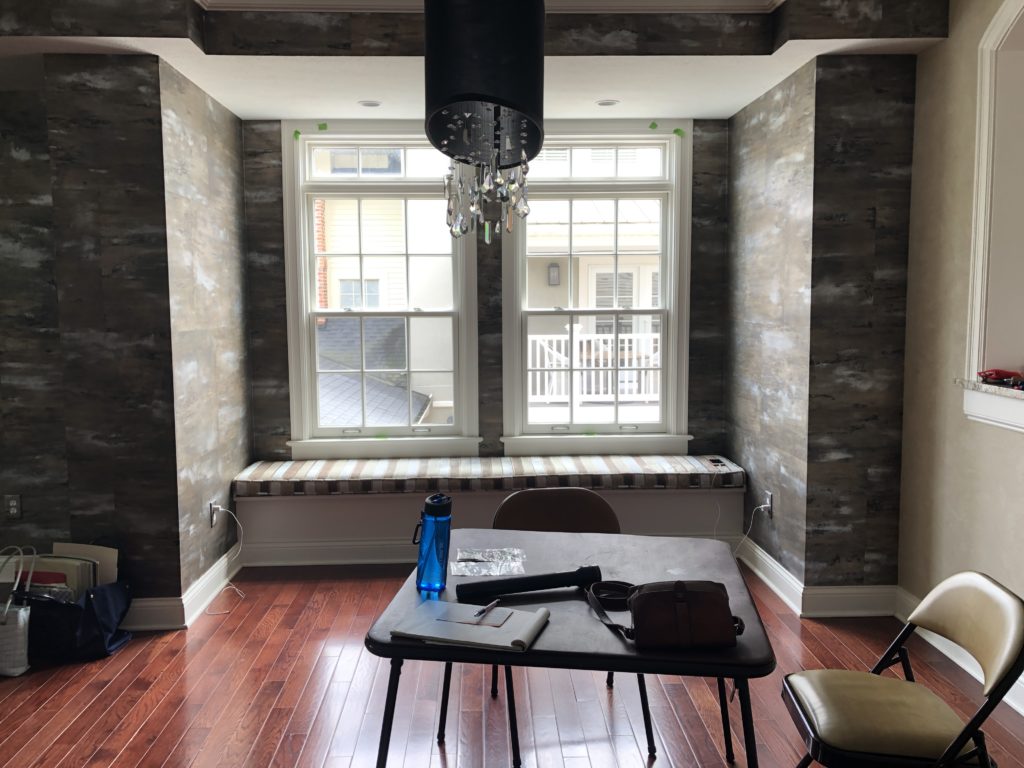 This nook is the PERFECT spot to snuggle with a good book! I knew I had to make this the star of the room, so I got to work looking for fabrics to showcase the bench.
This was the original design concept for the dining area.
And here's the window seat bench cushion and pillow mockup (and some wallpaper that didn't make it into the final design. For now…).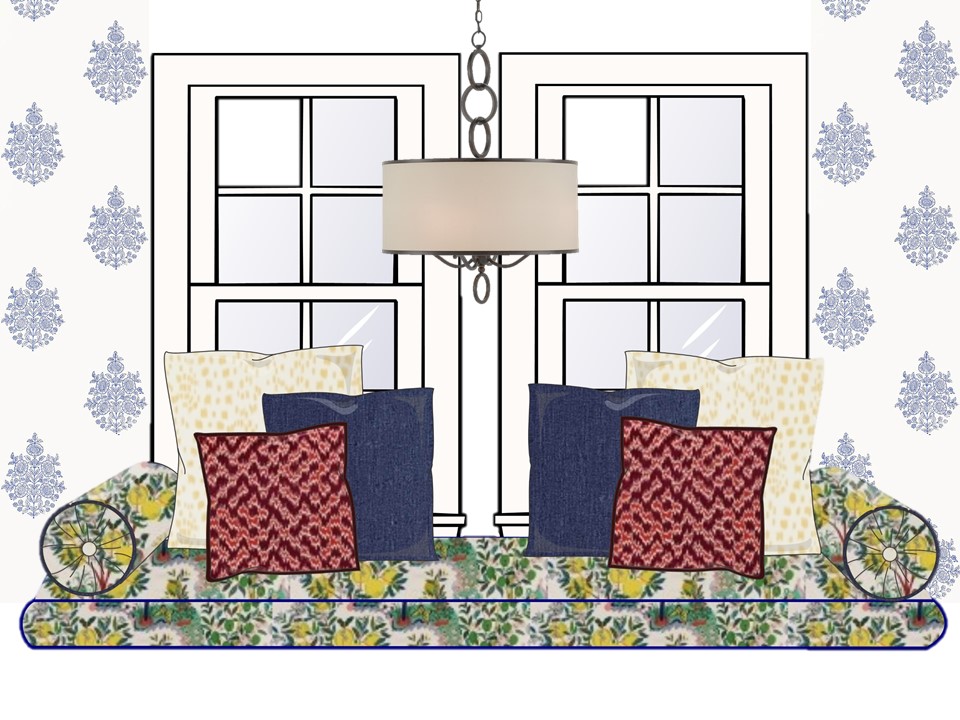 Here's the dining room in progress, sans that wallpaper, plus some nice warm beige pant and a much more appropriate chandelier!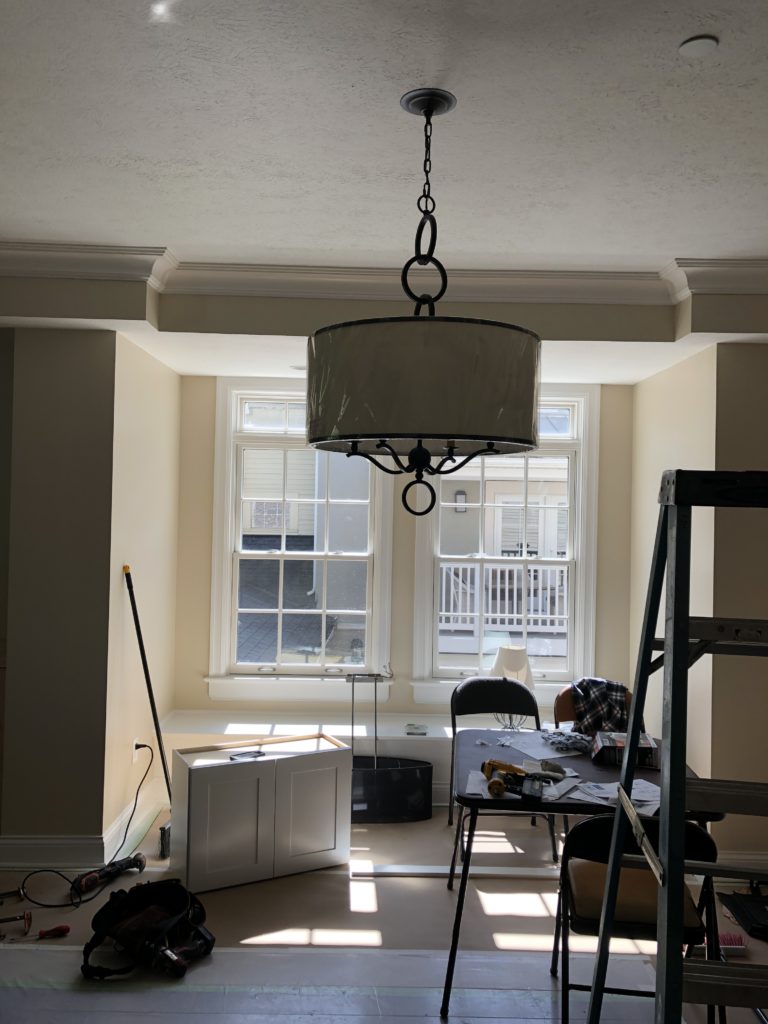 My clients had some really great quality dining chairs. All we had to do was recover the seats and the chairs got a whole new lease on life!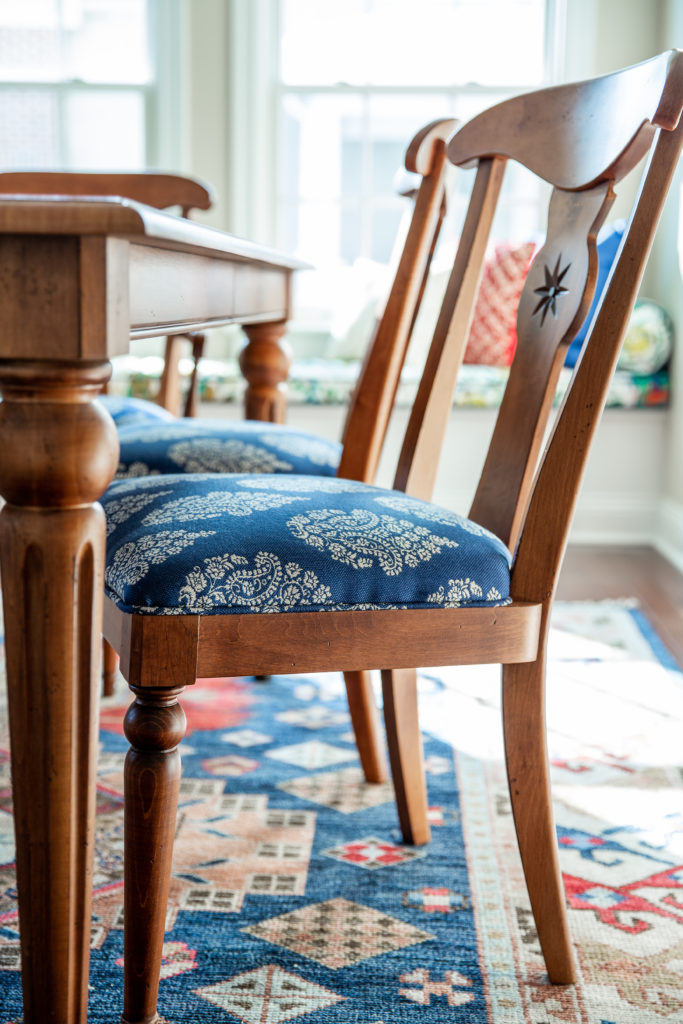 The new rug goes perfectly with the adjacent family room. (Nope, that's not the one in the original concept – my clients weren't super keen on that one, so we went in a different direction. That's called a "revision" and I include 5 or so in every full-service project. I can't always hit the mark 100% the first time – it's normal!)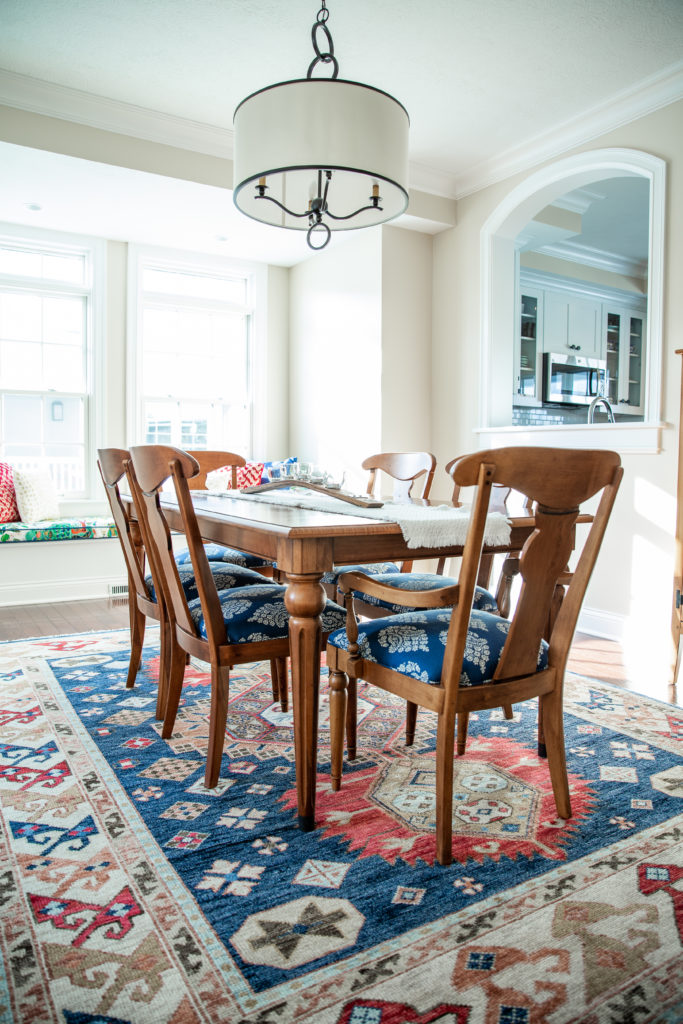 Check out how nice the rug goes with the other half of the space!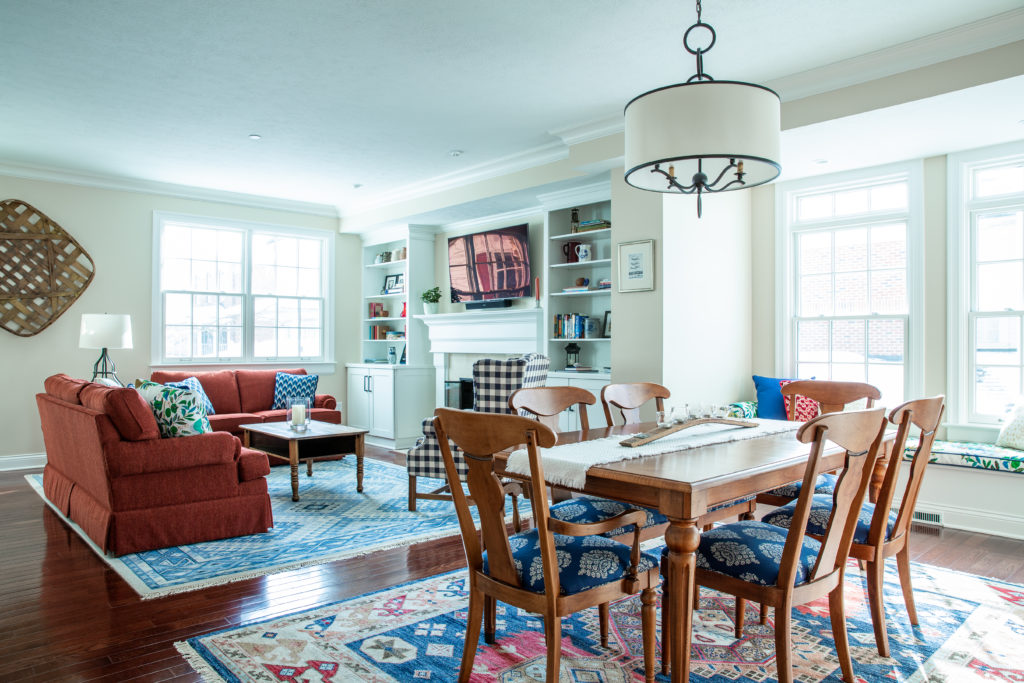 Lastly, the piece de resistance! Here's the cozy new window seat area!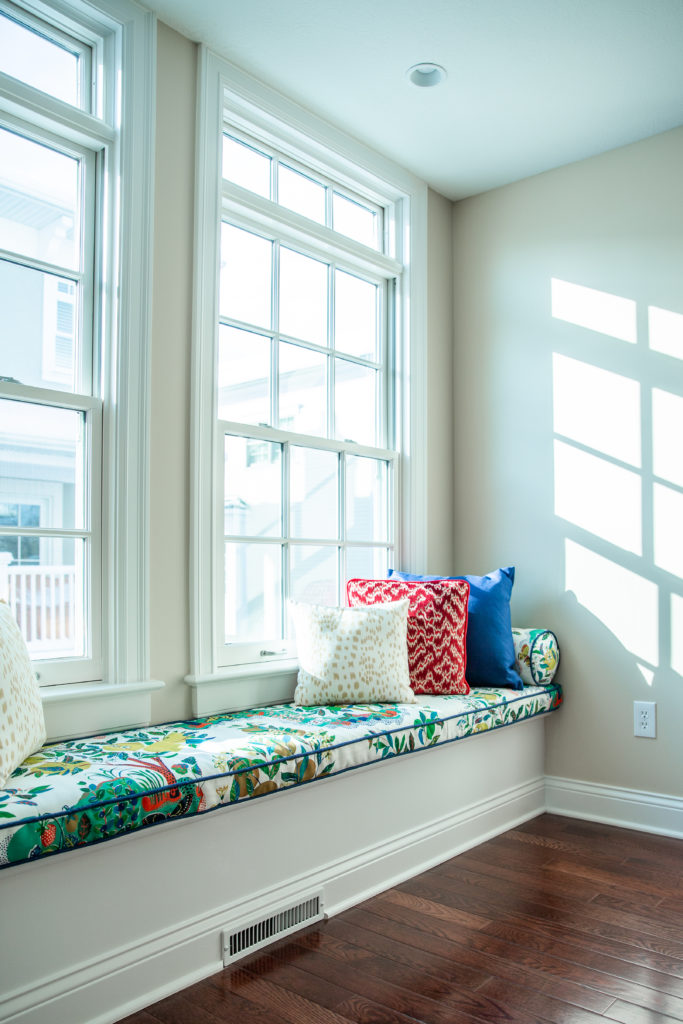 Check out that pattern matching on the cushion. Look at the top of the cushion and then the side – see how it perfectly flows? That's two separate pieces of fabric, carefully sewn together. It takes a VERY skilled workroom to line up the patterns like that, and mine is the best of the best!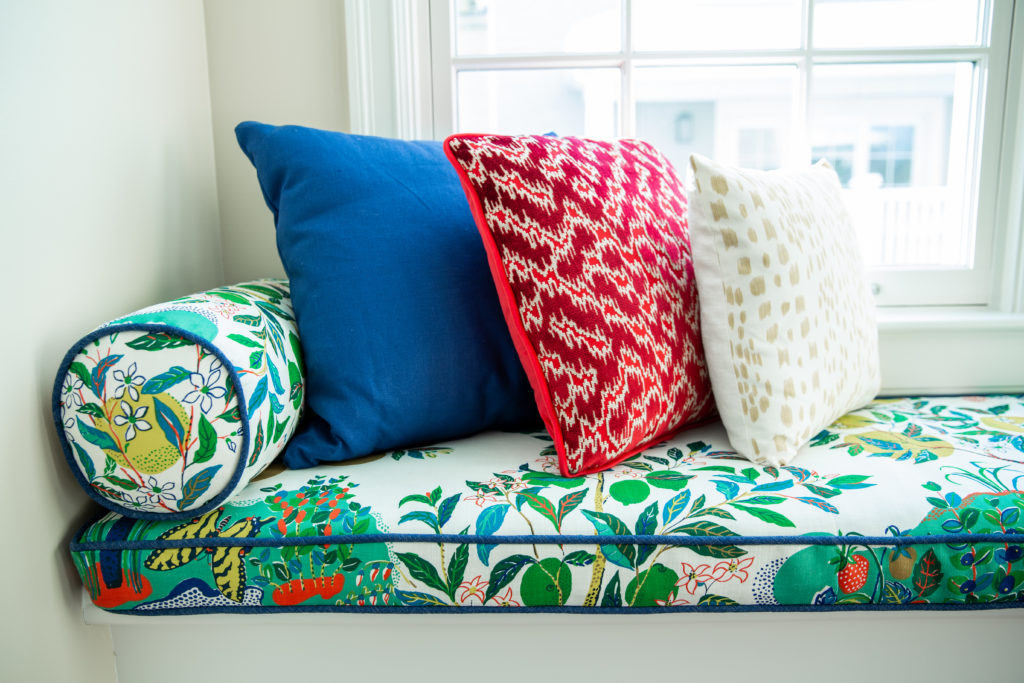 A close-up of the cushion and pillows. I could sink in there and stay all day!
Need help with your dining room? Schedule a Discovery Call with me to learn more about how I can help make your dining room shine!