This is a hot mess.
Hot Mess Individually, the elements are all gorgeous. This is a high-end kitchen and the materials appear to be good quality. But they do not play nicely together! This is a perfect example of what can happen if you love All The Things. Sometimes tough choices need to be made. We've got 2 totally unrelated cabinet styles that don't blend together at all.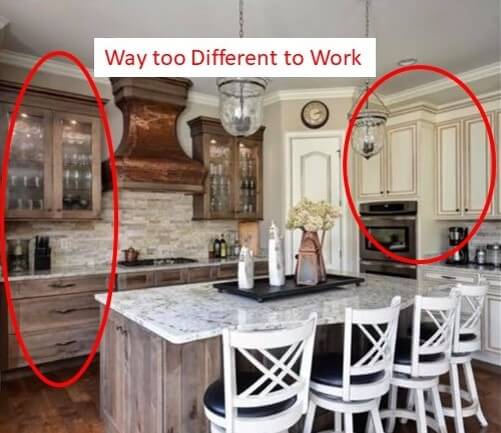 A pantry door with a third style and a much lighter color than the cream cabinets right next to it.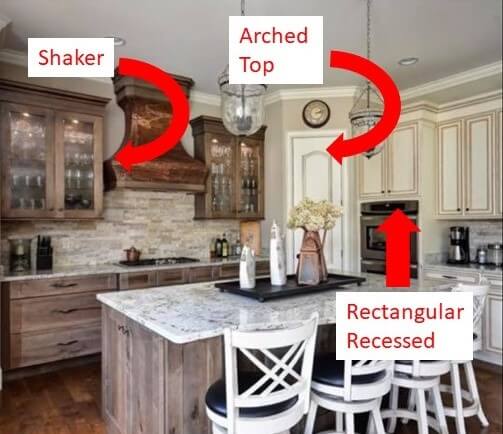 A true white, cool-toned counter, which does not play nice with the pink beige back splash.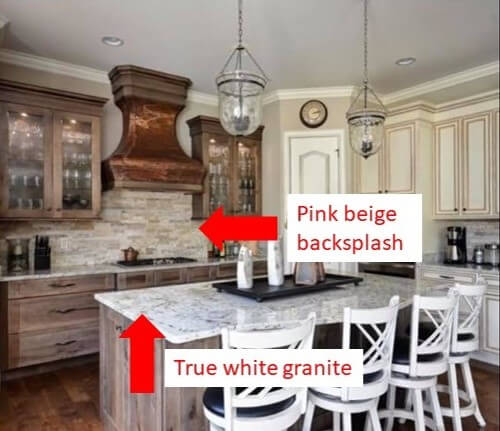 The floors are yellow beige, which would be fine, if the cabinets right next to it weren't pink beige.
And the bar stools stick out like sore thumbs because the white is too bright on the chairs.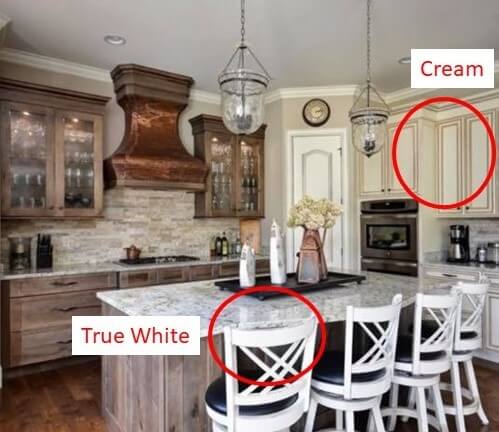 So how do we fix this? First, pick one cabinet style. If you love multiple furniture styles, by all means – mix furnishings. Embrace the eclectic! But keep your fixed elements cohesive and complimentary to the style of your house. You could go all wood.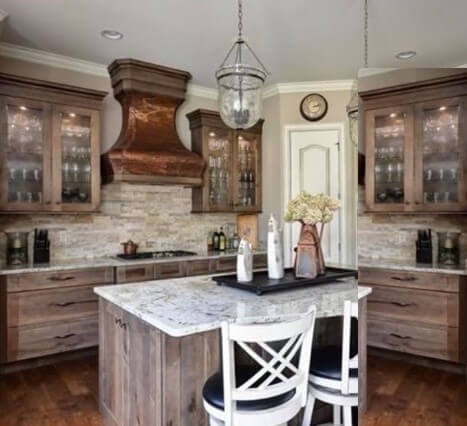 Wooden Cabinetry Or all painted.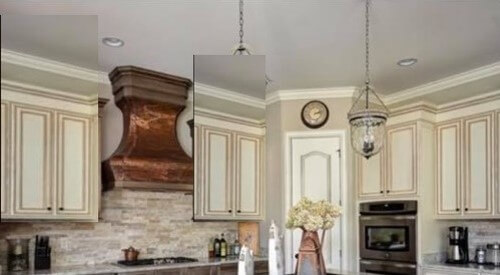 Cream Cabinetry Next, choose ONE element to be the star – either the backsplash or the counters. The other should be pretty neutral, or it'll end up looking like you counters and backsplash are in constant competition with one another. You could keep the ornate granite and replace the backsplash tile with a nice white subway tile.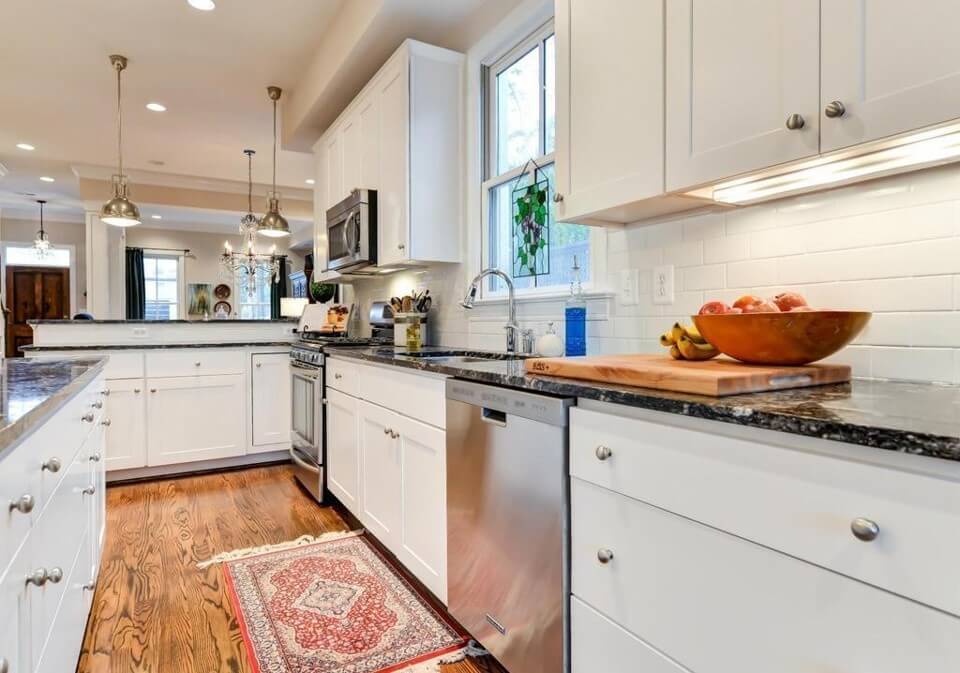 White Subway Tile with Granite Counters (source: my former home) Or you could keep the pink beige stacked stone and do a lovely cream solid surface counter.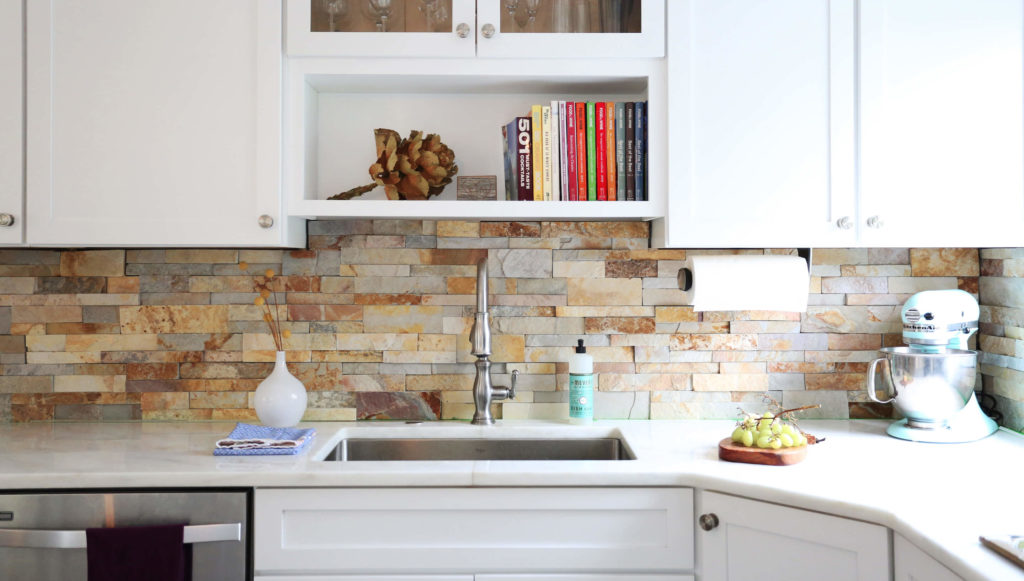 Stacked Stone is the Star (source) Lastly, make sure all your whites are within the same family. Those bright white, almost blue-white barstools just don't work with the creamy, almost yellow cabinets. There's a spectrum of whites – blue-white, true white, off white, and cream. Blue-white and cream just don't mix. This is a simple fix, though – paint the barstools off white or cream and you'll be good to go!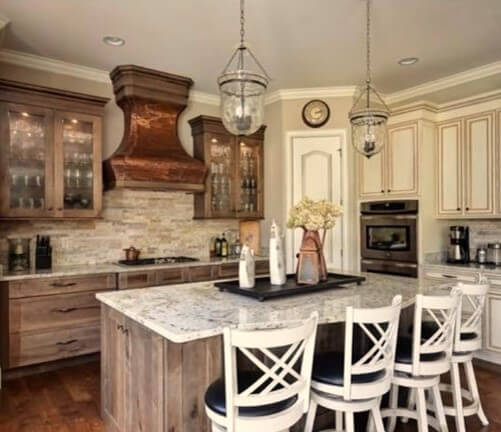 Cream Barstools
Any questions? Ask away!! I'd love to help.