Isn't this a pretty kitchen? It's not the one in the story, but we did design it.
Our story begins with a particular kitchen design in Hudson, OH.
See below for the starting point. It's not THAT bad. Not out of context.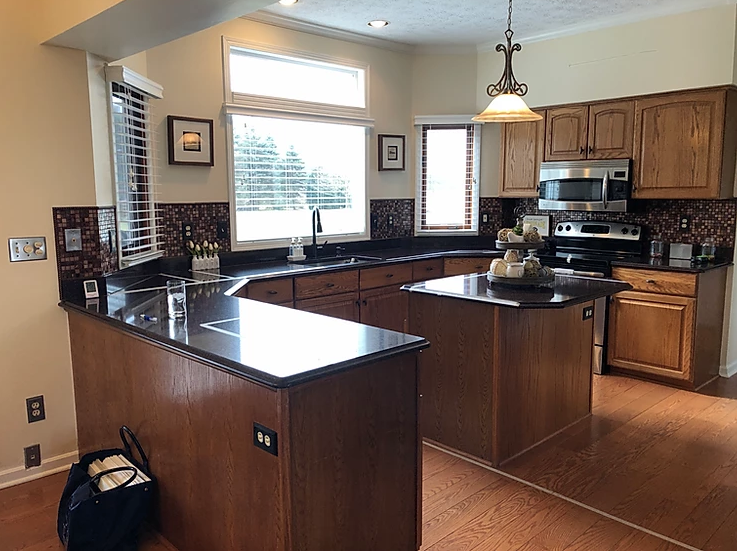 But then when you see the adjacent family and dining rooms, you understand the dramatic difference between rooms.
This is very pretty.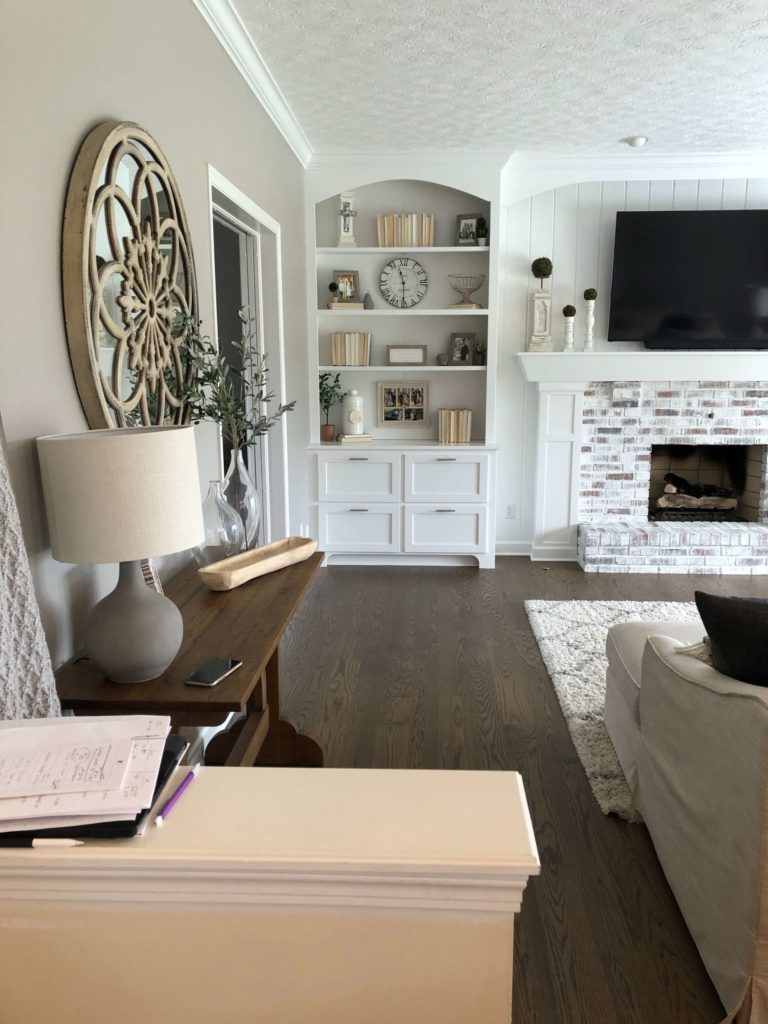 So is this.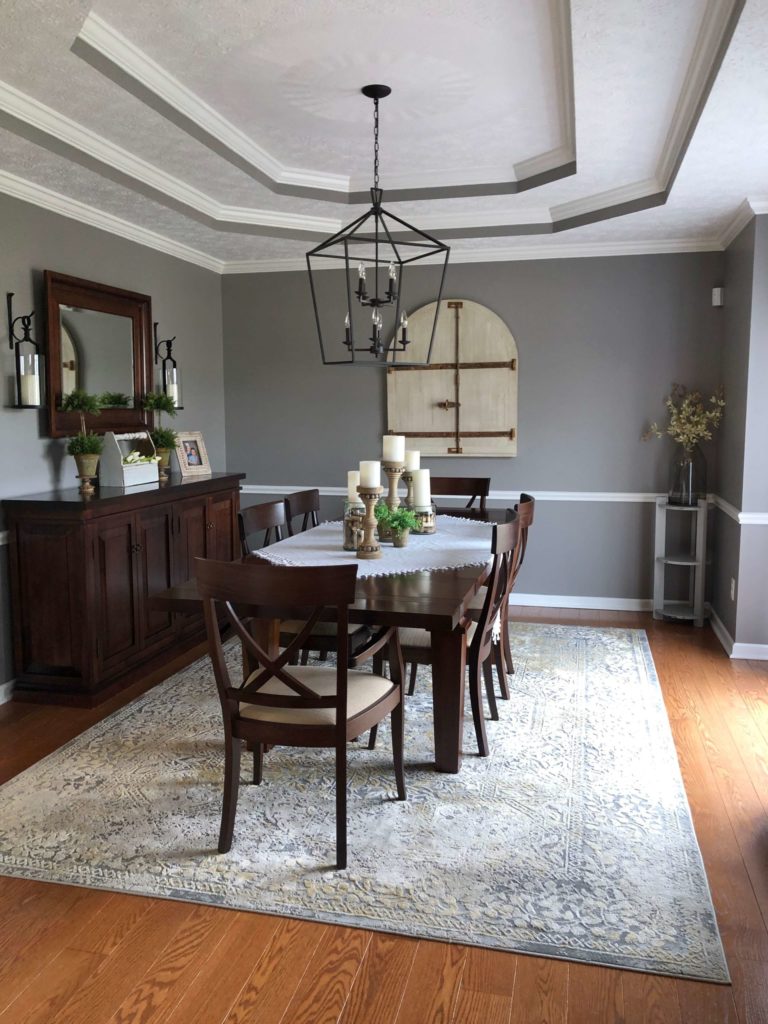 My client has a good eye for proportion and accessorizing—and it shows!
So let's return to that kitchen.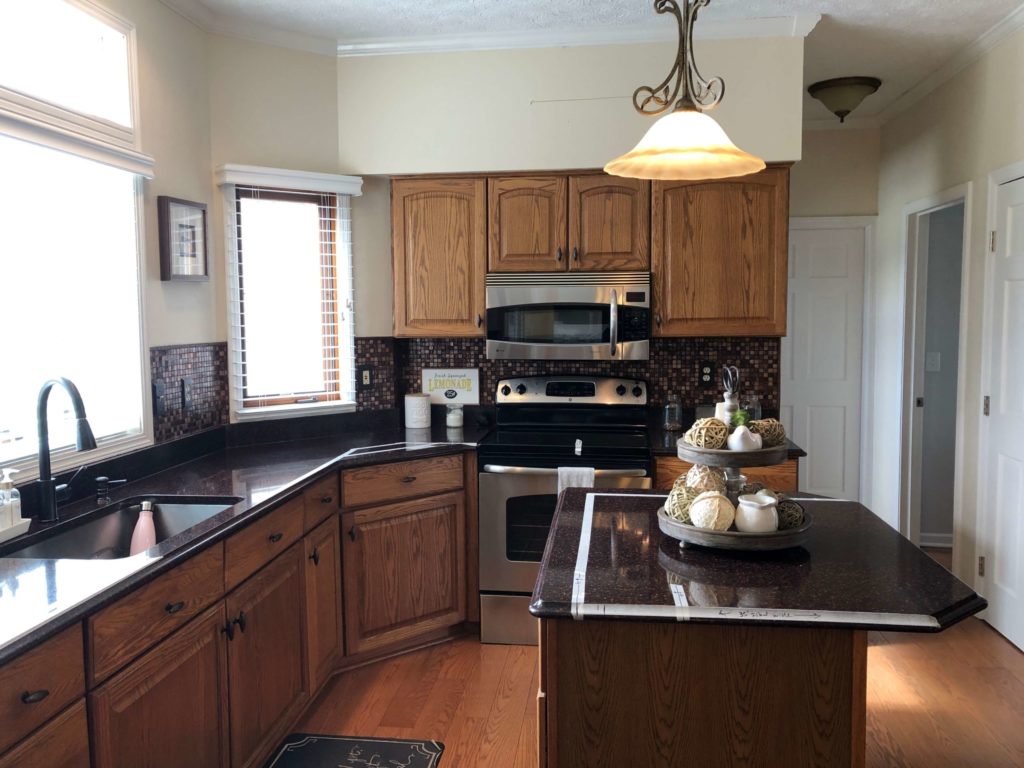 This doesn't flow at. all. with the adjacent rooms.
The cabinets are too oak-y. The backsplash is actually pink. Yes, you read that right. Pink.
The counters are very dark. There's a distinct lack of lighting. The lighting they DO have looks straight out of a 1997 big box store. Changes must be made.
Why did my client need a kitchen designer?
Clearly, she can make good design decisions, but she hasn't designed a kitchen before.

She's working with a contractor and cabinetry-maker who are very good at what they do—building kitchens. But they're not designers and neither is she.
She and her husband have demanding jobs and children at home, so they don't have the time to research all of the minutia involved in making a cohesive and functional kitchen design.
They need an expert who can point them in the right direction. They also need an expert to tell them when they're going in the wrong direction, based on their lifestyle and how they use their kitchen.
How does a kitchen design begin?
At the initial consultation, we walked through the proposed layout her contractor had recommended.
I asked lots questions about how they use their kitchen, such as:
1. Do you entertain? For how many people? Do you sit in the kitchen or the dining room (or both)?

2. Do you actually cook? Do you make a lot of dishes with smoke or heavy grease?

3. Do you use the back door a lot? Is the current door setup in your way?

4. Is the current storage space adequate? What do you currently store elsewhere in your home that you'd like to have in the kitchen?

5. How fastidious are you with cleaning the kitchen? Will it bother you if you see every crumb on the counters or grease on the pendant lights?
Lifestyle questions are so important when you're deciding on a new layout and/or selecting new kitchen materials.
How does lifestyle play a role in a kitchen design?
Sure, that white marble kitchen you saw in the fancy magazine might look amazing in that home with seventeen servants…but the reality is that materials like marble are inherently porous and are high-maintenance when used for flooring and countertops.
Yes, you can ABSOLUTELY have marble anywhere you want! But if you're the kind of family who cooks Sunday sauce every week and hosts large gatherings where the red wine flows, marble may not be for you.
Yes, those open shelves look SOOO NICE in that house with a set of matching china, where someone dusts daily, and the homeowners have just the right amount of dishes to adorn the shelves without overcrowding them.
You and your mismatched set of 1970's hand-me-down Corelle and 400 plastic Disney cups may not find open shelving quite as charming.
You can tell yourself you're going to start dusting the kitchen every day to keep it all clean, but really? You've never dusted more than once a month in your life.
Is your daily schedule going to change so you can accommodate your new dusting needs? No. And that's ok!
Those pure white quartz counters are so enticing. They're crisp and clean looking and oh so contemporary. They'd be perfect…if you weren't a bit of a neat freak who is totally grossed out over crumbs and dust on the counters. Pure white hides nothing.
If you're going to be spending three hours a day trying to perfect your counters, since you can't NOT SEE the crumbs, pure white quartz may not be for you. See what I mean?
It's a big part of a designer's job to make sure what we recommend is not only pretty (that's the easy part), but functional for your family.
Okay, let's get back to talking about THIS specific kitchen.
What were some of the homeowner's pain points?
STORAGE
Their current kitchen has a severe lack of storage. The existing pantry is only 12″ deep, so it's essentially a glorified long upper cabinet.
There used to be a row of uppers above the peninsula, but those were removed in a previous "update." (They left the soffit though—how very thoughtful.)
We discussed various options for cabinetry layouts—not just from a "pretty" perspective, but from a "what kind of kitchen appliances and food containers do you have that you can't fit in the kitchen now but you really want to fit in the kitchen in the future" standpoint.
This is important. Just because a design looks really awesome on paper doesn't mean it actually works for your lifestyle.
If you're investing in a new kitchen—which most folks might do one or two times in their entire life—make sure your cabinetry design works for your needs!
Ok, stepping down from my soapbox again.
LIGHTING
Another issue with this kitchen is a lack of lighting. Sure, there's a really nice set of windows above the sink and a sliding glass door. But this is Ohio. The Land of No Light.
Just because you have big windows doesn't mean anything is actually coming through them most of the time. You need electric light to supplement our "sunlight." Also, it gets dark at like 3:30pm half the year. (Exaggeration? Barely.)
So if you're planning on cooking dinner using all that "natural light" we get in December, you'd best be cooking at 10am.
Their current kitchen has ONE pendant light in the middle. One.
No recessed lighting, other than two oddly space out lights over the sink. No lighting anywhere else other than the far side of the kitchen hallway and the eat-in area.
That's less than inadequate. Kitchens need to be light and bright! It's a safety issue more than an aesthetic one. I don't particularly want to cut off a fingertip trying to chop carrots by moonlight.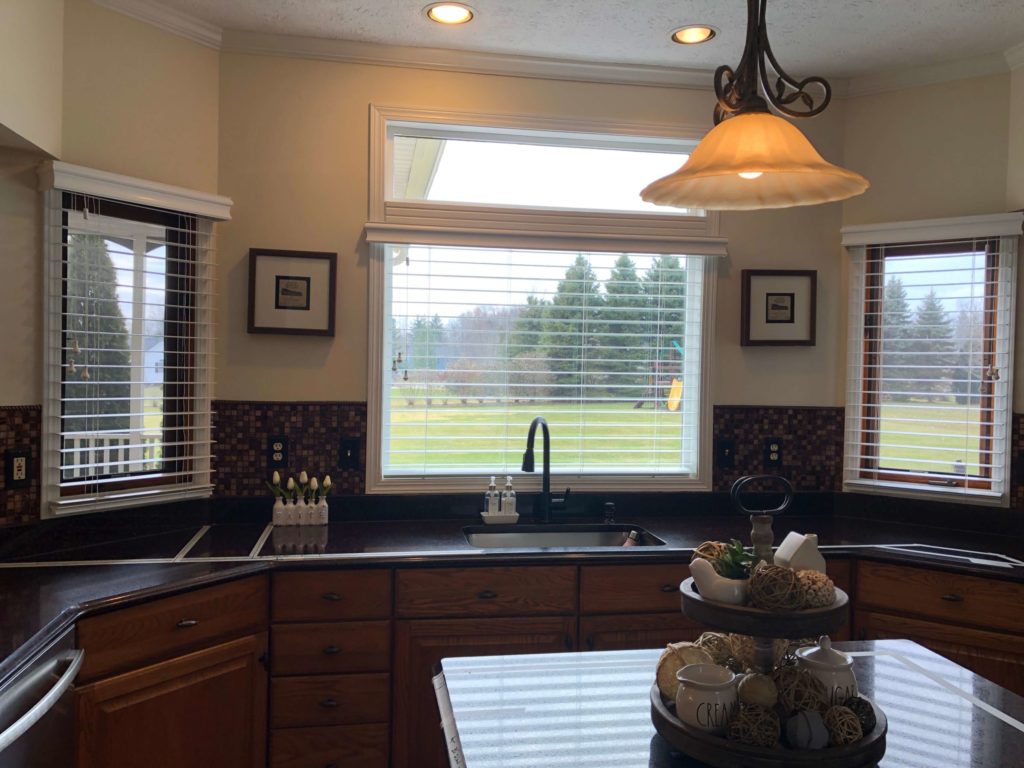 See that nice blank space above the side windows in the picture above? I recommended putting a downward-facing sconce above each window to add more light to the sink area.
I also recommended installing two pendant lights, especially since the island is going to be expanded.
Pendant lighting is really important task lighting for this island.
The stove is going to relocate to the island. Since my clients are going to be relying on this lighting to cook, it's important that the pendant's wattage be high enough to actually create good light.
There are some very fun pendant lights out there. Lots of them have teensie Edison-style bulbs with the exposed filaments. Yes, they look awesome. But they're really more for show.
If you're relying on the pendant light to cook, you need more wattage. I'd recommend at least a 40-watt bulb (or LED equivalent) for each pendant. 60-watt would be awesome. Multiple bulbs would be even better.
Recessed lighting isn't pretty. It's not supposed to be. It's functional. And it's important in most kitchens.
(Again, if you're reading this from your sunny Californian porch, maybe you can get away with your giant windows and no recessed lights…but here in the Heartland, we need it.)
My clients already knew they needed to add recessed lighting, so we just talked about lighting placement so everything is aligned going down their long hallway.
Recessed lights should be in rows, where possible, or they'll end up drawing too much attention to themselves. They're not the star of the show.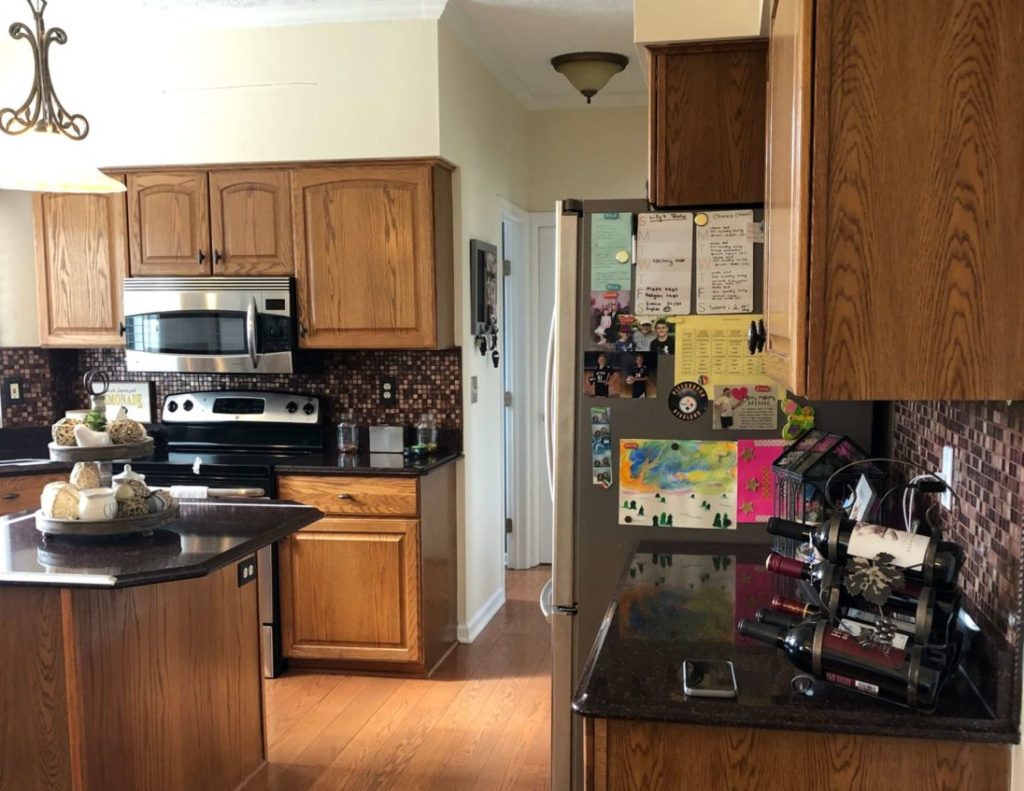 If you're worried about your kitchen being TOO bright with all this added lighting, don't be. Always put your lights on dimmer switches.
Of course, make sure you get dimmers that are compatible with your light bulbs (just spring for LED's – you won't regret it.)
Stay tuned! I'll be back with the 'After' images once this project is complete.
But, for now, here's the big takeaway: Work with someone who thinks about functionality, in addition to prettiness. It matters.
Ready to reach your design goals? Give us a call to find out how we can help.