This Bratenahl main level design features beautiful bespoke upholstery, layers of custom pillows, beautiful vintage rugs, and a gorgeous mural! This home was originally a small carriage house that had been added onto several times over the last century.
My clients' goal for the main living space was for it to feel like a relaxing, old school European nightclub. They wanted layers on layers on layers of pattern and color. Think 1920's meets MTV Live. Yes, I'm making that a thing.
My clients are huge music fans. Not only do they listen to music, but they're musicians with tons of musical instruments, sound equipment, and light bars. They wanted a room where they could have friends and family come and enjoy the music.
When my clients first moved in, there was an excess of brown. See below. Meh.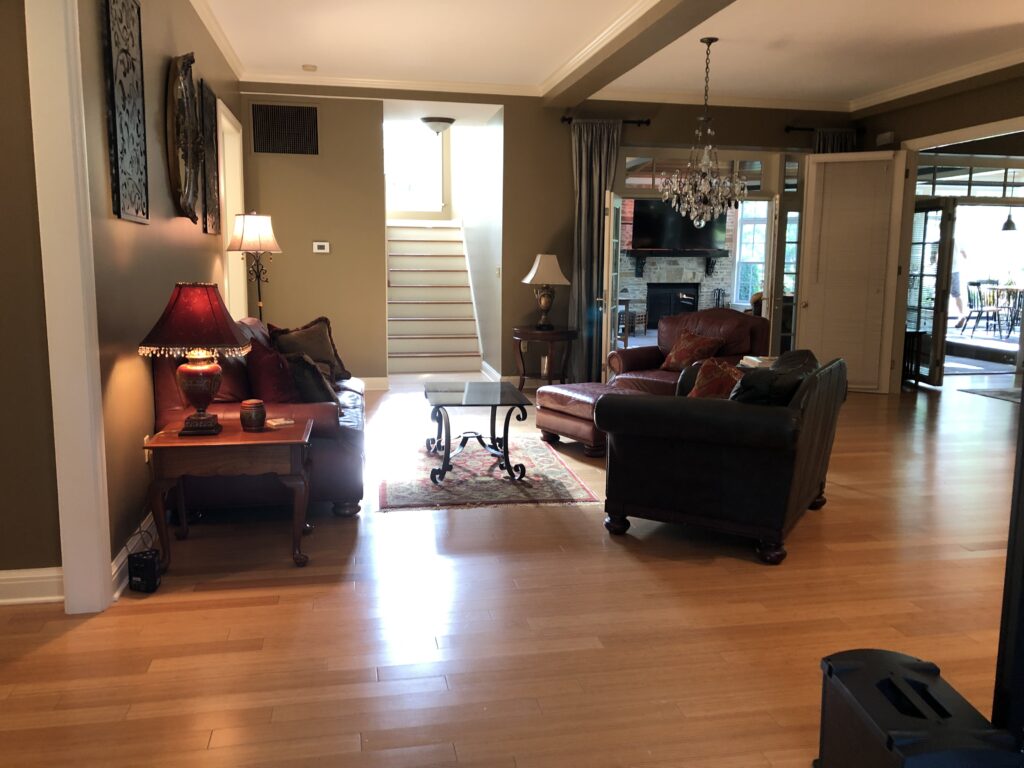 Another exciting view! (Kidding.)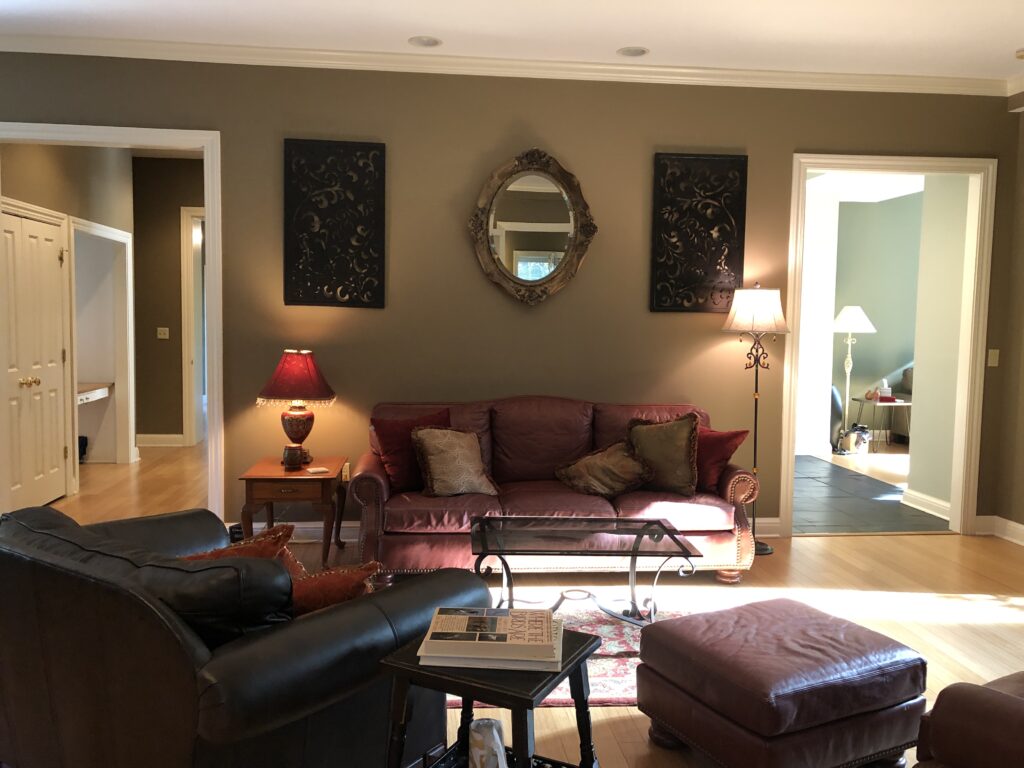 The room really lacked character. It was also a very odd shape. The main space was a large square, but there was another odd rectangular space off to one side. (See all that musical equipment??)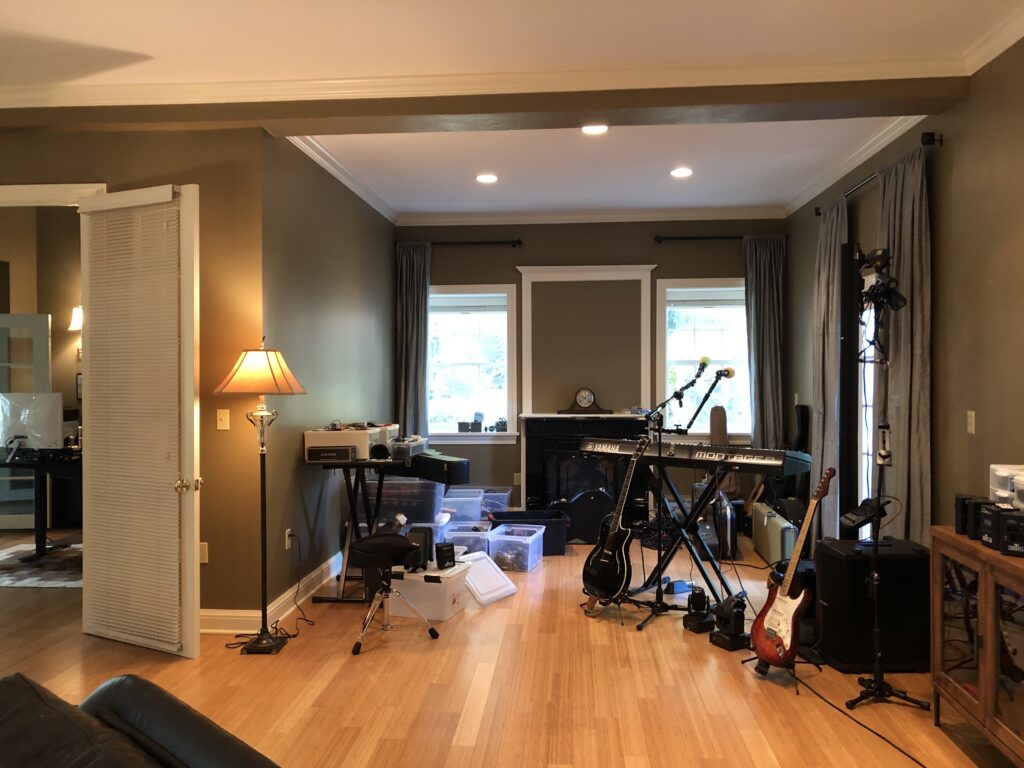 The black fireplace was oddly boxed out with a white frame. The draperies were…let's say lackluster to be nice. The whole room was just rather boring. I suggested using this space as a cozy sitting area from which guests could watch/listen to music.
The room has high ceilings, but there were these oddly positioned beams sticking down. To disguise these beams, I designed a coffered ceiling. This design brings a lot more interest to the room!
Here's the ceiling in progress: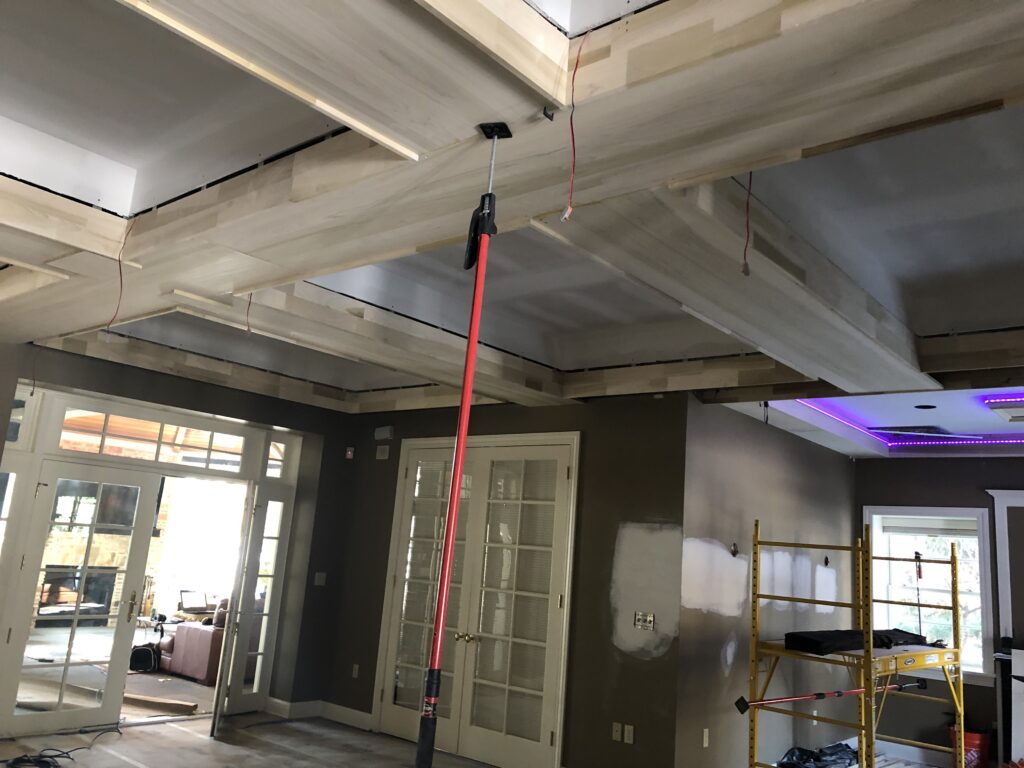 During the demolition, we discovered that the ceilings were actually even higher than initially anticipated, so we were able to create a double-layered design that can secretly house LED chain lights. Nightclub mood lighting achieved!
I also changed the walls to a light blue that is calming enough to coordinate with everything else that was going to be in the room.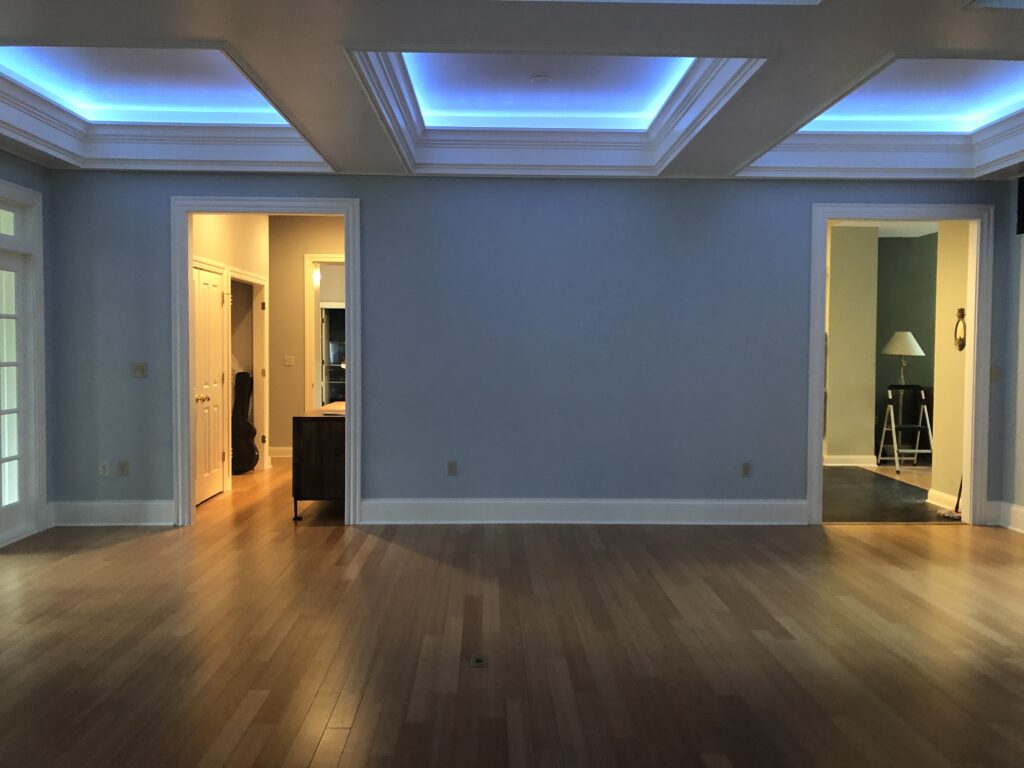 The smaller room also got a lovely facelift. We removed that weird trim around the fireplace and added some faux tin ceiling tiles and more LED lights. (The white square in the middle of the photo below will make sense later, I promise.)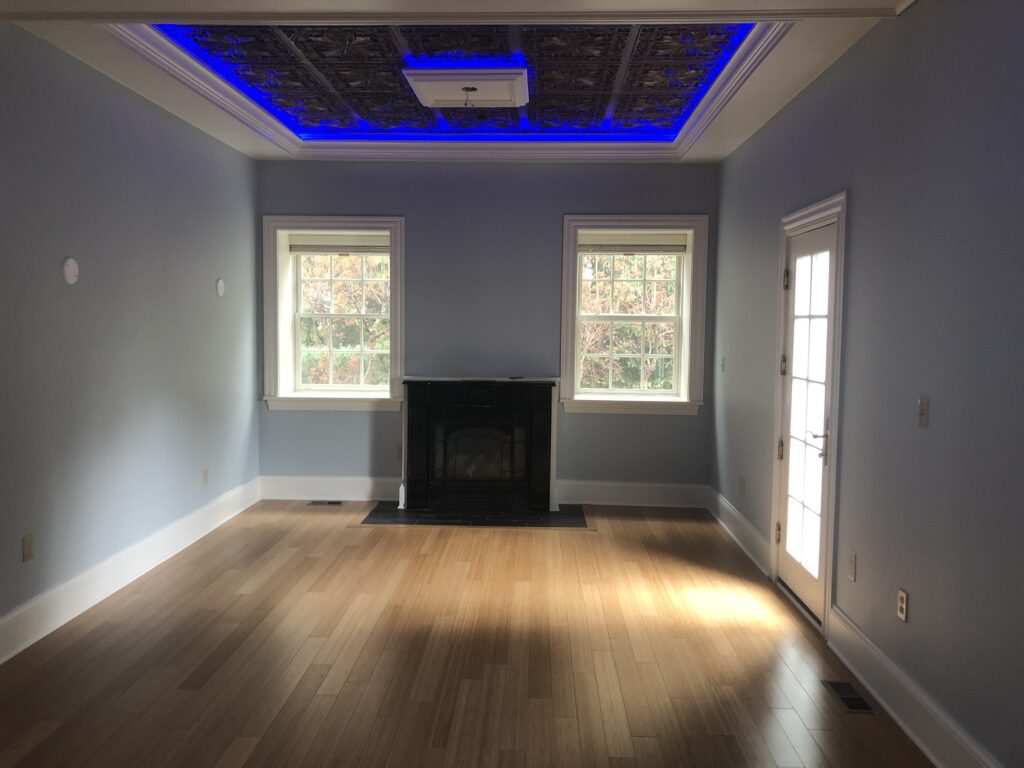 Even with the new ceiling, this room still felt a bit too cold for the cozy nightclub look my clients were after. We decided to go BIG with some multi-layered, multi-piece window treatments.
Here's what my clients see during the window treatment design presentation: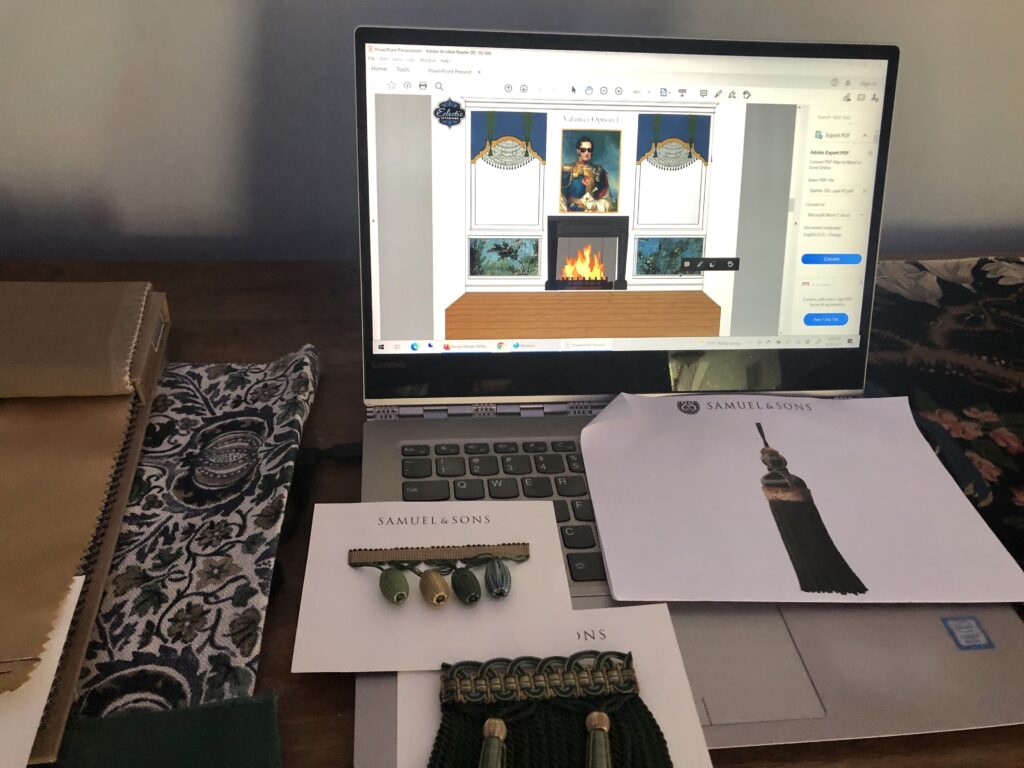 And here's the finished product, being hung before the furniture arrived. (This was height pandemic timeframe – everything took forever to arrive.)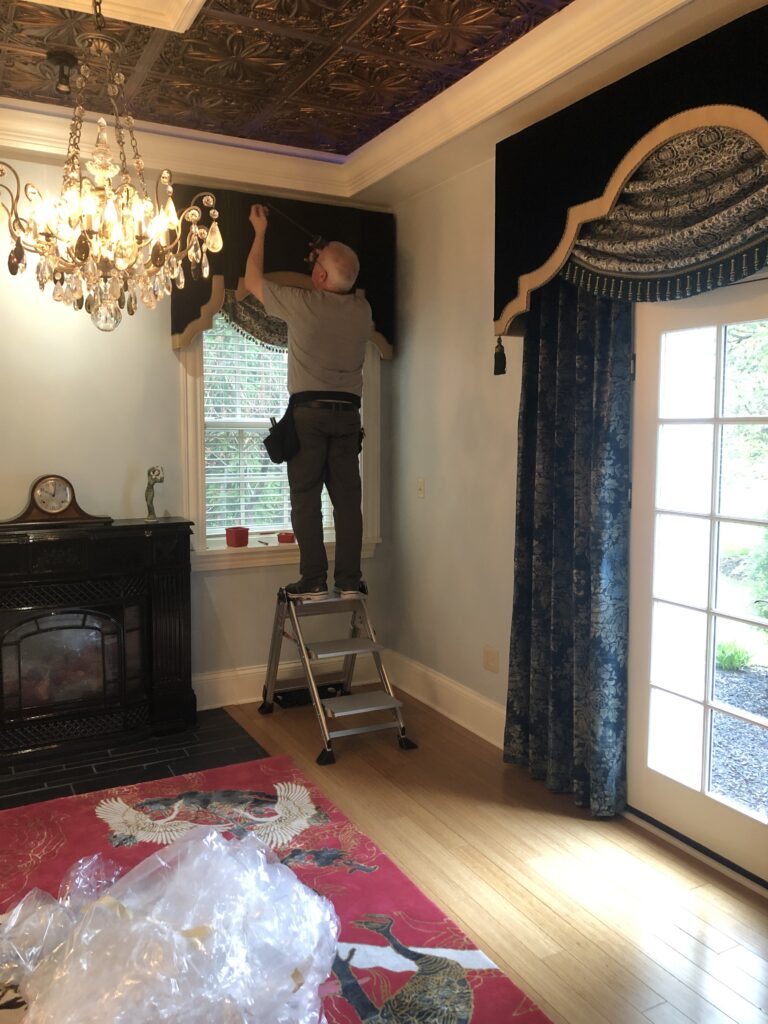 I was also able to bring in the layered rugs before the furniture arrived – here's a look at the work in progress!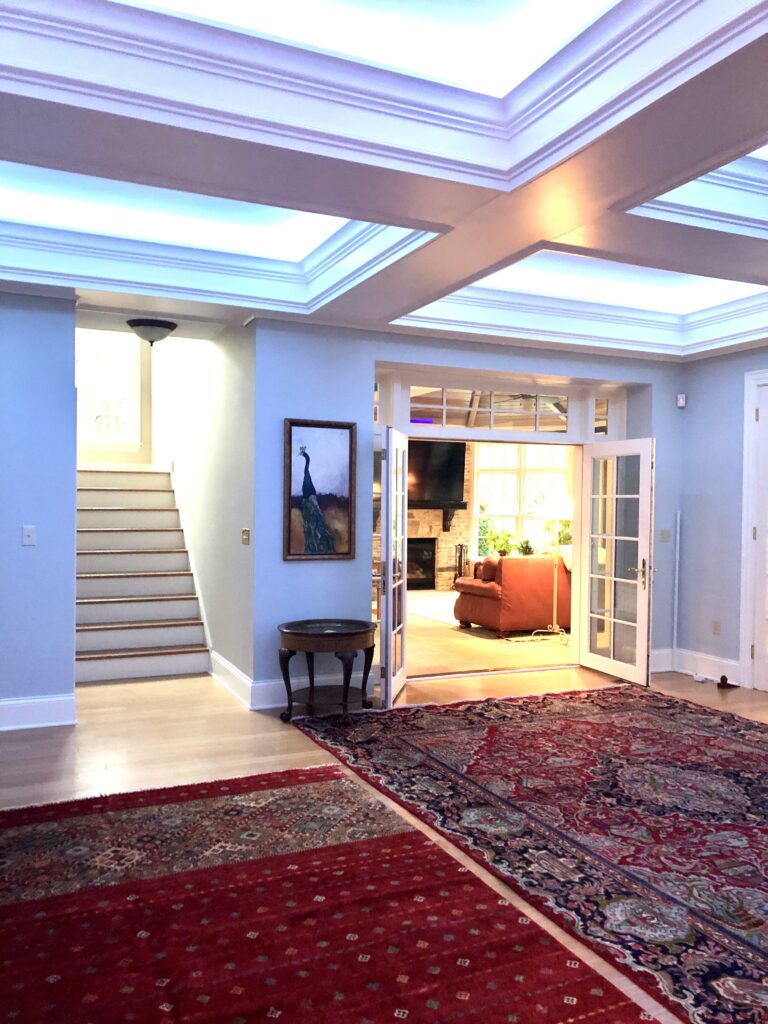 See that Peacock painting? My client loves birds, especially peacocks. That's an original piece I found for my clients during a trip to Savannah, GA. I always have my eye out for unique finds!
To add even more layer to the space, I suggested bringing in talented local muralist Lari Jacobson to create a mural for the wall behind where the antique Steinway piano would be placed. Lari worked closely with my clients to create a beautiful mural reminiscent of an Italian garden. My clients are thrilled with how it turned out!
The larger portion of this space was primarily going to house various musical instruments and equiment, including the Steinway piano, a drum set, a keyboard, a guitar collection, several amps, and some recording equipment. Here is the beautiful guitar collection!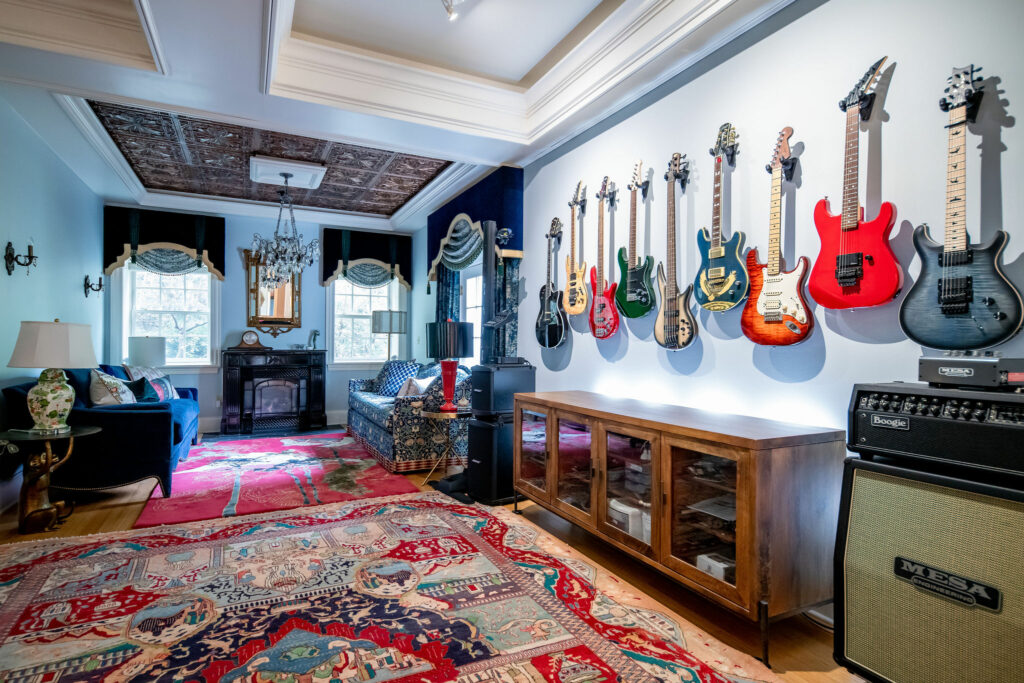 You can also see one of the light/sound bars and a large amp in this photo. This is real, folks – this room really is used primarily for music, and I didn't want to strip the room of its purpose just to create "perfect" after photos.
Here's the other side of the room, complete with piano, microphone, recording equipment, and more: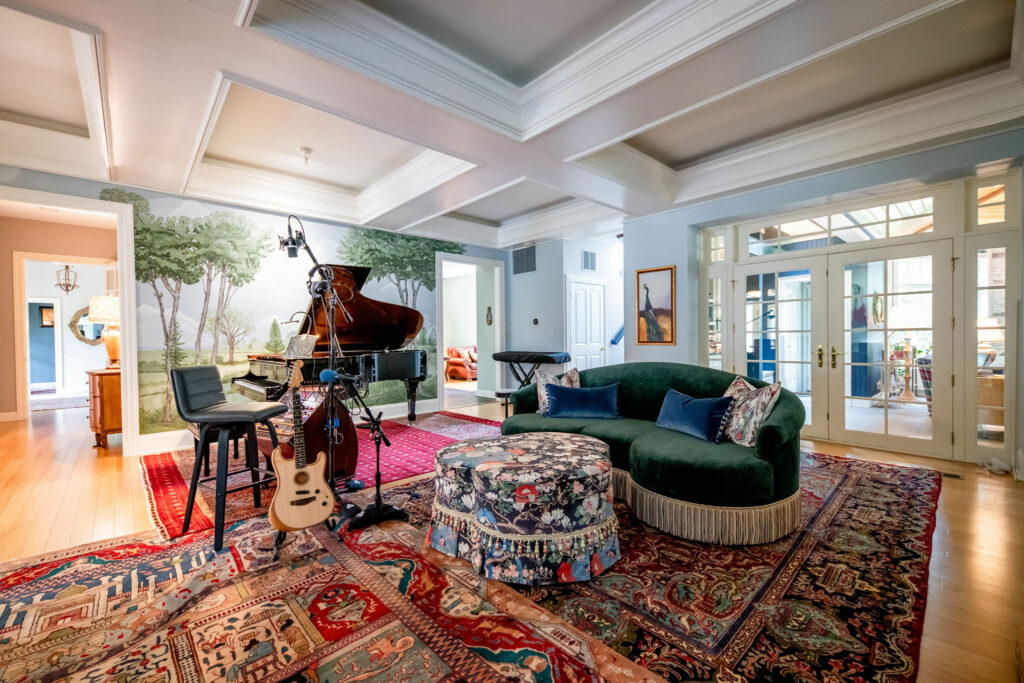 We didn't want to overwhelm the room with too much furniture, since people with instruments will be milling about most of the time. I suggested adding one large, rounded sofa to the space, along with a unique ottoman and a small drink table.
The sofa and ottoman are both custom pieces I designed. The sofa features a luxurious crushed green velvet and multicolored boullion trim. The ottoman is covered in a colorful floral and bird fabric, accented with a fun multicolored ball fringe trim. I selected the ottoman fabric specifically because the colors coordinate so well with the vintage rugs!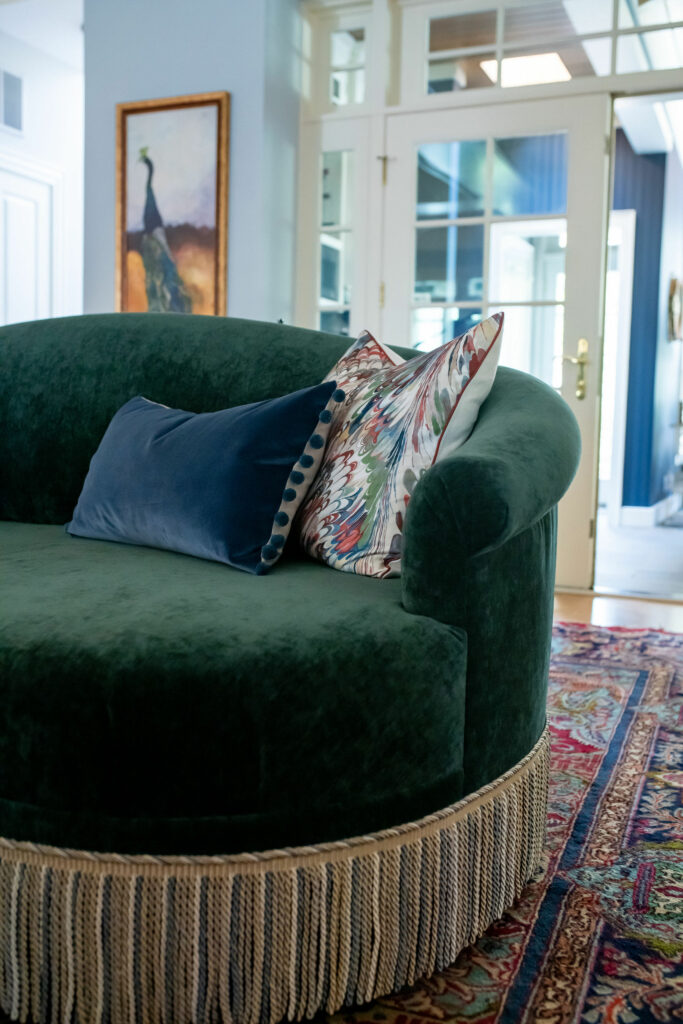 You might be wondering where all the guests were planning to sit, since there's only one sofa in this room. Don't fret – the smaller rectangular space off to the side became the main sitting area, with comfy sofas flanking each other, as well as four unique side tables to ensure everyone had space for their drinks.
Here's a photo of the green sofa and other sitting area, so you can understand how the space is laid out.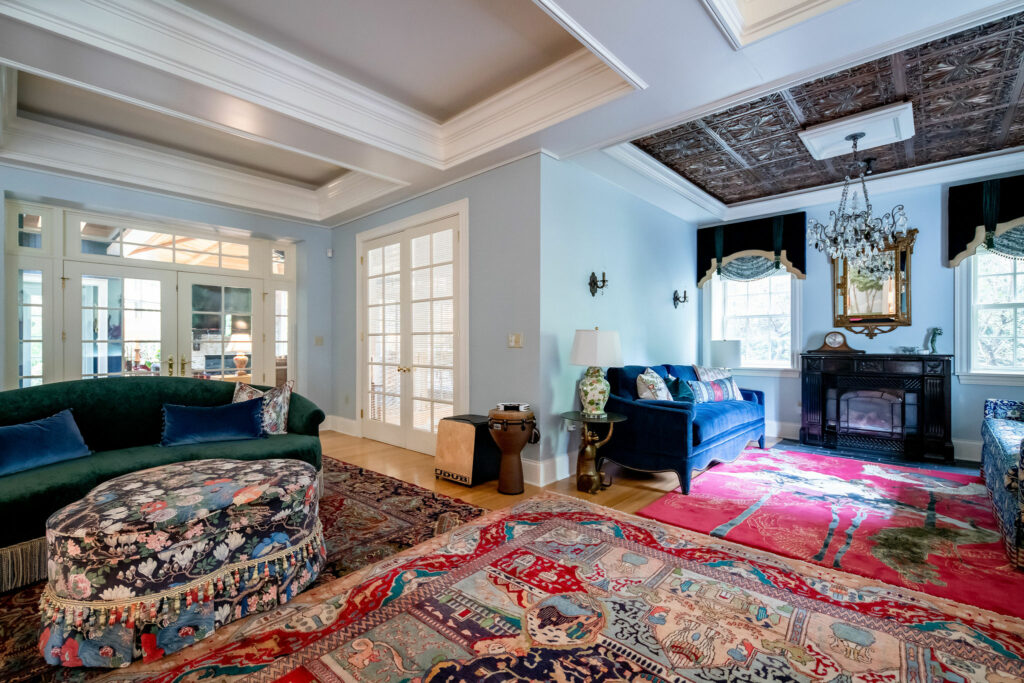 The sitting area has a lovely view of the rest of the room, while being a cozy and more intimate space itself. Imagine curling up by the fire with with a good book and a glass of wine!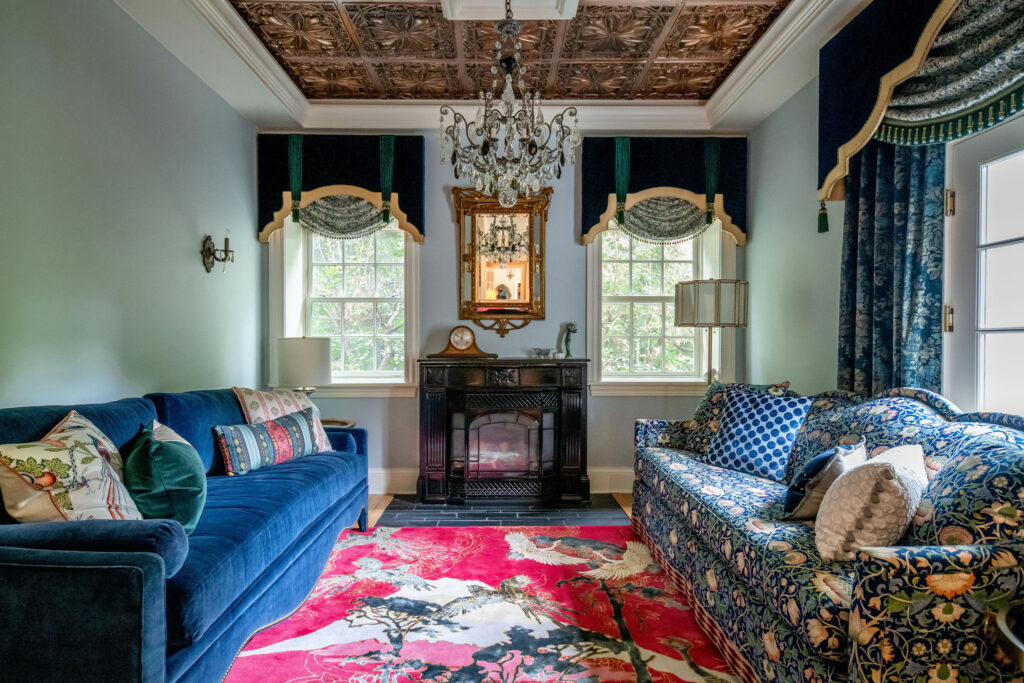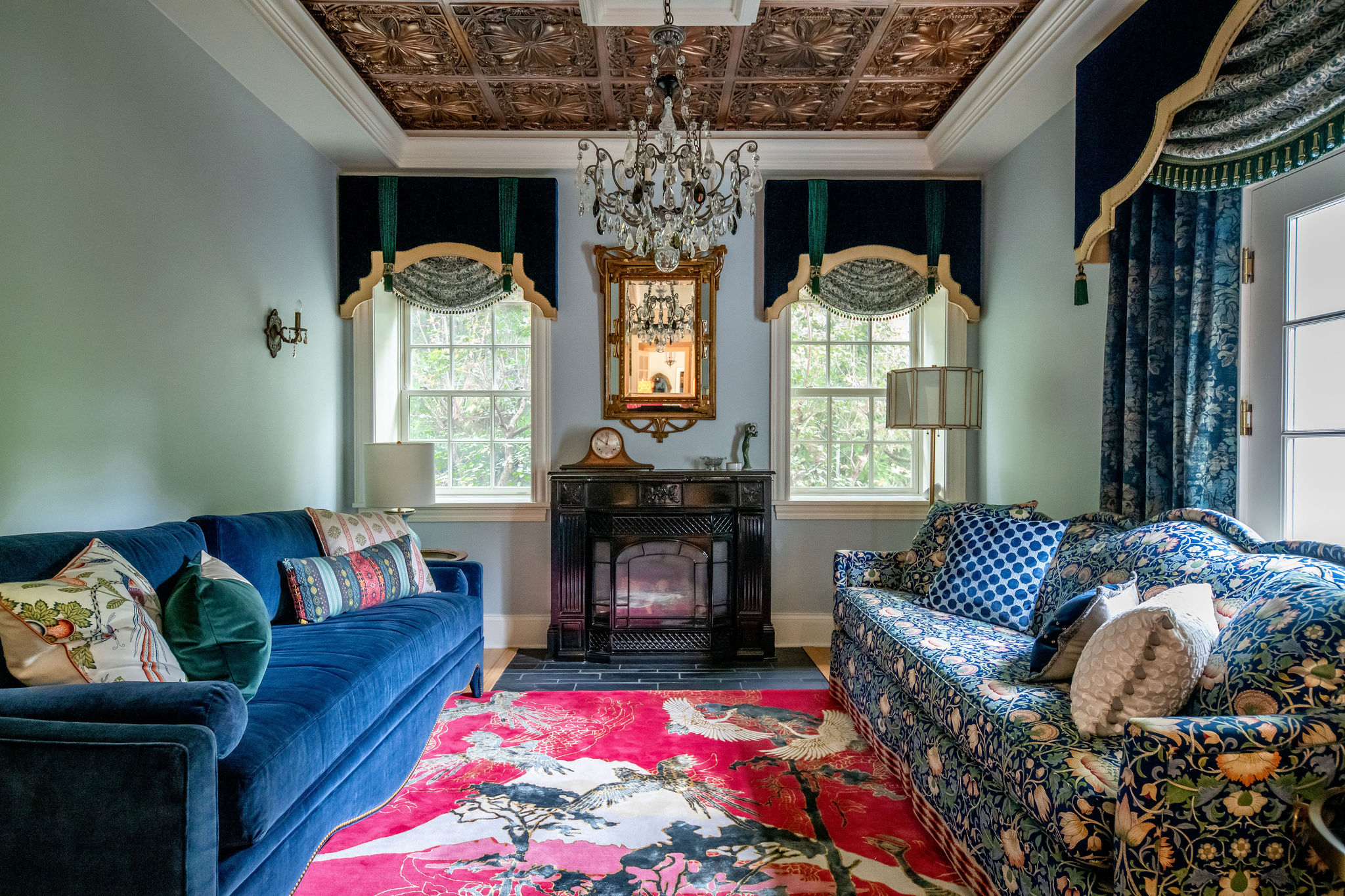 Let's talk a little bit more about those window treatments. These are old school, multi-layer cornices with swags underneath. These were by far the most intricate window treatments I've designed so far. I had to collaborate with both an upholsterer to create the cornice boards and my drapery workroom to create the swags and panels (on the right). Lots of hours of design and fabric/trim selection went into these!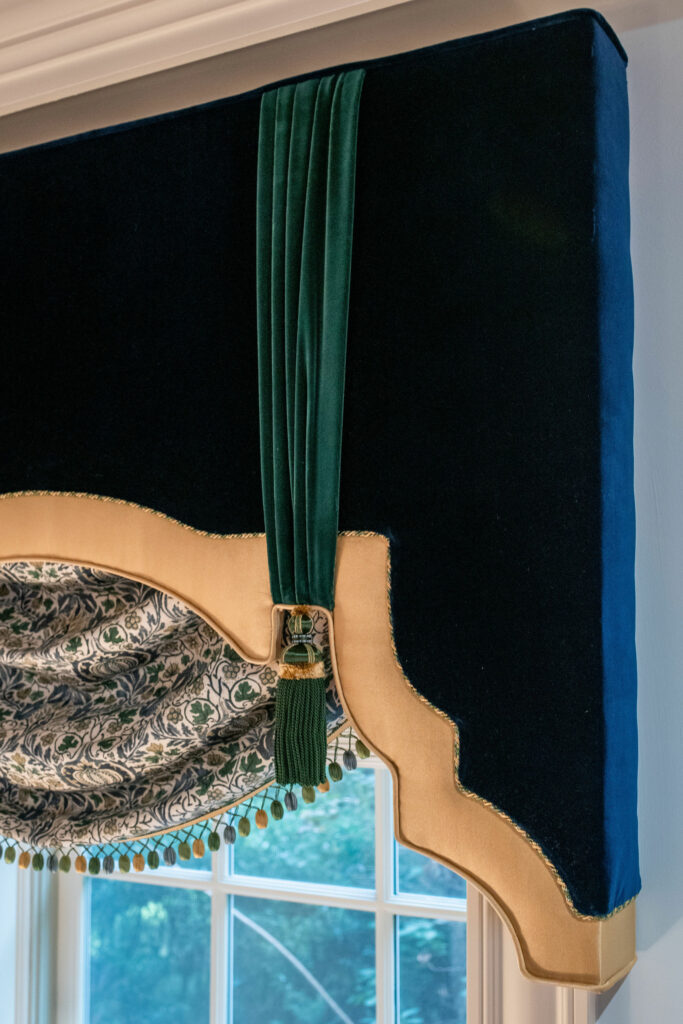 The little details everywhere make these custom sofas stand out from the crowd. The lefthand sofa features a curved bottom and a pretty nailhead design. The striated velvet is super soft, and the bench cushion design guarantees no one is sitting on a seam! The sofa on the right features a classic William Morris print that I paired with a textured velvet trim.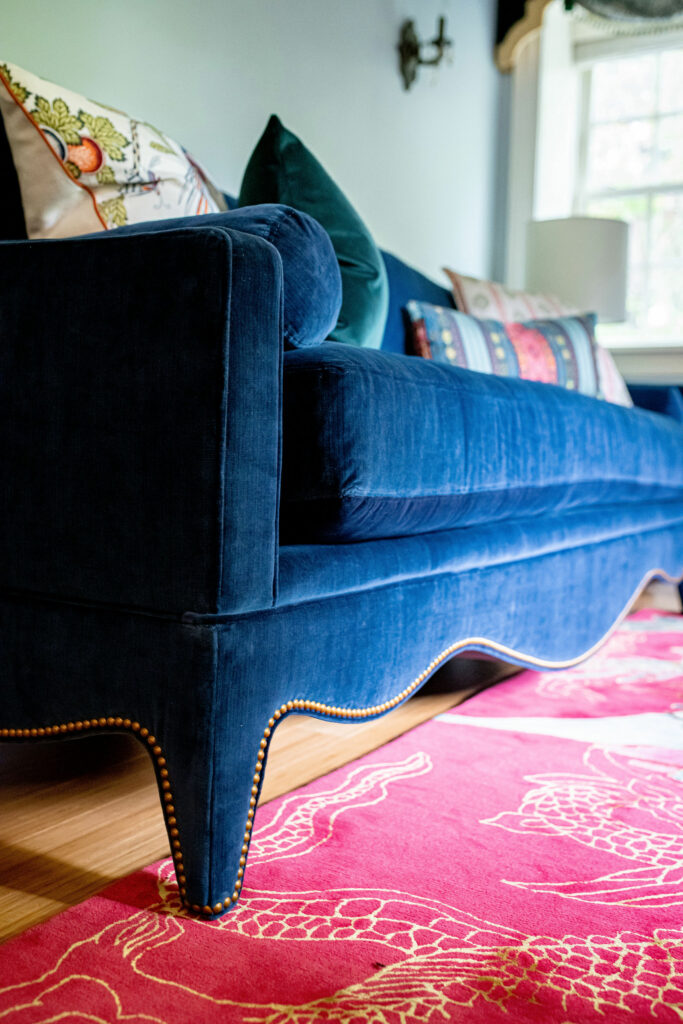 For even more layered goodness, I added a bunch of throw pillows to all of the sofas in the room.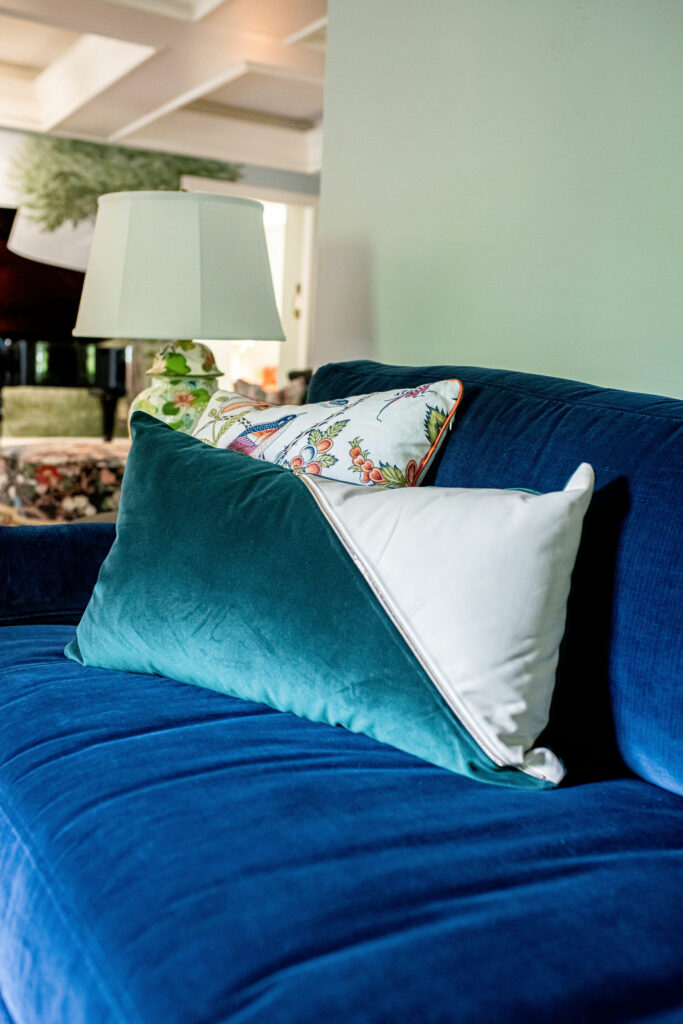 The last piece of the puzzle was what to put over the fireplace. I found this amazing 1930's antique mirror.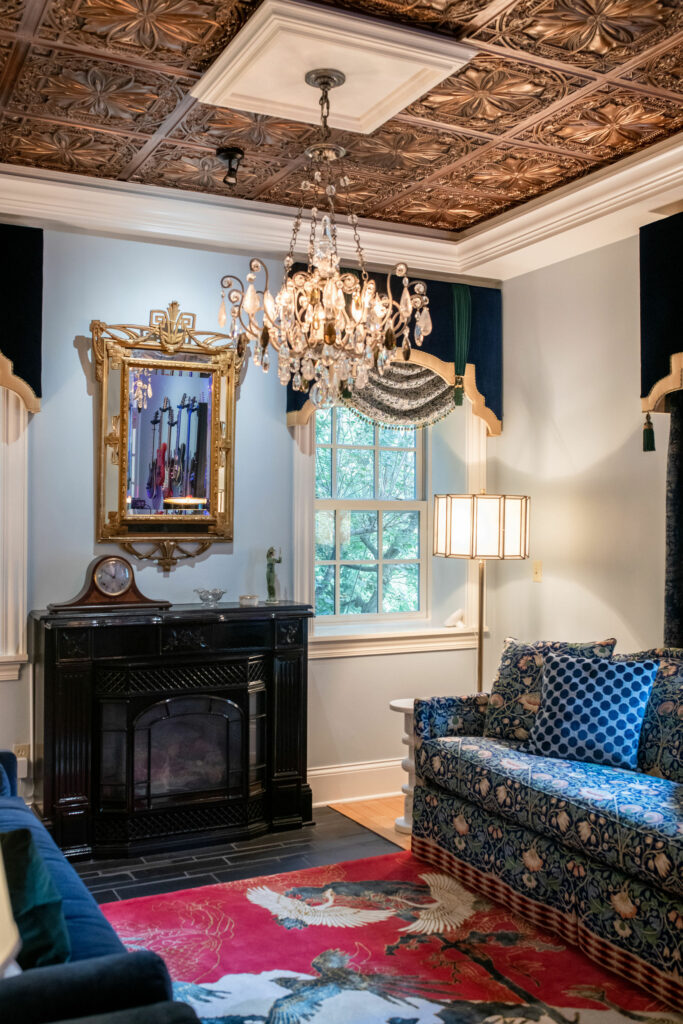 It's the perfect scale for the space and features tons of beautiful detail.
I hope you've enjoyed this journey through the design process! Here's a side by side before and after for your viewing pleasure.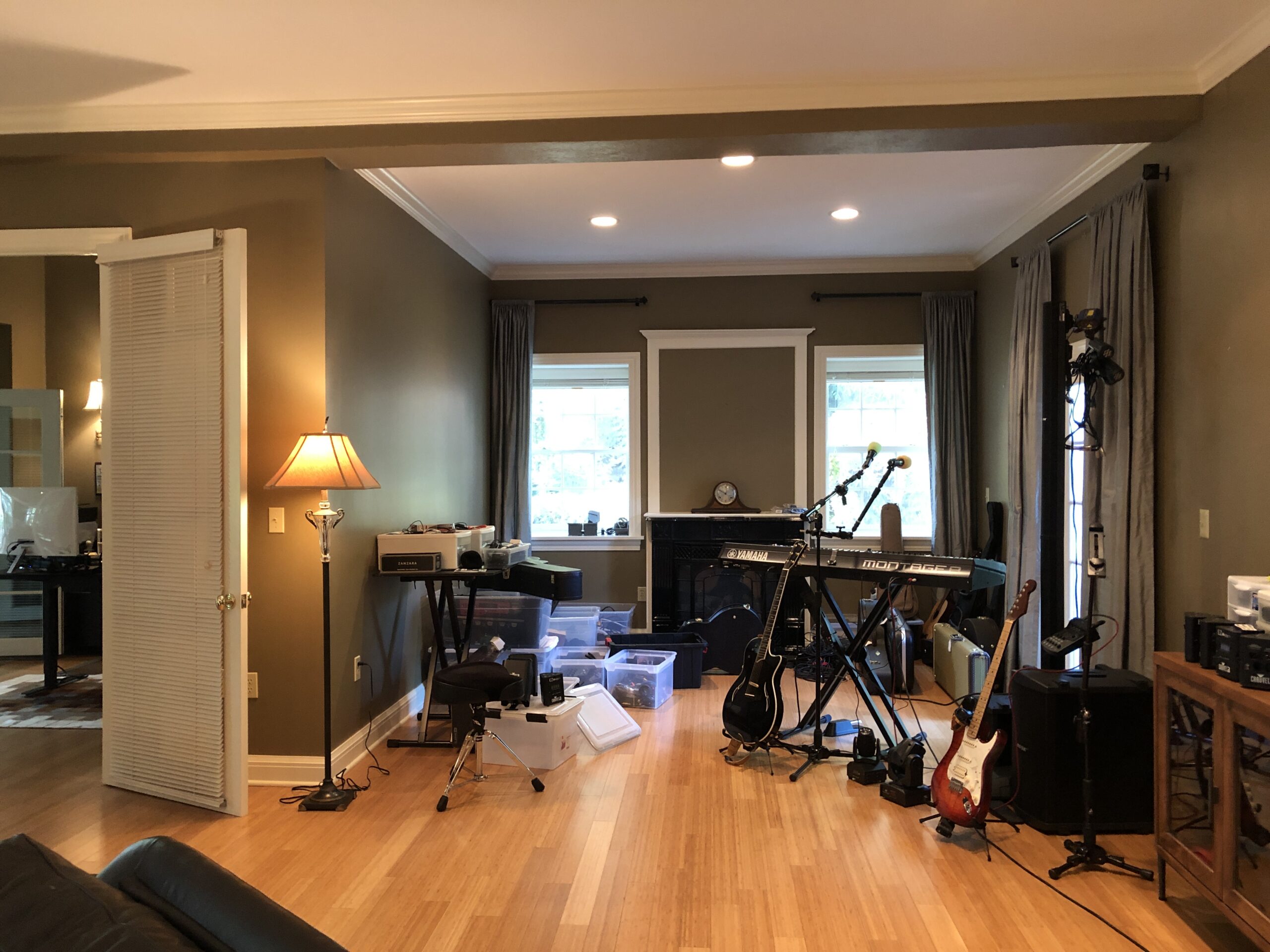 Want help with you space? Schedule a Discovery Call with us!