This Solon kitchen, mudroom, and butler's pantry received huge makeovers. The spaces went from brown and drab to light and fab!
This home's main level was all brown. My clients are anything but bland, so this really didn't work for them. We swapped out the dark cabinetry for natural maple, added a ton of colorful tile details, and created a custom walk-in pantry full of functional storage perfect for the family's gardening-loving needs!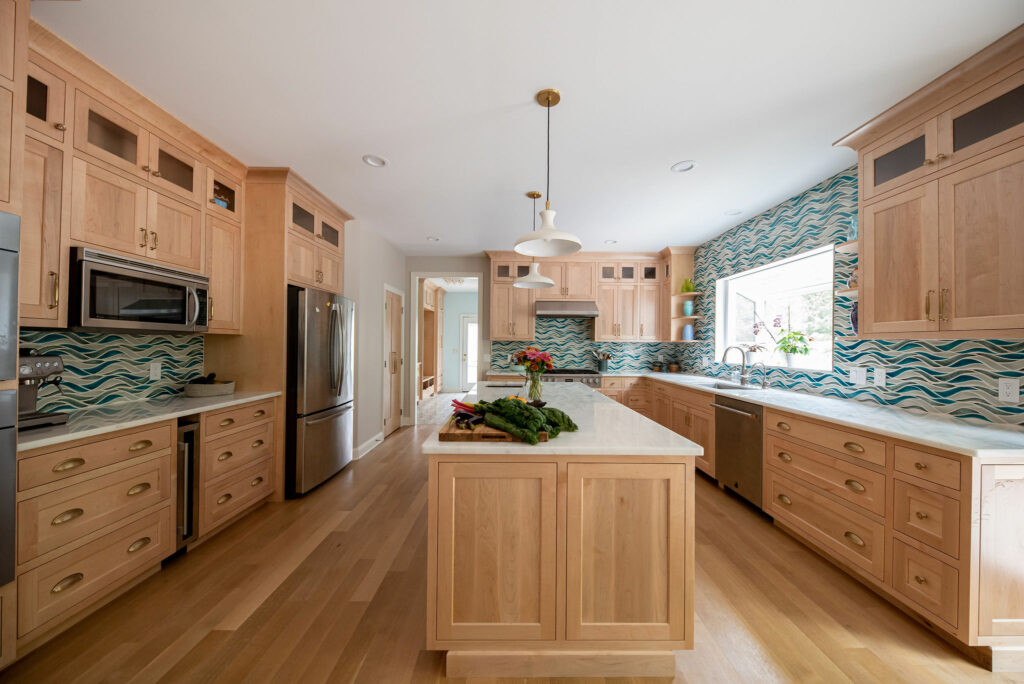 Here's the before.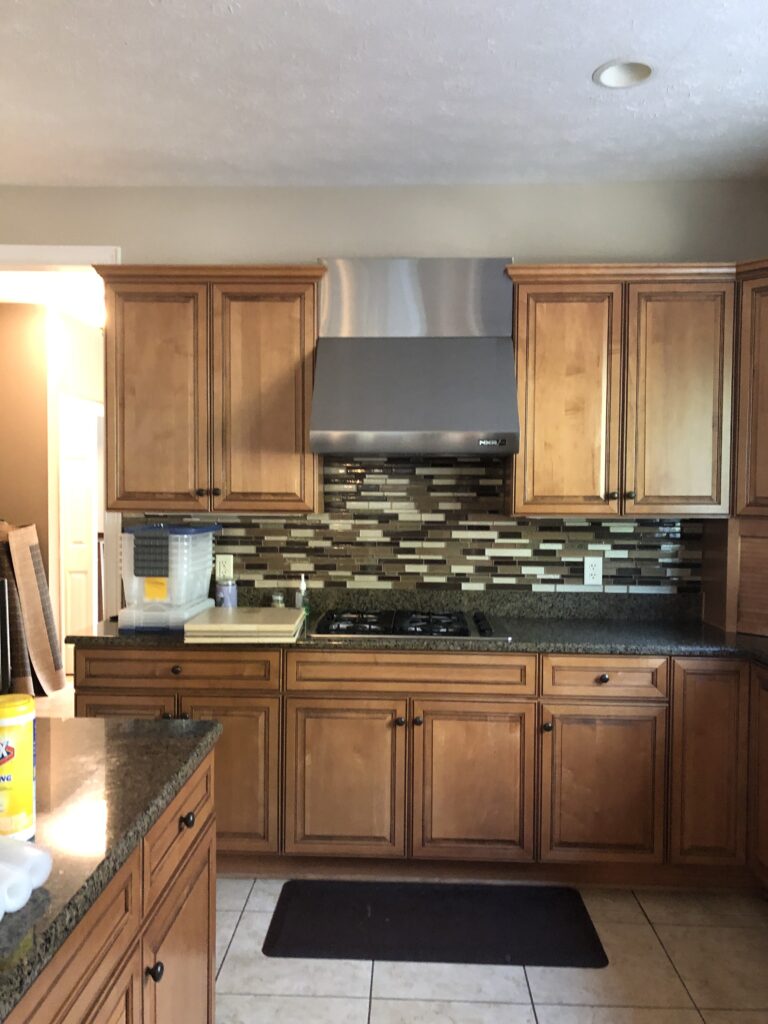 Not only was it brown – that backsplash tile was added AFTER the counters went in, as is evidenced by the 4″ stone splash so unceremoniously put underneath the weird stripes of tile. Can you tell I really hate that tile?
The cabinets themselves weren't horrific by any stretch. However, they didn't extend to the ceiling, nor did the overall layout work for my clients. They prefer big drawers versus cabinet openings. Drawers are more ergonimic – WAY easier on knees, hips, and backs!
Here's the after: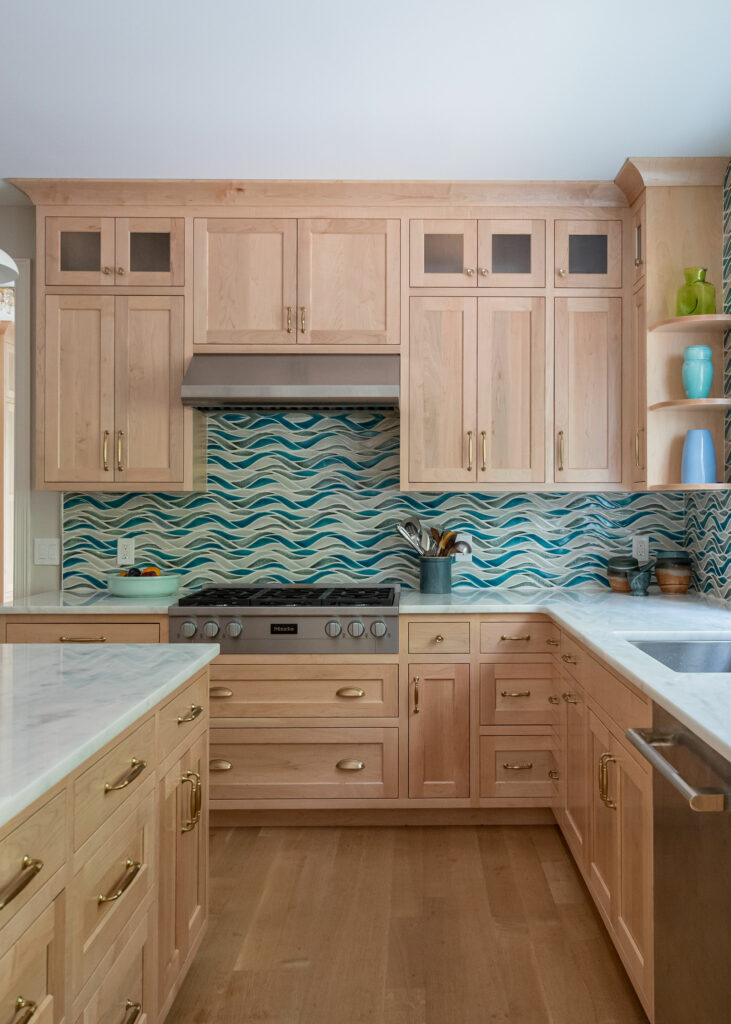 There's a LOT more drawer space now! We also added a second row of glass cabinets that stretch to the ceiling.
You can't tell from the photos, but the base cabinets are also deeper than usual – they're 30″, instead of 24″. Why? So my client has plenty of workspace AND and extra 6″ to keep frequently-used items on the counter without getting in the way.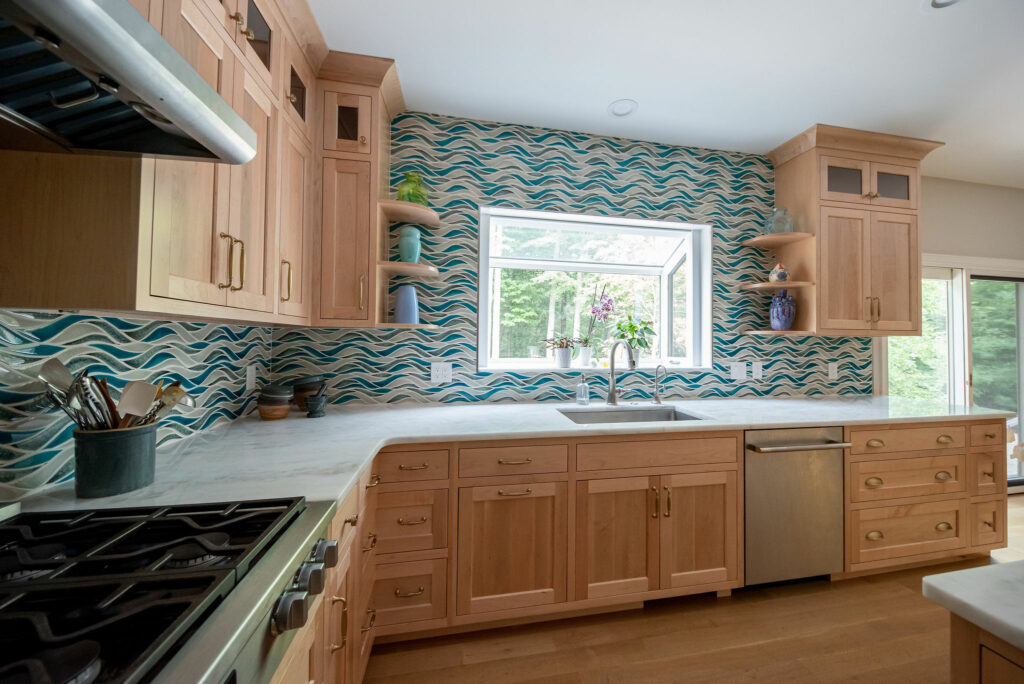 We kept the counters purposefully neutral because the backsplash is most certainly the star of the room. The counters are a natural quartzite, NOT manmade quartz. The backsplash is a custom blend of colors selected by yours truly.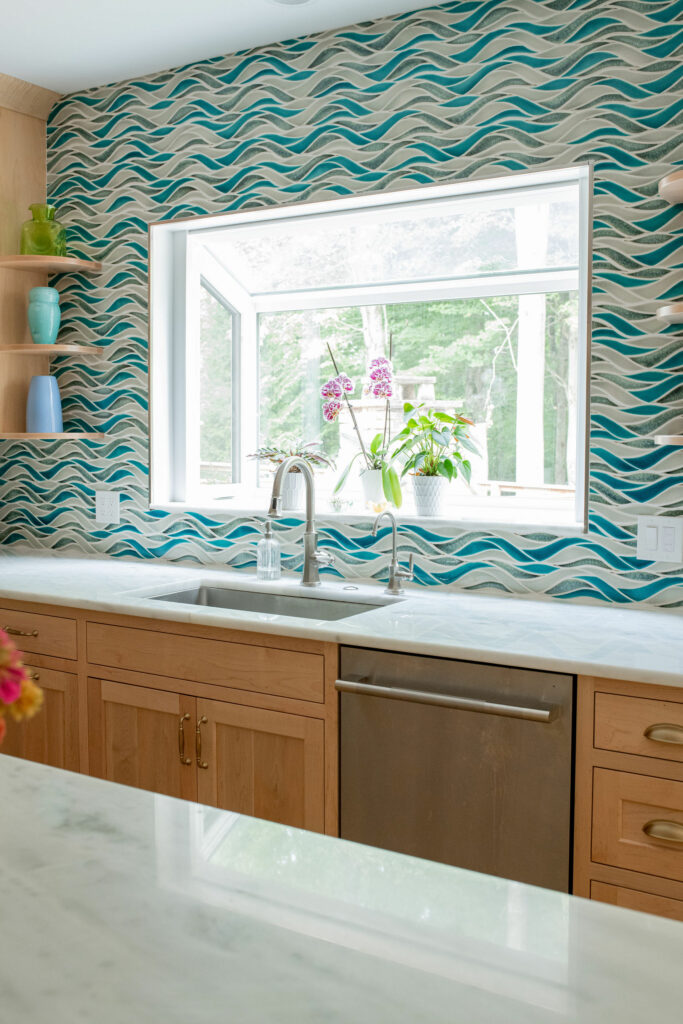 Here's another before shot of the oddly missing base cabinet (far left), a squished microwave area, and very little counter space.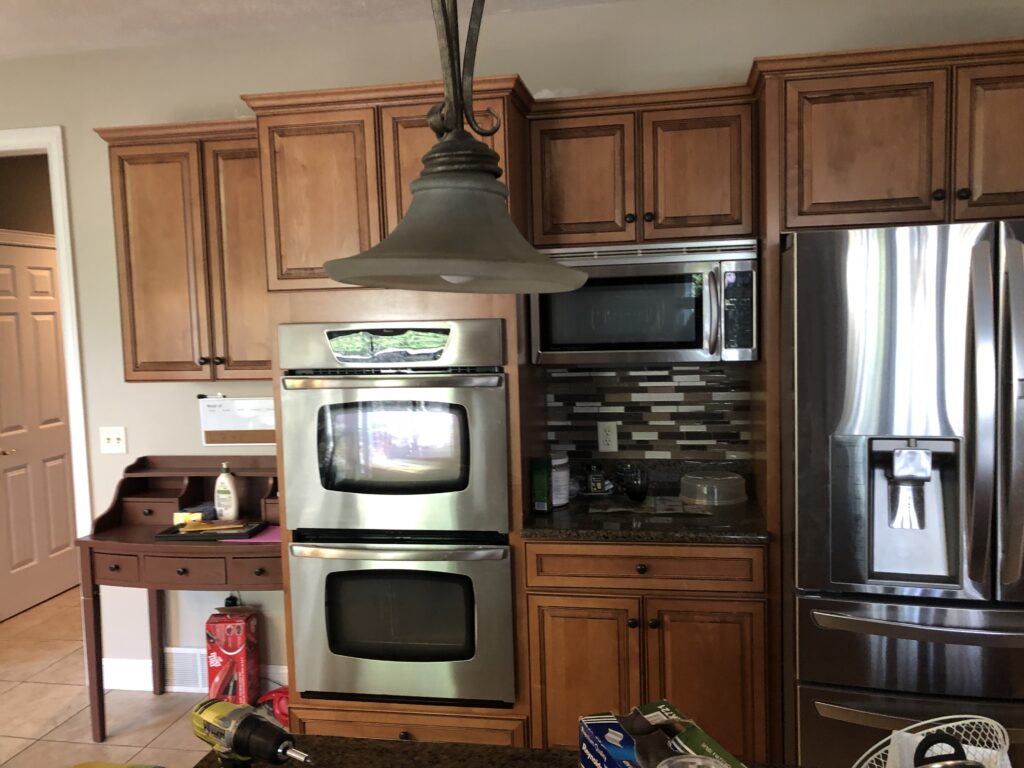 I opted to stretch out this space so that the large appliances were on the outer edges. This provided a lot more space in the middle for a usable counter and more upper cabinet storage. This new design also allows the microwave to blend in a little more.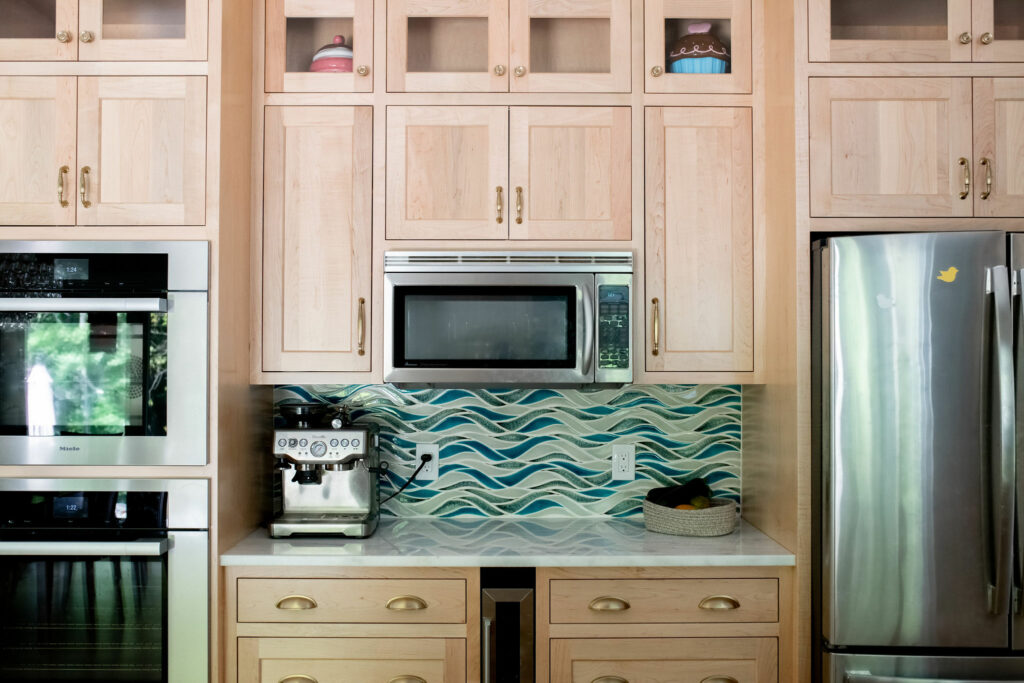 Did you notice the world's cutest little wine fridge? It holds exactly 6 bottles, which is exactly what my clients wanted. I love her.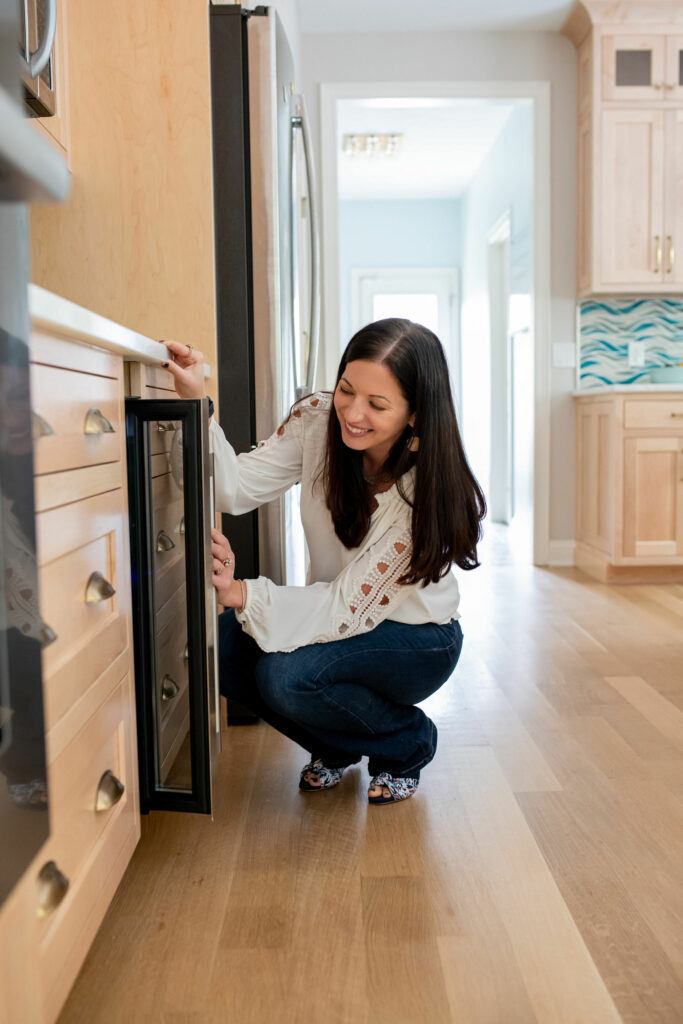 Let's pause for a minute and talk flooring. This is quarter sawn white oak. Real oak. Not LVP or laminate. This stuff is solid. It's also not stained a color – this is just the actual wood with a water based top coat on it.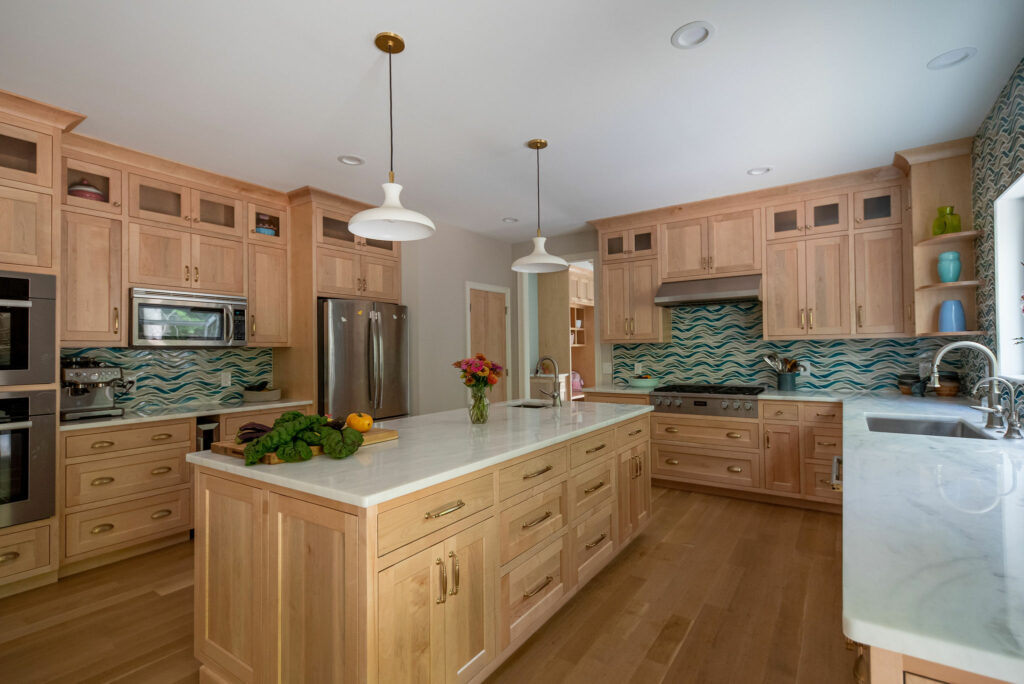 While we're on the topic of wood, you may be wondering what the cabinetry is made of. It's maple – beautiful, natural maple with just a top coat to seal it. The slight tonal variations are on purpose – that's what natural wood does!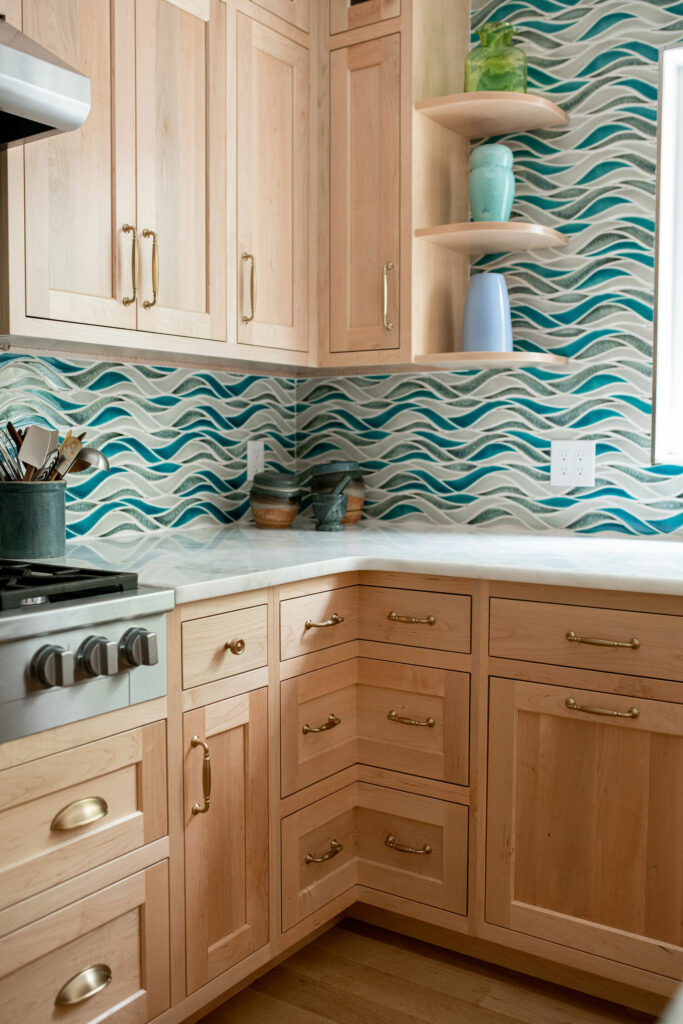 Alright, let's take one last look at the before. See that space on the right where the wall curves in? We got rid of that and pushed the whole kitchen out a couple of feet so it was all even. We also got rid of those appliance garages. What a waste of valuable corner counter space!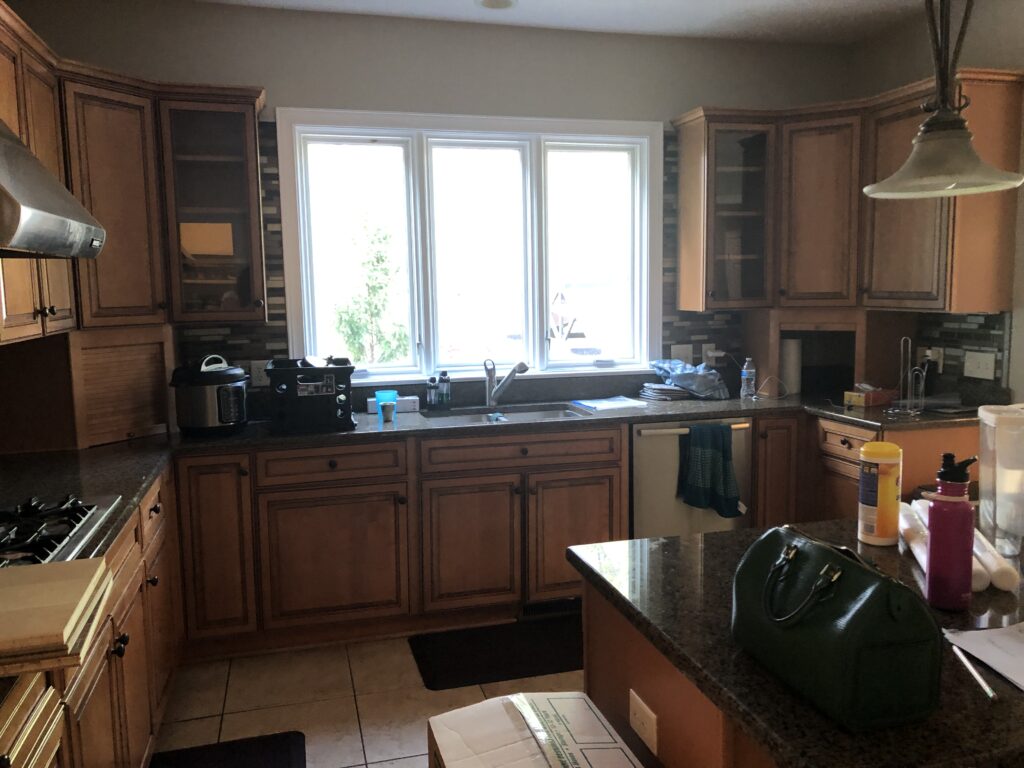 Here's what that side of the kitchen looks like now, along with part of the nice, long sliding door that's there now!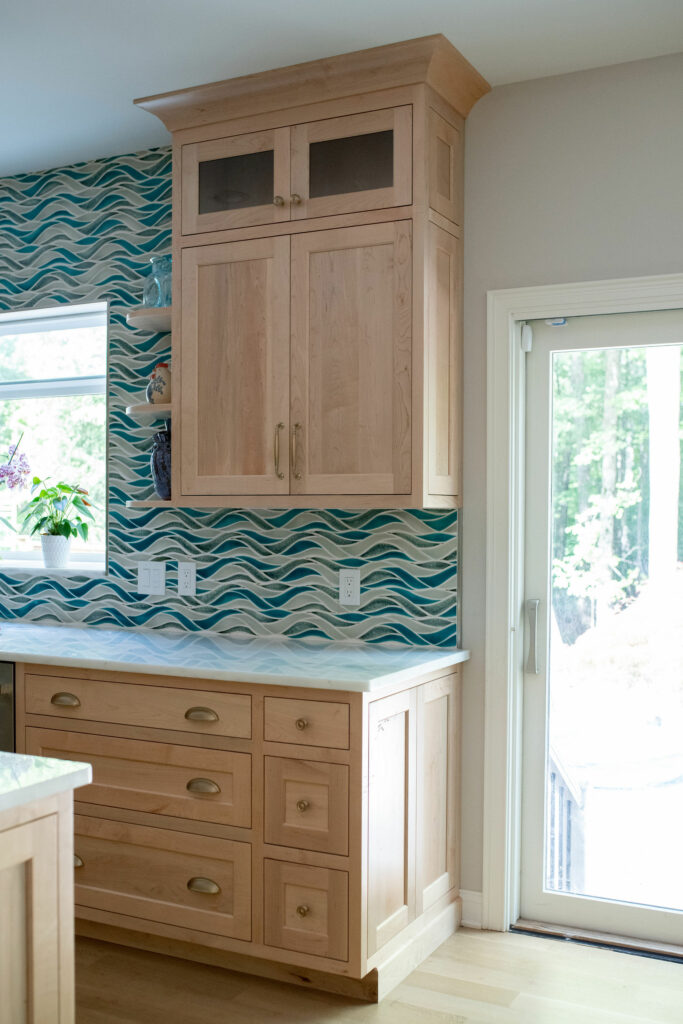 Here is the new sink side of the kitchen, complete with a new greenhouse window. We also got rid of the tight upper cabinets flanking the window and opted for a couple of open shelves instead.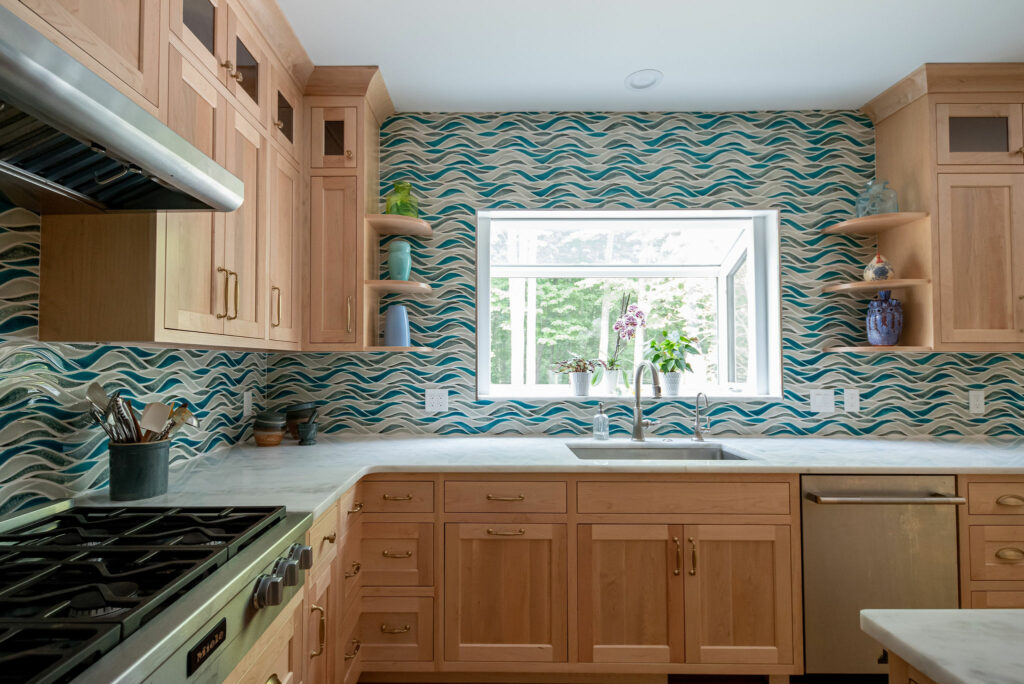 We added a lot of custom storage inserts to the cabinets to help keep things organized and tidy. Here's a sampling below: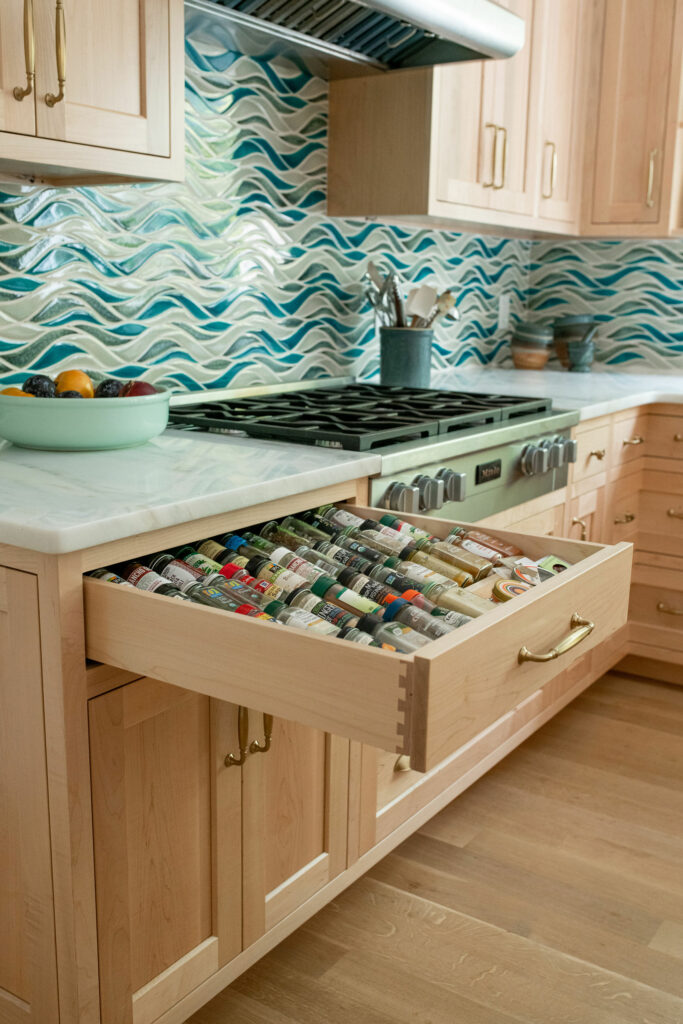 Let's move to the butler's pantry, shall we? Same dark cabinetry. Even darker wall paint. Kind of a muddy mess.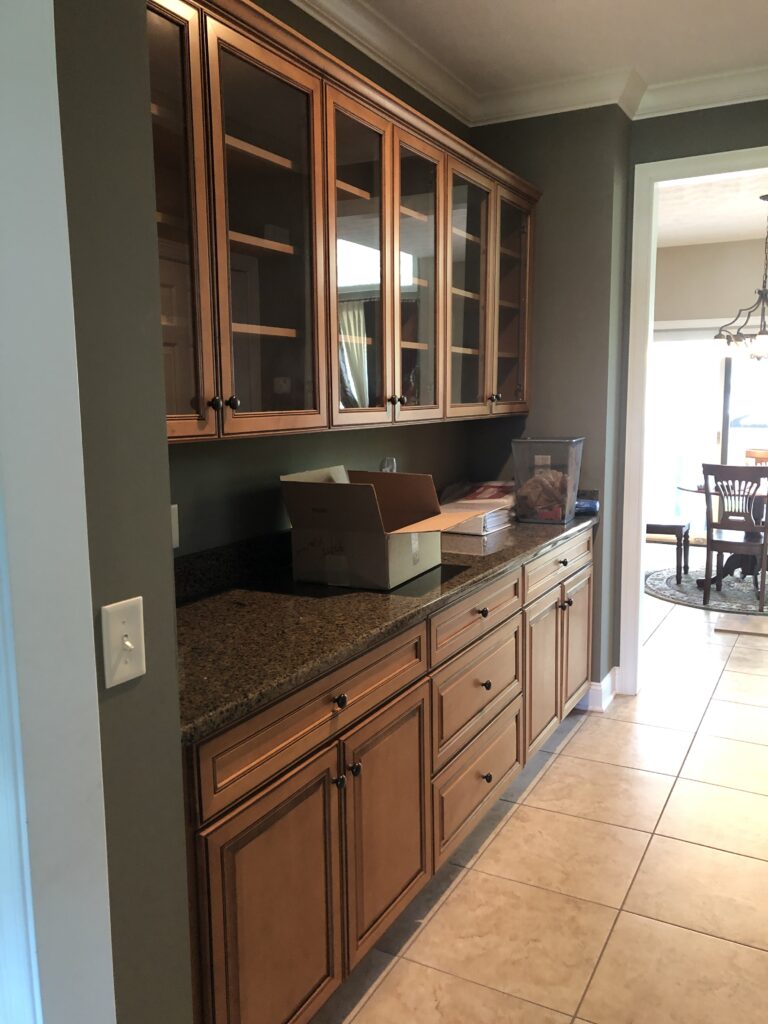 We changed that just a wee bit by swapping the cabinetry, painting the walls, and adding another custom designed backsplash.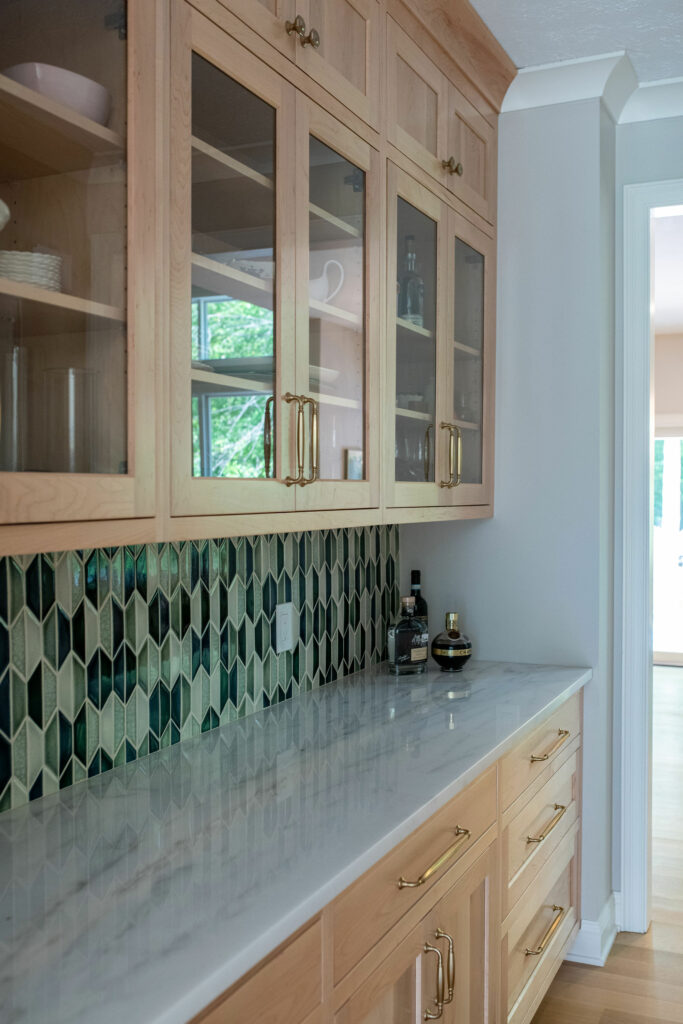 I adore the colors!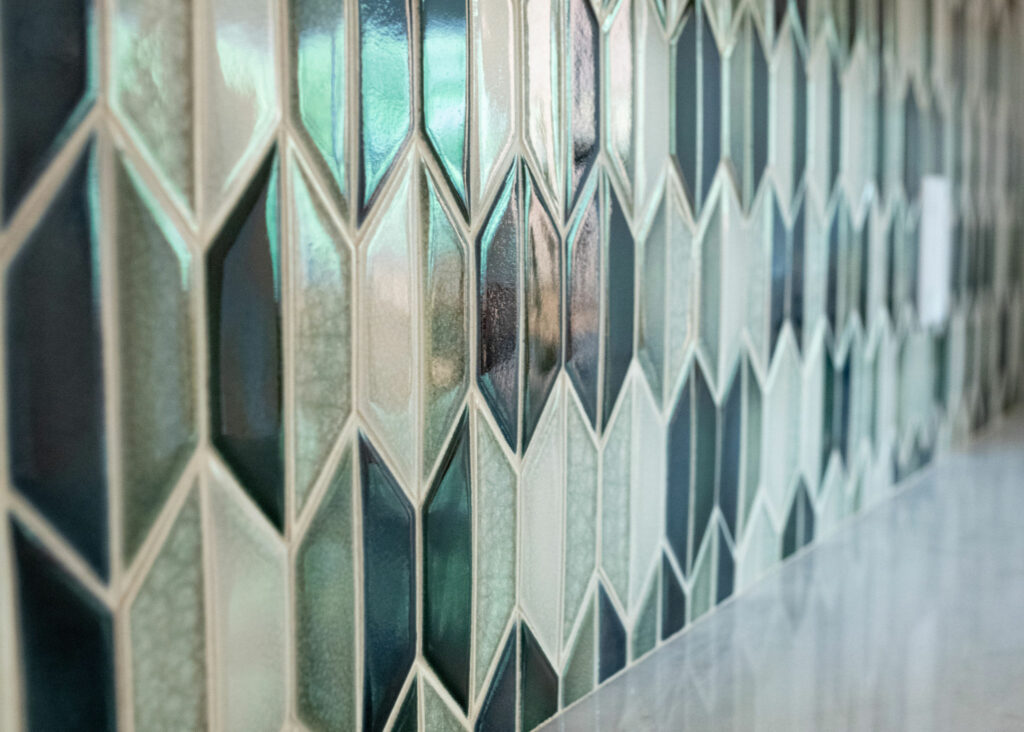 Next up, we have the mudroom before. It was a pretty blank area with one closet.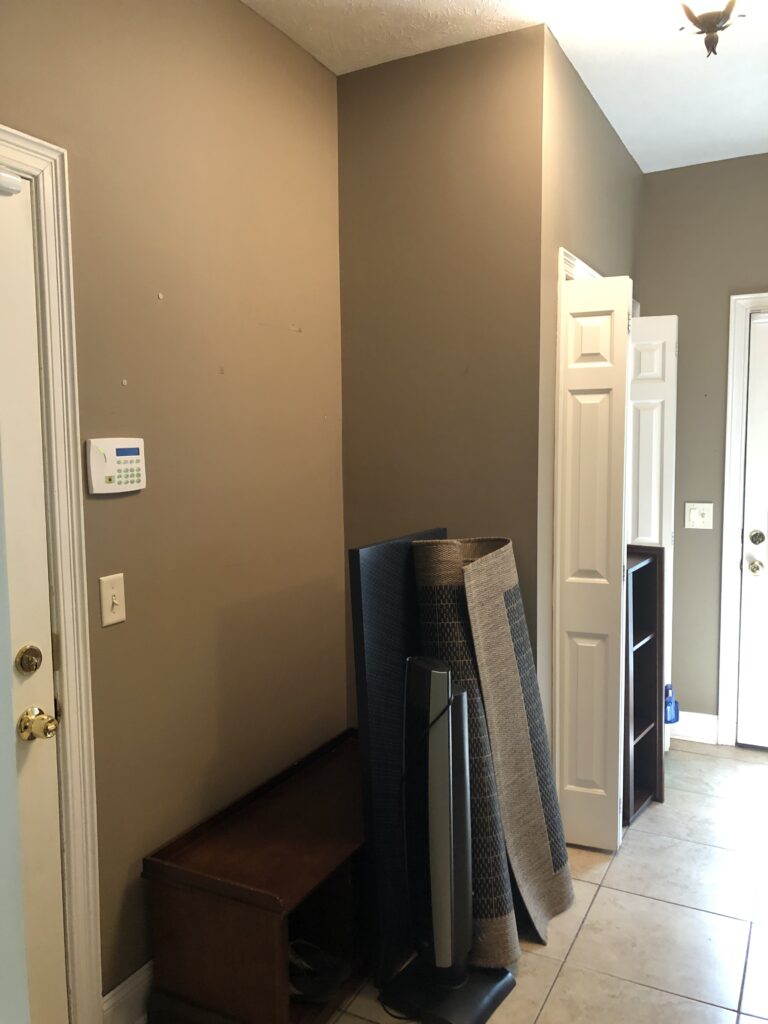 We turned it into a much more functional space!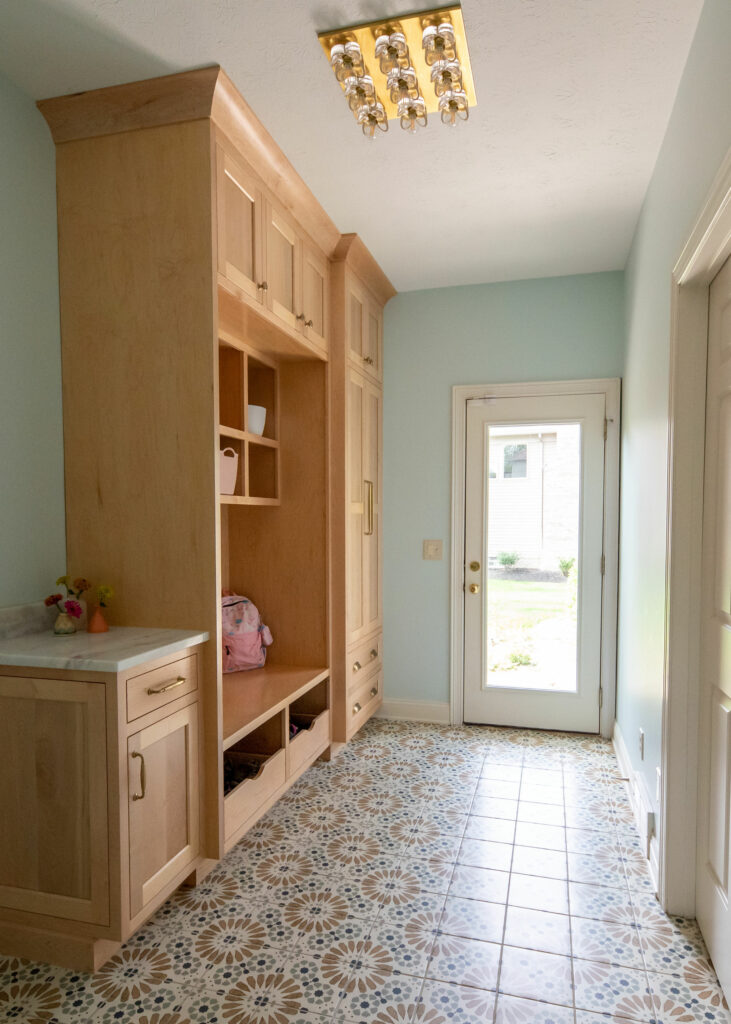 There's a key and mail drop zone right by the garage door, a bench for taking on/off shoes, storage cubes for hats and gloves, storage drawers for shoes, and a full-height cabinet for coat storage. We again took the cabinets to the ceiling to maximize every inch of storage space.
Here are some close-ups of the design choices in here. I'm mildly obsessed with the floor tile. It's just so fun! And why not add some fun to the mudroom? (Also, it's super practical. Buy patterns hide dirt.)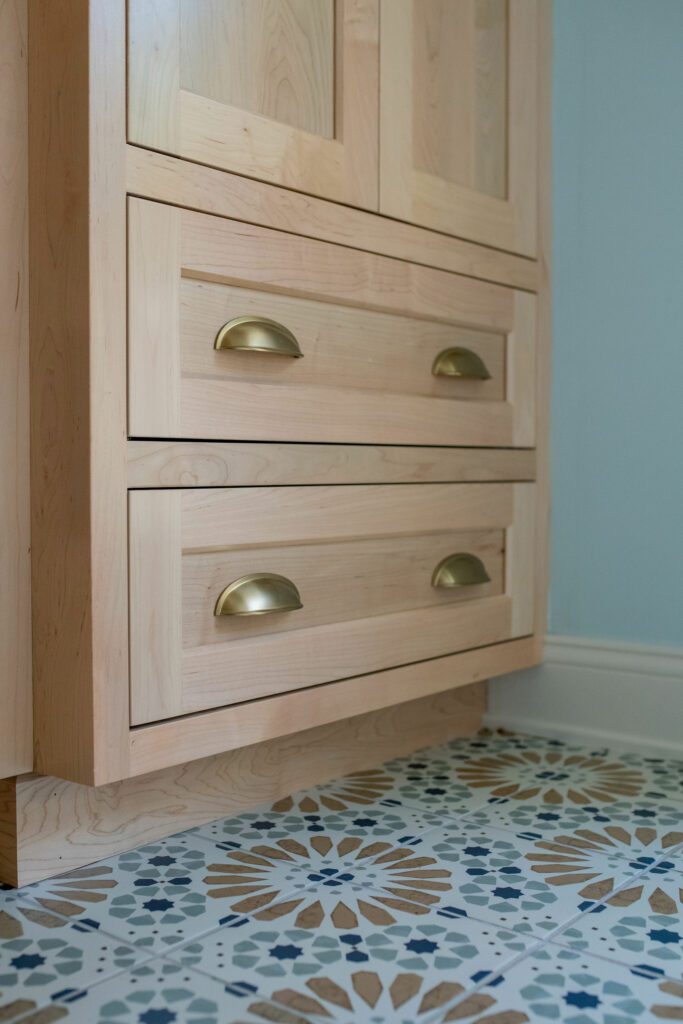 Last but not least, let's look at the custom walk-in pantry I designed from scratch!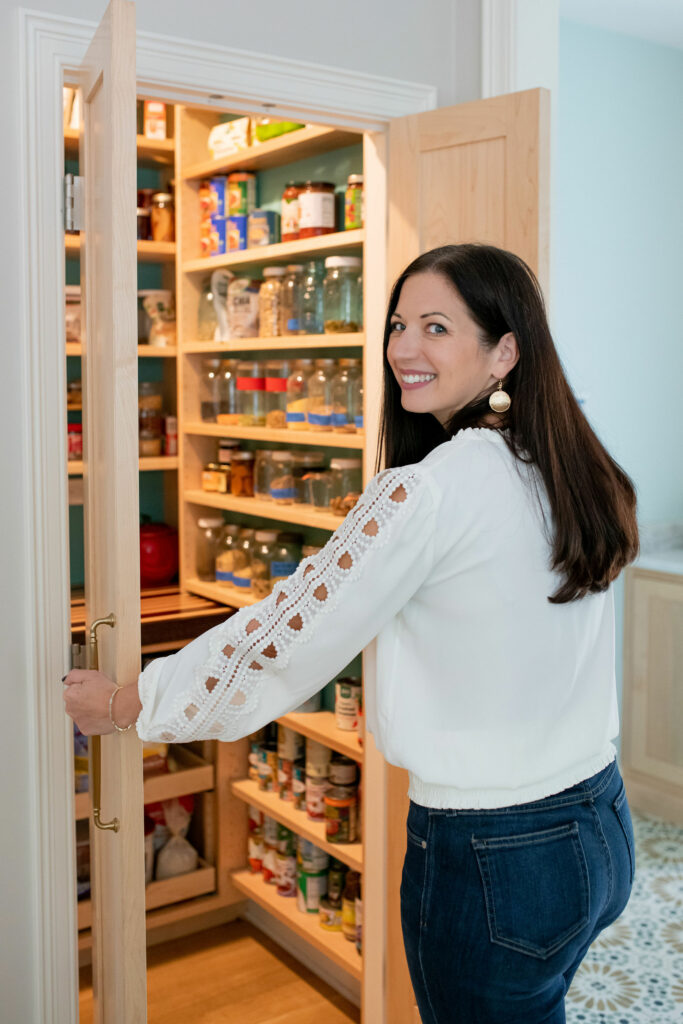 My clients can their own food, so having a whole wall of jar storage was crucial for them. I added 8″-deep floor-to-ceiling can storage on the right hand side of the closet.
In the middle, there are two sets of open drawers for larger items, such as bulk flour, plus two wire racks above for onions, etc.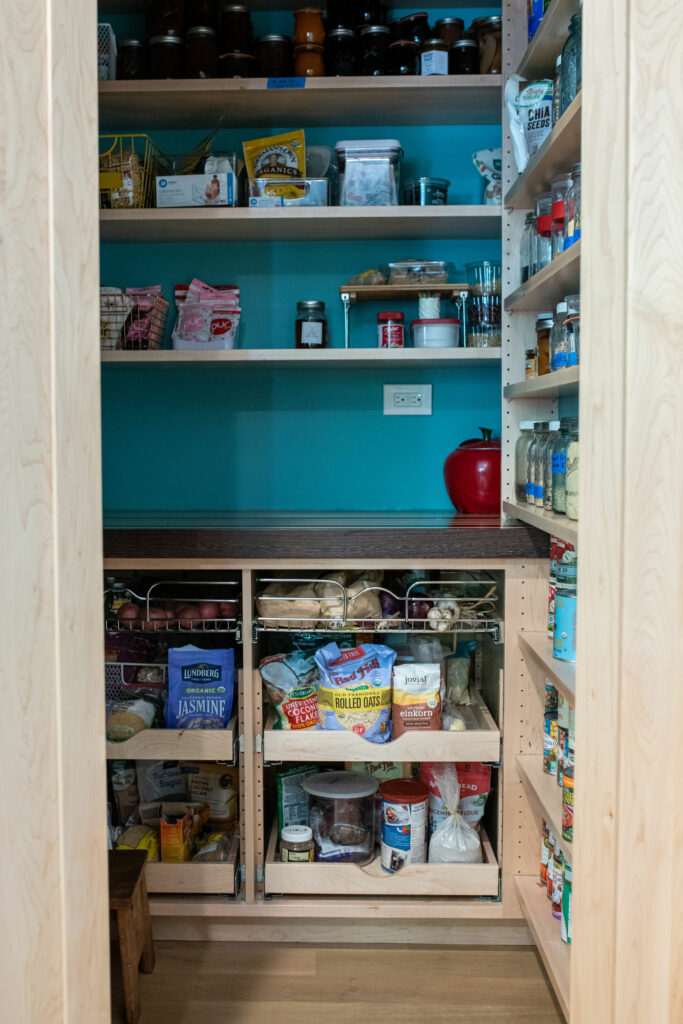 On the left side, there are more pullout drawers up to around 54″ (where pullouts would be too cumbersome for most average-height folks). Above that, we added more standard shelves. This small pantry maximizes every square inch!
The top is a butcher block that's food safe and easy to clean.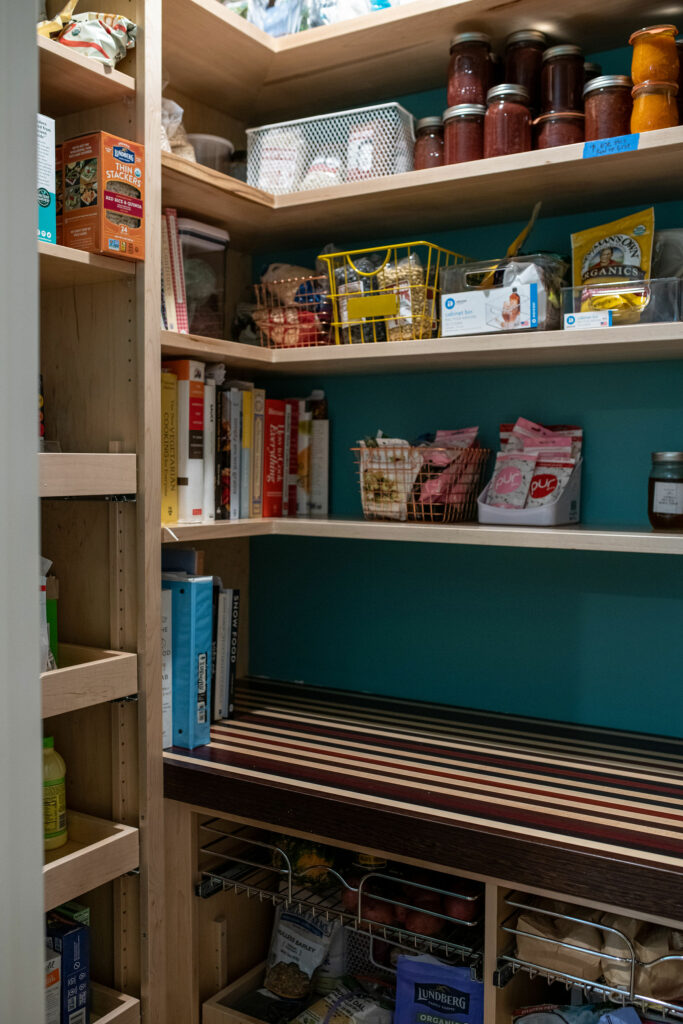 Here's another view of the finished kitchen. She's so light, bright, airy, and fun now!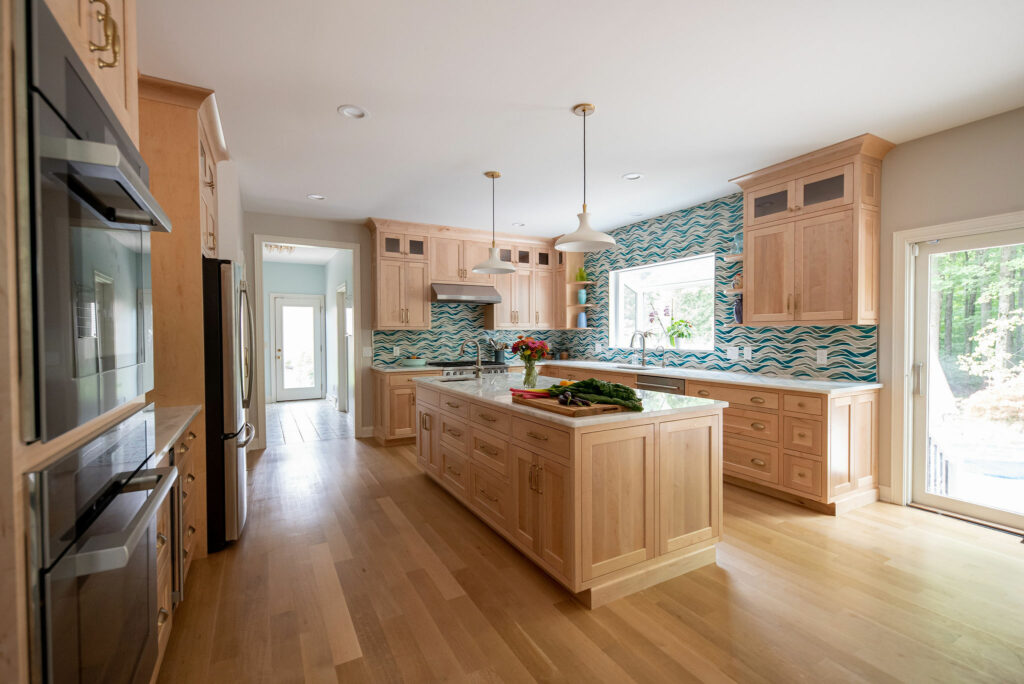 If you're thinking of making big changes to your space, it would be our pleasure to assist in your journey. We love customizing kitchens, butler's pantries, and mudrooms to fit the needs and lifestyles of each of our individual clients. Contact us to chat further.