This is the story of my own guest bedroom transformation.
I forgot to take Before photos. Yep. That's what happens when I design a room in my own home.
This is the best I have, and this is just a photo of the room when I was trying to get some ready-made panels to "relax." (It didn't work. I hate ready-mades.)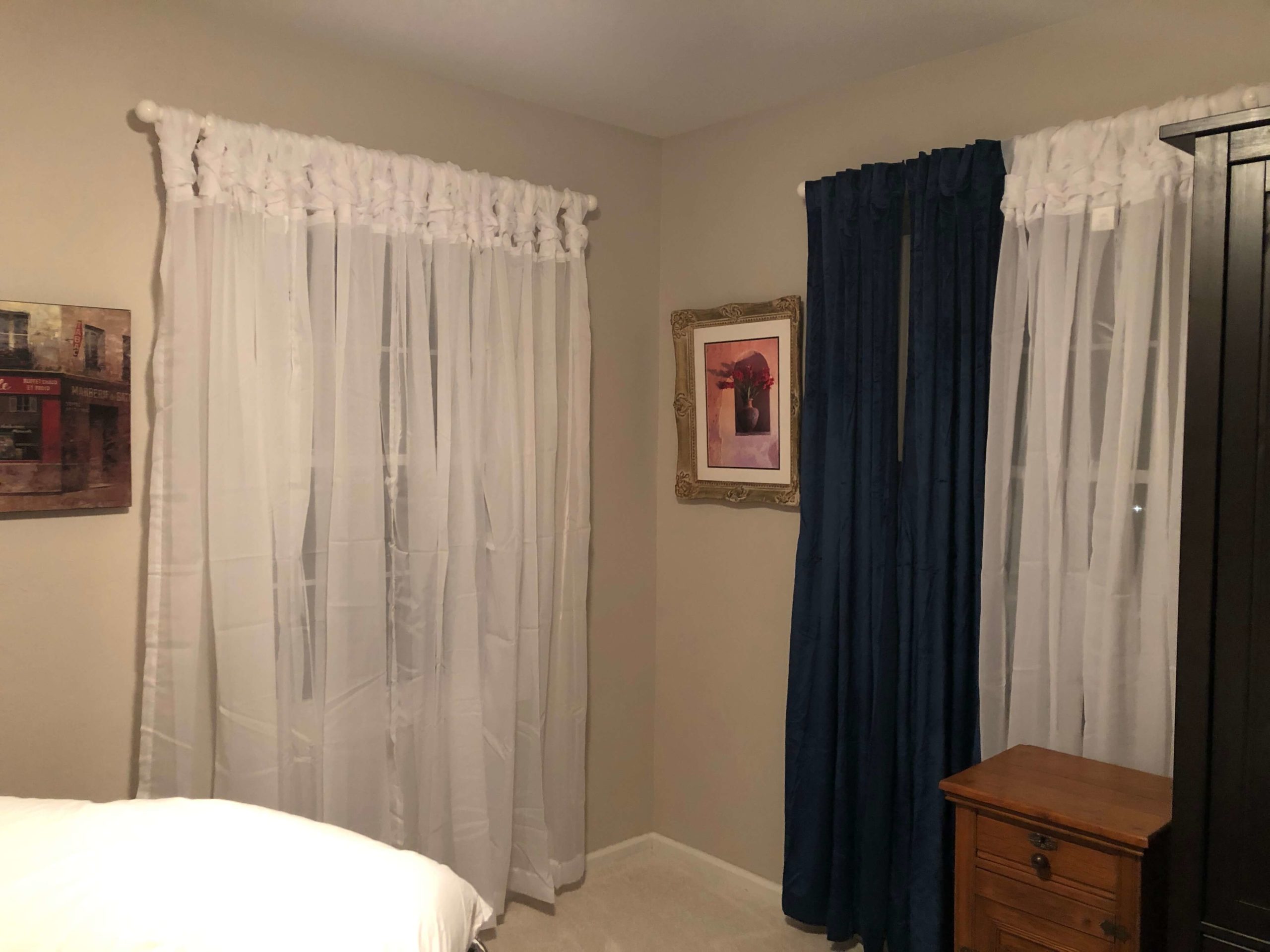 You can kind of see there's a cheap, giant wardrobe on the right side. There were a couple of equally as unaesthetic nightstands and some leftover lamps by the bed, which itself had no headboard or proper bedding.
"Imaginalize," as my son says.
I was having guests for the holidays this year, and this room was honestly an embarrassment. Yes, it was technically serviceable as a guest room, but look at it from my point of view.
I'm a designer. I design and sell custom window treatments and bedding. I have access to hundreds of amazing furniture vendors. I love mixing vintage and modern pieces.
And THIS was my guest room.
No. Bueno.
So I started gathering the stuff I liked – just like I do for a regular client – and created these 2-D concept boards.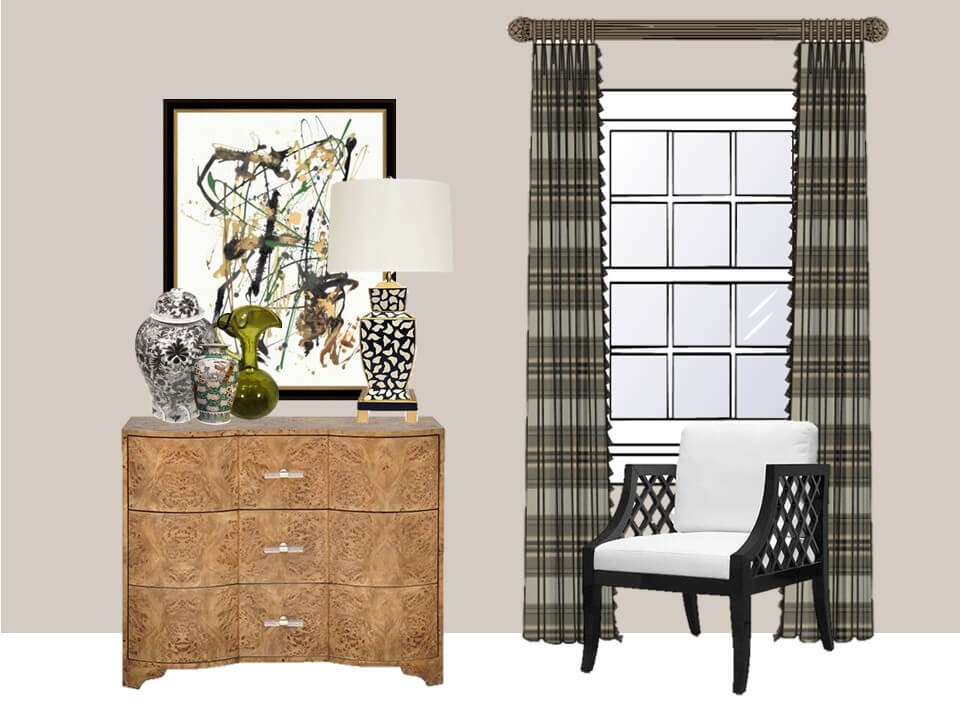 These were my "ultimate dream guest bedroom" look. Reality and dreams rarely coexist, though. Why?
MONEY.
In the spirit of keeping my family's interests at heart, I did what I often do at clients' houses: I looked around and figured out what I could incorporate from elsewhere in my house to make the amount I was willing to invest work for the room.
I happen to be a mild hoarder of vintage side tables, and two of them were the perfect fit for my guest bedroom.
Check out those side tables, faking it as nightstands!
I also had a wing chair chilling unnecessarily in my sunroom, so I brought it upstairs as a replacement for the carved chair in my original design.
Here she is, in all of her patterned glory!
And lastly, instead of forking out a couple grand for a dresser that would be used maybe once a year, I went the vintage route. I found a WONDERFUL local vintage restorer who was cleaning out her warehouse and found this stunner for a steal on Facebook Marketplace.
It's ok if you don't see her potential. That's kind of my job. The thing is, I have an AMAZING refinisher.
That's the beauty of knowing craftspeople you trust and admire. (And I know a lot of them.)
Anyhow, back to my bedroom. I really still did want my custom bedding and draperies. Custom is not inexpensive. It is an investment. I really, truly believe custom products can transform a room. That was my priority in the space. So I searched for close-out items from one of my favorite vendors, and that's where I purchased the lamps and headboard.
I picked the drapery fabric from one of my FAVORITE fabric vendors (Fabricut). As usual, I made a little rendering just to see what the fabric would look like on the panels. (Yes, I really do this even for my own stuff. There's a limit to what I can "imaginalize" for myself.)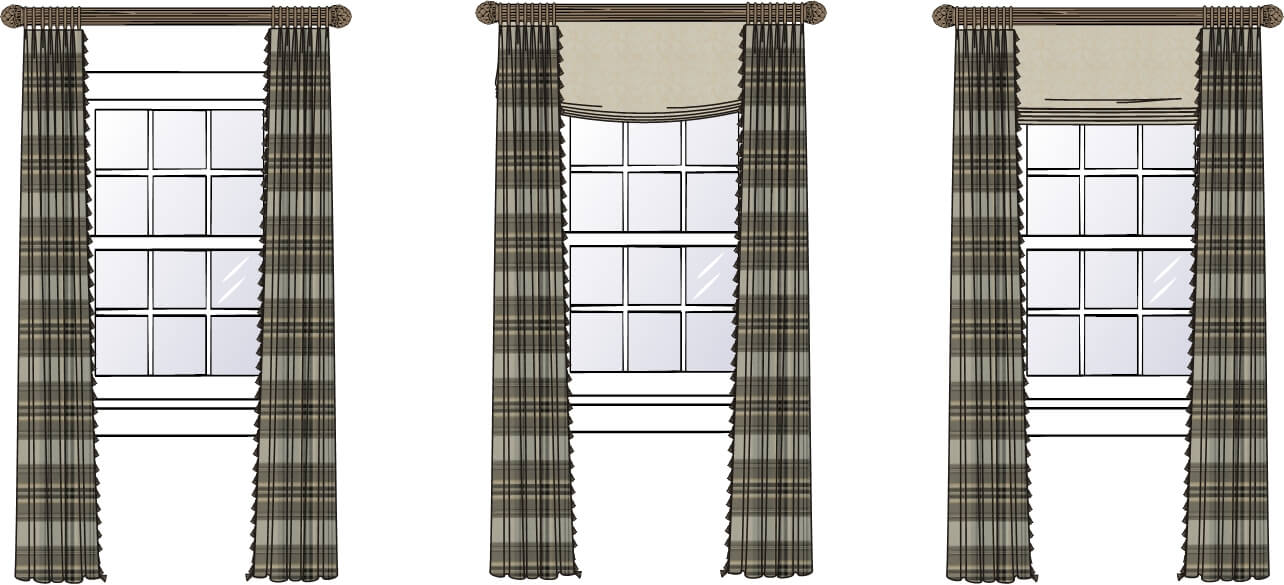 The tassel trim is actually standard on this particular drape rendering and I got too lazy to remove it. This is for me, after all. I can picture the drapes without the tassels.
I'm glad my cats didn't see this rendering. They'd still be giving me the silent treatment if they'd have thought tassel drapes were an option. And my house would have chewed up tassels EVERYWHERE.
As you can see above, two of the options have Roman shades underneath. I picked the most amazing fabric for these…and then realized these, too, would be most overkill for a guest room inhabited maybe 10 days per year. So the Roman shades got the cut. That's the reality of working within a budget.
Let's see some progress shots, shall we?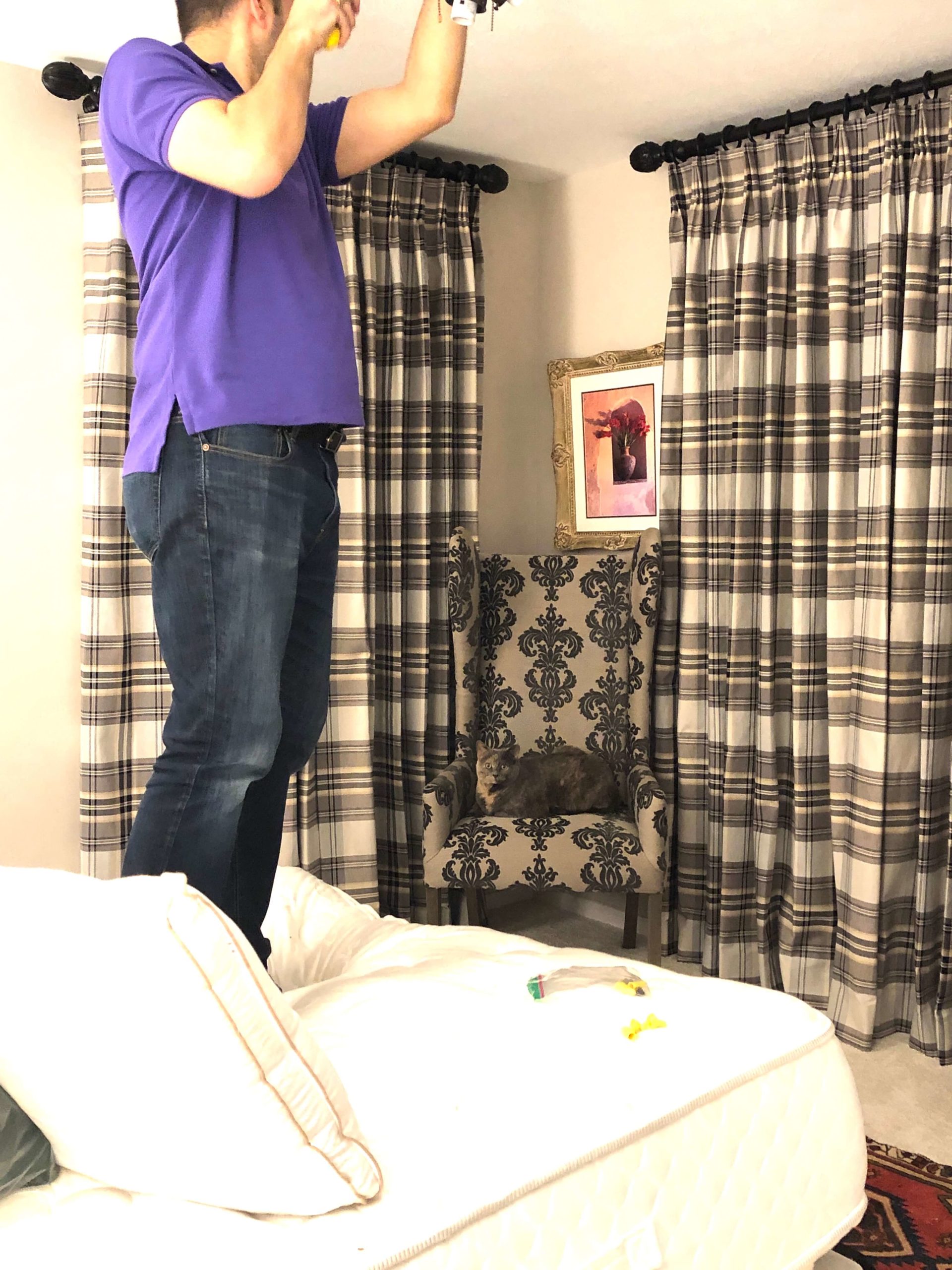 That's Nathan installing a "new" ceiling fan that used to be in my son's room. You can ignore him and his purple shirt. Look behind him at the DRAPERIES! I think they're fabulous. My cat also approves. Sort of. She's still resentful that there aren't tassels. Look at that disapproving stare (if you can see her on that gray chair).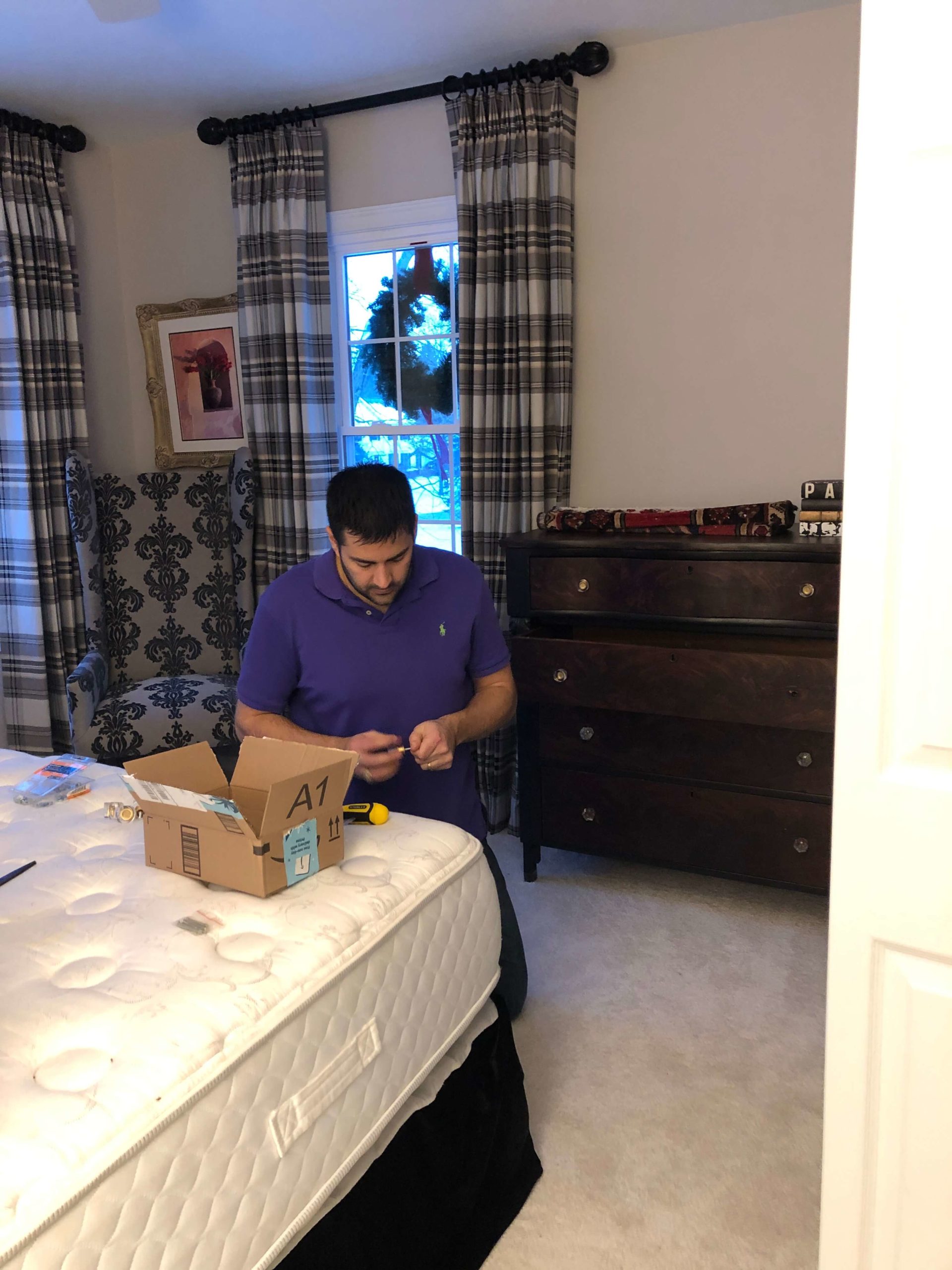 There's the refurbished dresser on the right side. Doesn't she look FABULOUS?!?!?!
(Nathan is installing new knobs. This is the same day as the fan installation. He does own more than one shirt. Promise.)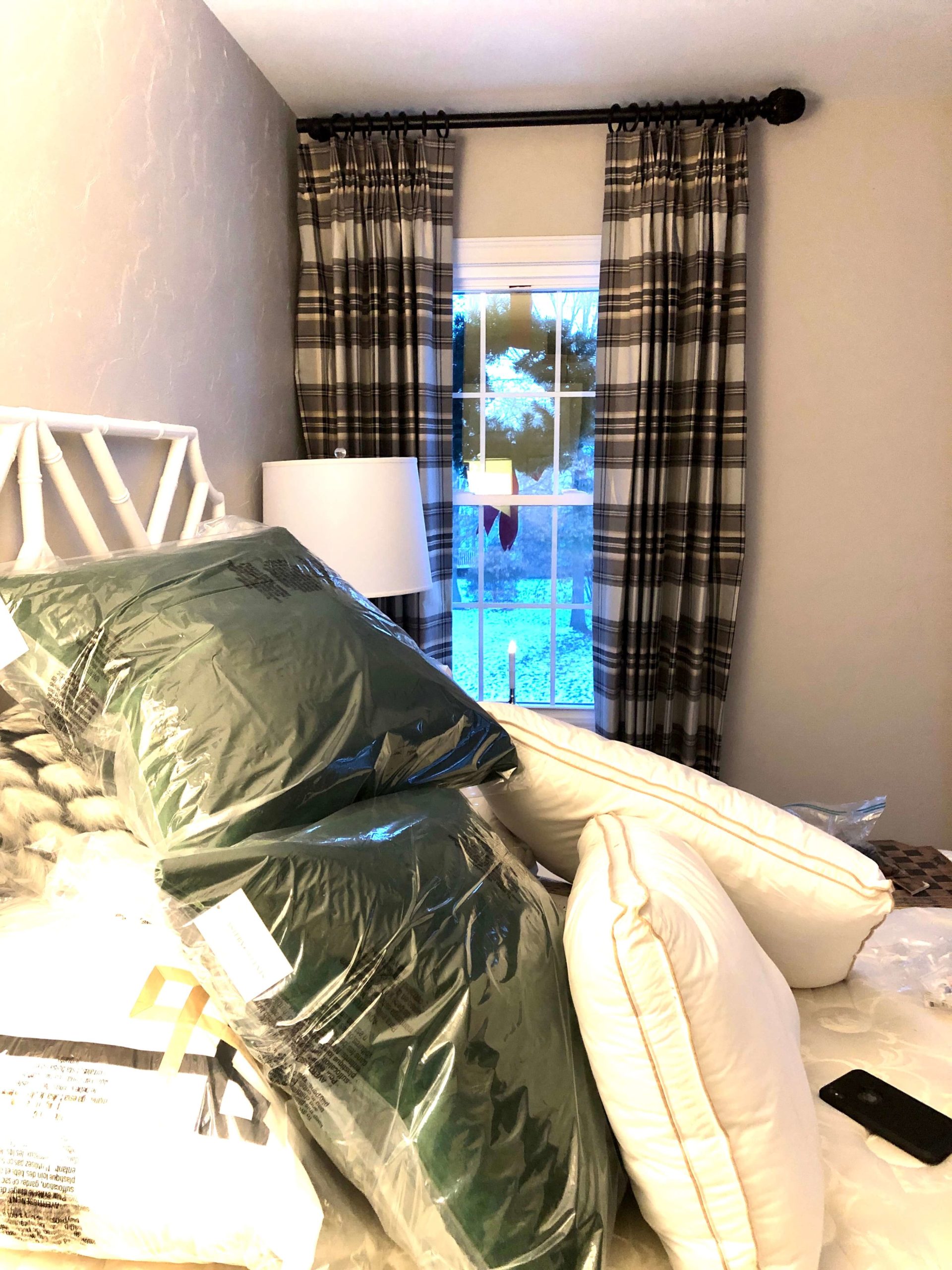 Here's the bedding!!!!! I am SOOOO happy with it. It really does make the room.
Now let's fast-forward to the completed room, photographed by a professional. (Because as we have learned, Lindsey is not a photographer.)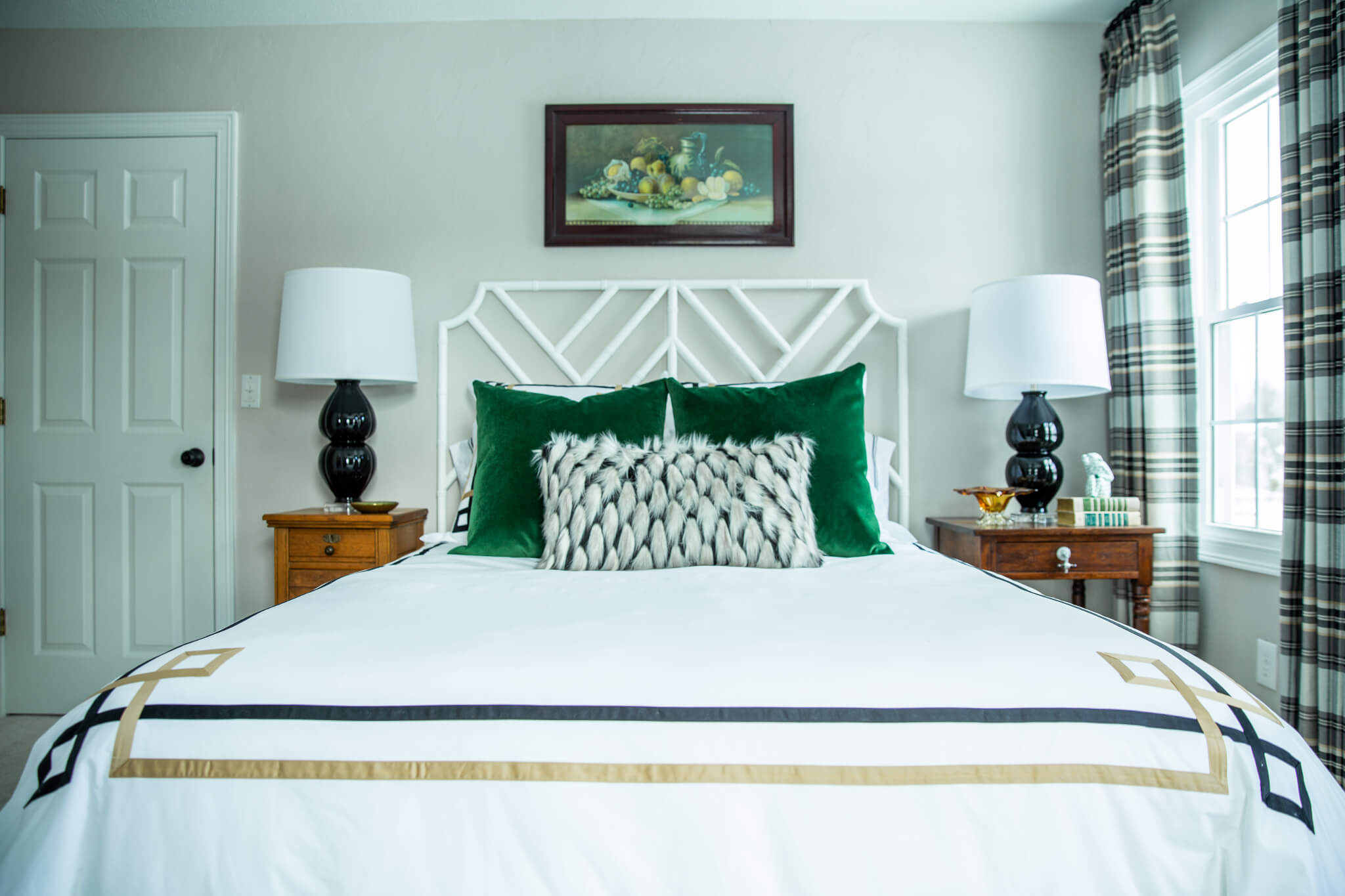 Here's that custom bedding I was raving about. Worth. It. (The sheets are NOT custom. I have a great retail source for those that I'll share with any and all of my clients!)
The painting above the bed is actually something my great-grandmother painted. It was in my grandma's house my whole childhood, and I always really liked it. My grandma is in assisted living now and couldn't take a lot of her things with her, so I inherited this painting. I love the greens and browns – it couldn't be more perfect for the space.
If you have inherited and/or sentimental pieces, I am more than happy to incorporate those into your designs!! In fact, I get truly giddy about it! I'm a sentimental sap and I'm not afraid to admit it.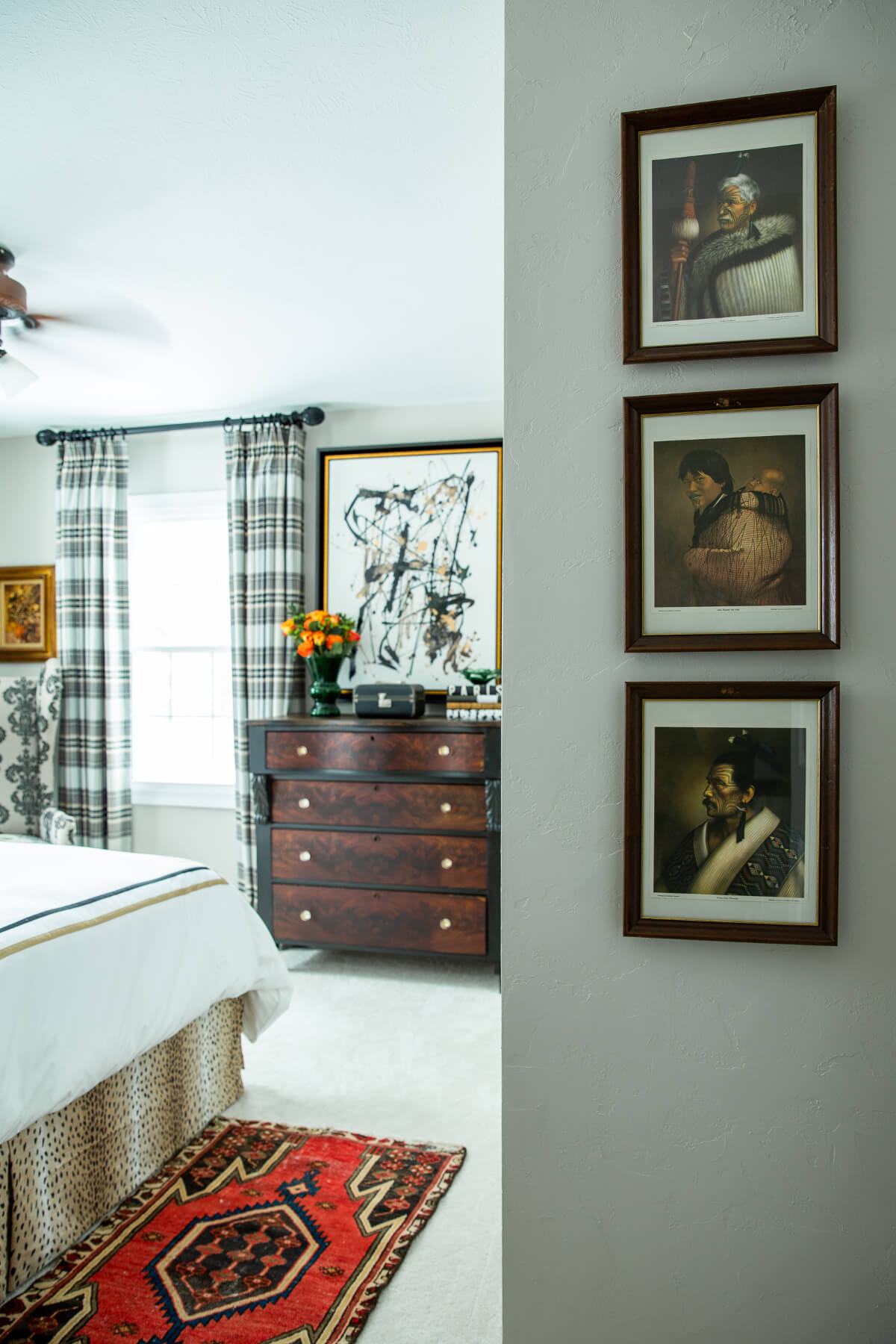 Here's a view of the gorgeous revitalized dresser!! Can you believe that's the same piece?!?!? I can.
The aboriginal artwork on the right hand side is also from my grandma's house. My dad actually gave it to me as a joke, but I really love it. It's from New Zealand, where my grandparents lived for a year. Sentimental. And the colors are PERFECT for the room!
The mini rug is a vintage piece I got from one of my vintage rug suppliers. It's wool and will last for hundreds of years. I'm really into vintage rugs – they're so well constructed and made of healthy plant dyes. Why not reuse what's already been made, when feasible? Plus, every one is unique!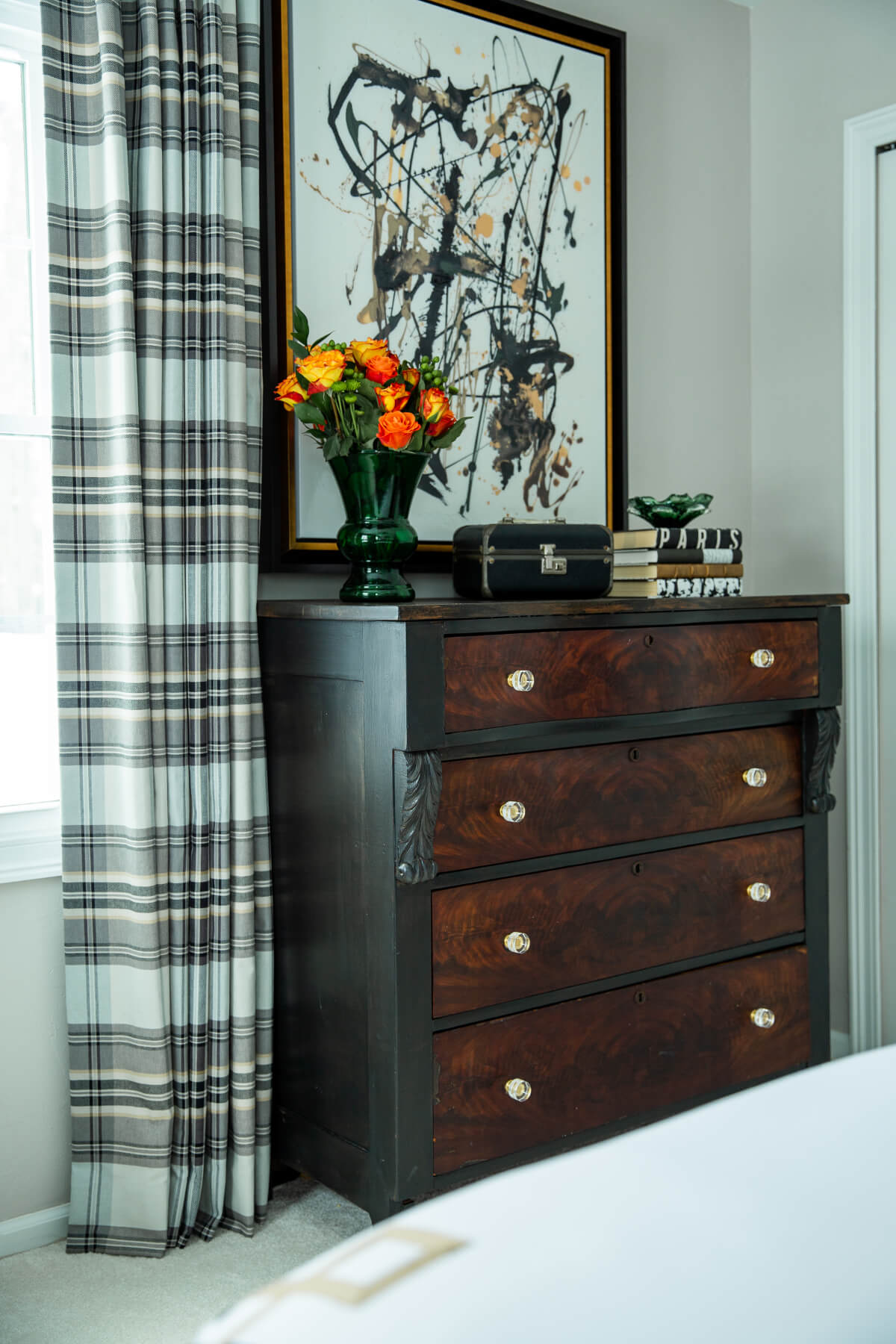 The abstract artwork above the dresser is a piece from one of my FAVORITE trade-only art vendors. I LOVE their large-scale pieces and incorporate them into a lot of my client's designs.
This art piece was in my grandparents' garage, hanging on the wall. Yes, the garage. My grandpa liked to find garage sale pieces and hang them in his garage. It became a veritable art gallery and was the talk of the neighborhood. I always loved it, so I was really happy when my dad was able to get this piece unscrewed from the wall for me to have.
Sen. Ti. Men. Tal.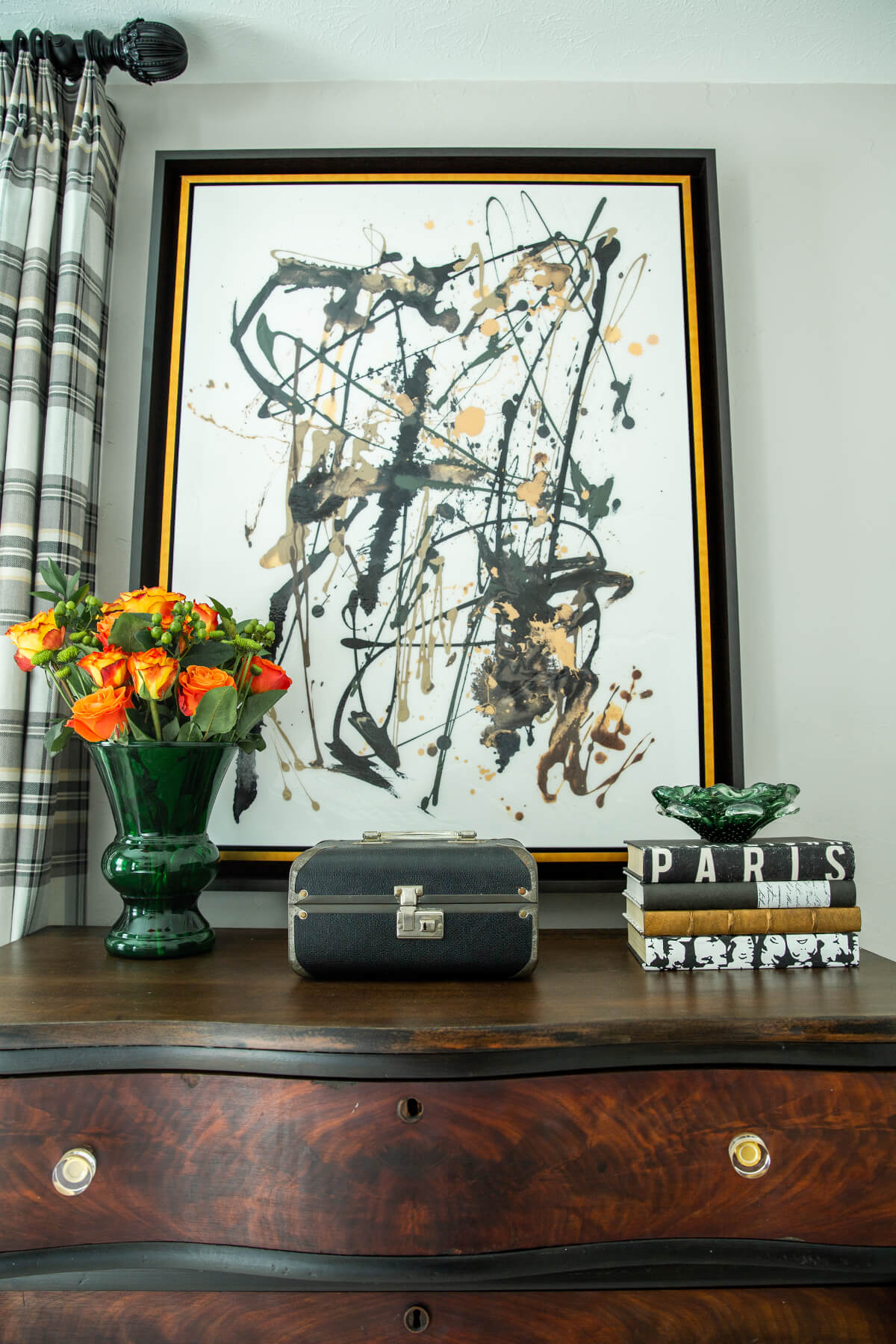 Most of these accessories I found at vintage stores. I am a huge vintage store person. The accessories cost no more than what you get at a big box store, yet they have personality and soul. I just love that. And did I mention how UNIQUE these pieces are? No one else is gonna have these!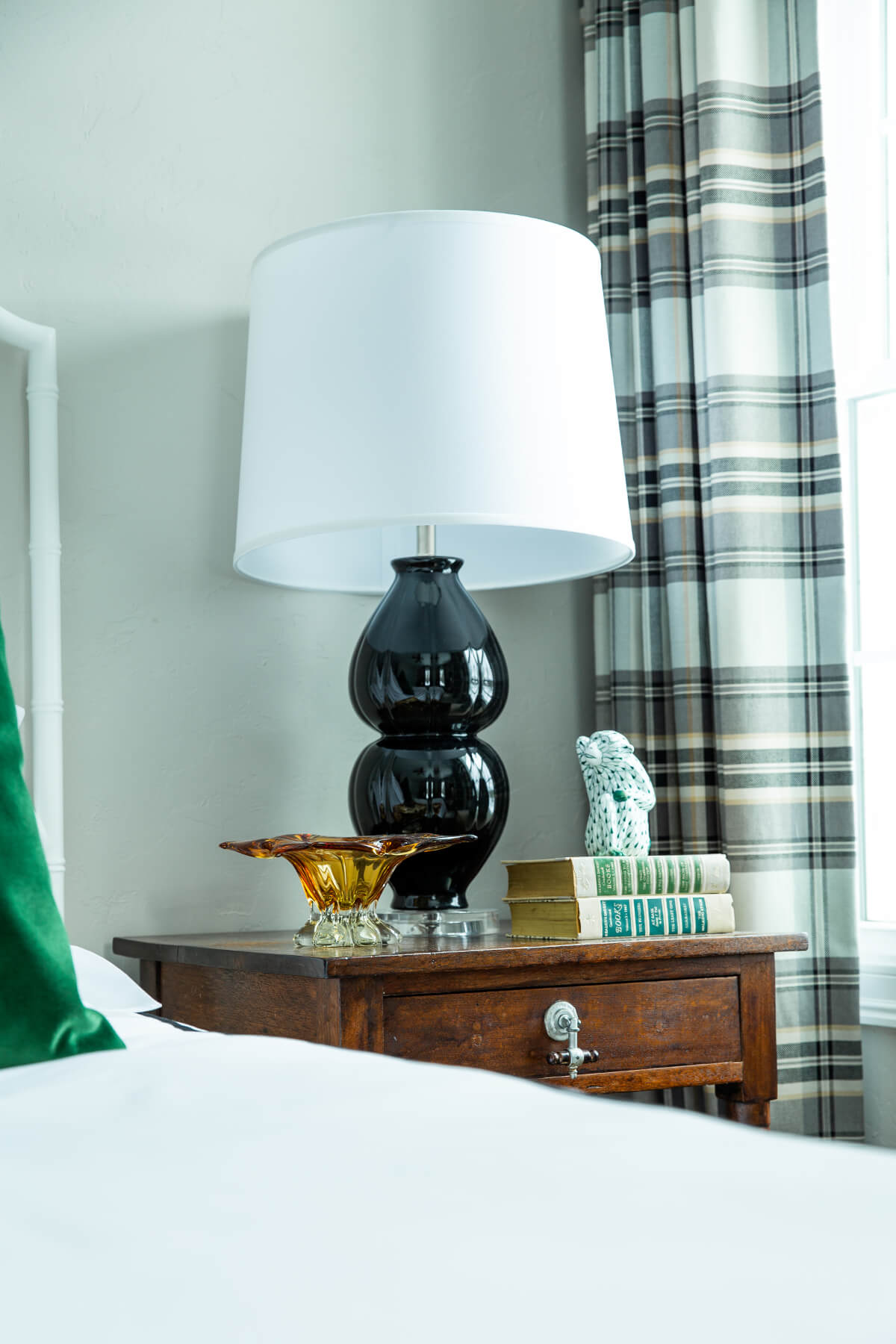 Here are more vintage accessories. You can also see a better view of my "nightstand." (This used to be downstairs in the family room, but it was too tall for our sofa, so it got banished to the basement before coming up here!)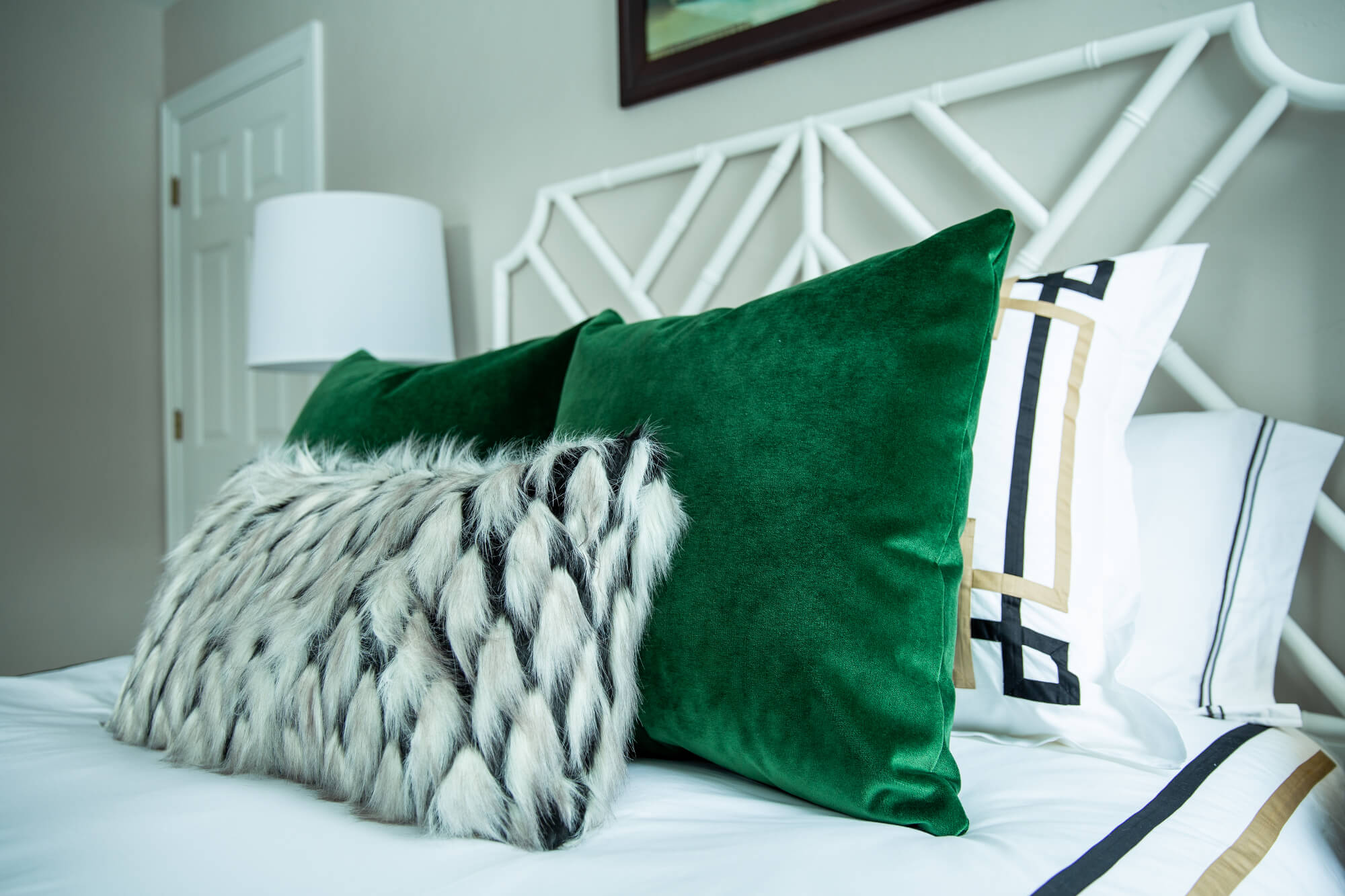 One more shot of my custom bedding. Because SQUEEEE!
That's it, folks. That's the whole transformation, complete with all my decision make and sentimentality included.
Enjoy the splendor.