Sometimes foyers end up forgotten. They're small. They're really not "rooms," but more "transitional spaces" used to get from one place to another. However, they're also the first space guests see when they enter a home.
Our clients were new to the area and purchase this home unfinished, so we had a very brown, very blank canvas to work with. The clients really wanted the home to feel very 1960's James Bond-esque, with lots of color, pattern, and interesting furniture. We delivered!
This foyer looked like 99% of all Hudson foyers look before my clients hire me. Neutral broadloom carpet. Wood banister with white spindles. Some sort of neutral paint color on the walls. Fine, but very little personality.
Here was the foyer before:
Here's the transformation: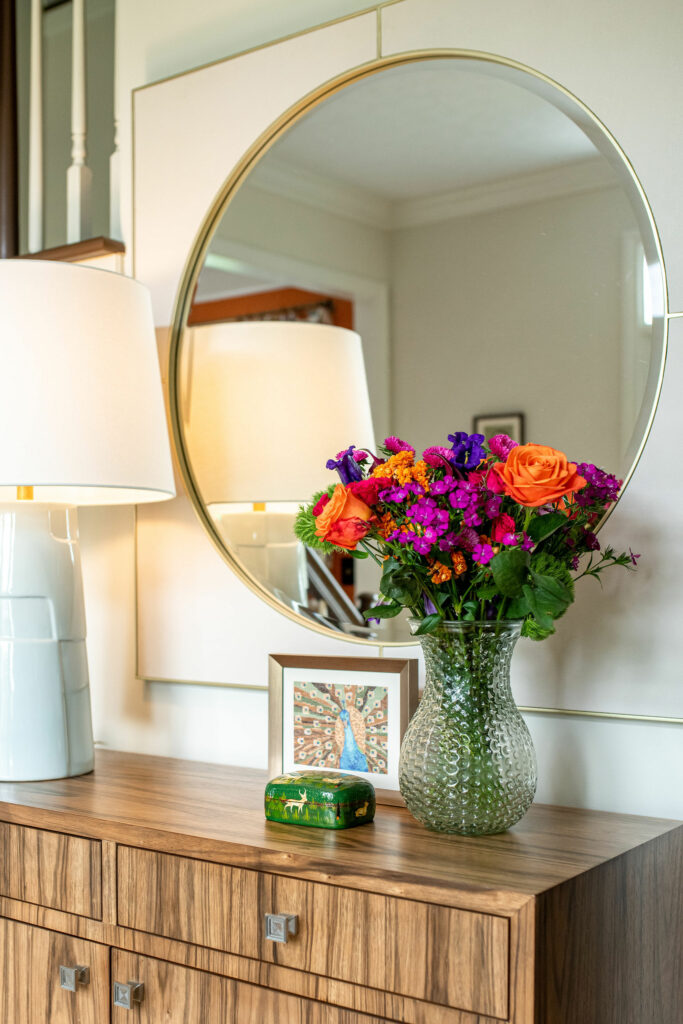 That's much better. We kept the same floor because the wood was in great shape and the finish surpringly NOT orange (especially for a Hudson colonial). We lightened up the walls significantly – paint makes such a huge difference!
Let's discuss the new carpet. Yes, it's bold. Yes, it's very blue. No, it does not continue all the way throughout the upstairs. It's an infusion of color in an otherwise rather neutral space.
Side note: It's super common to put a different carpet on the stairs, versus the rest of the home. Stair carpeting gets worn out significantly faster than regular carpet, since you essentially step in the exact same spots over and over again. We recommend not putting standard broadloom on stairs. Choose a tighter, shorter weave carpet with a little pattern instead.
One more thing about the new carpet – it's installed properly, unlike the last carpet. Do you see how the carpet skims over the bullnosed stair edge in the "before?" This leads to gaps in the sides and generally looks sloppy. The new carpet is wrapped securely around the bullnose in the "Hollywood" style, which leaves a crisp, tailored look.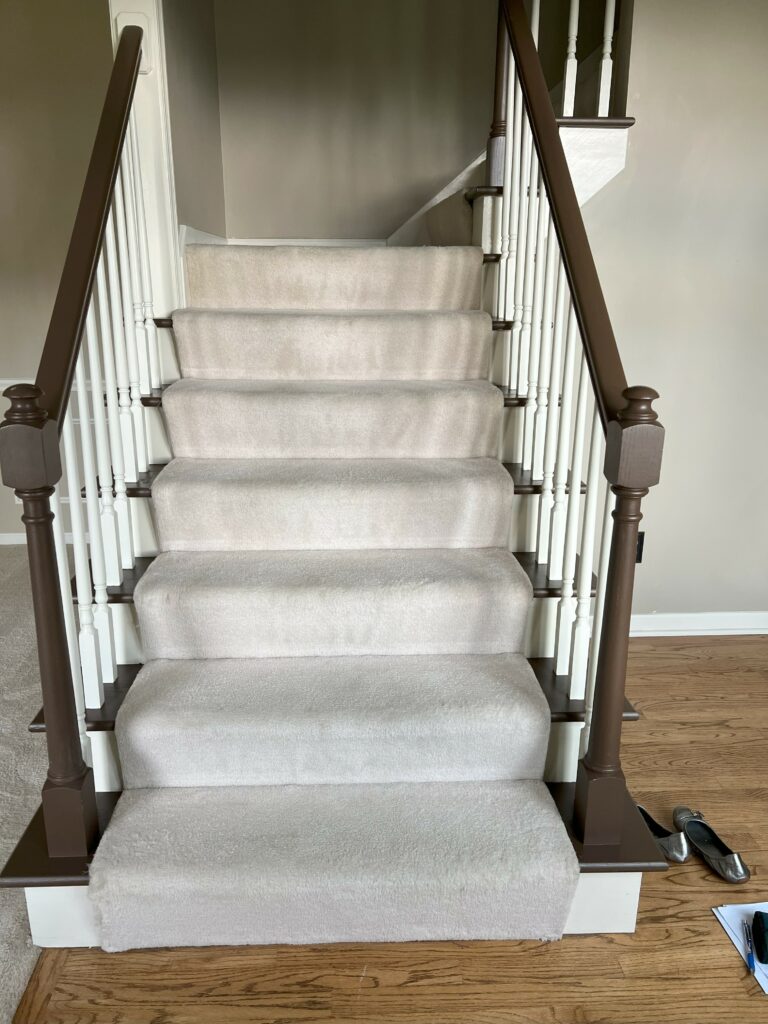 The nook to the right of the stairs was begging for a little love. We selected a Mid Century-style cabinet with a great grain in the wood, then added a large-scale mirror and a fun lamp. The mirror and lamp both have geometric lines that coordinate well with the new runner carpet.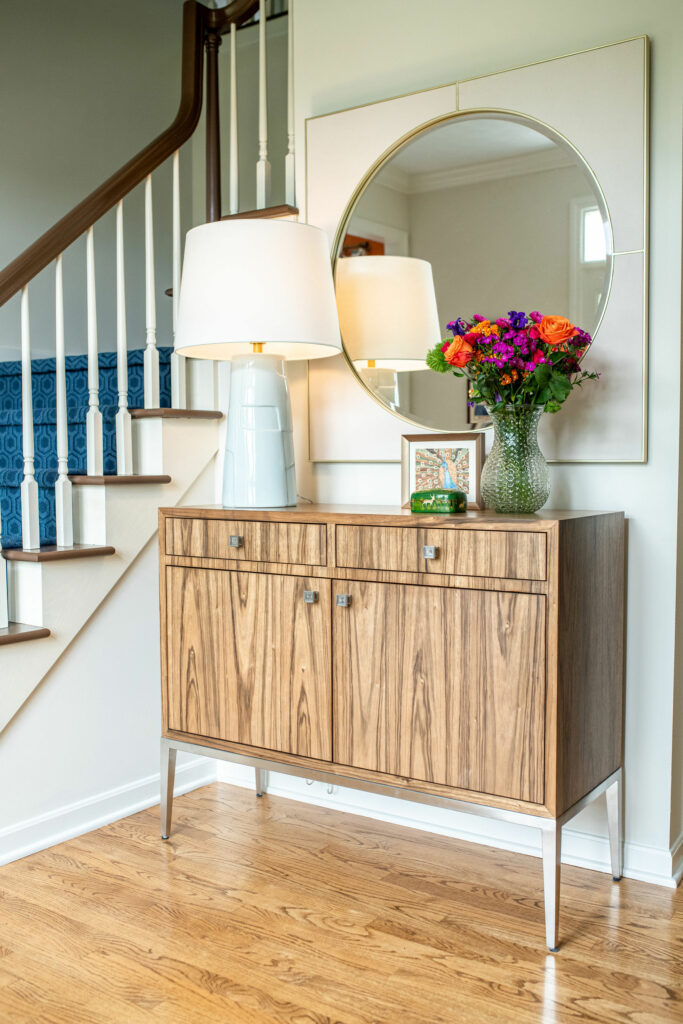 Here's the before and after facing the other direction. The bright dining room makes a big statement, so we kept the hallway purposefully a bit less dramatic for balance.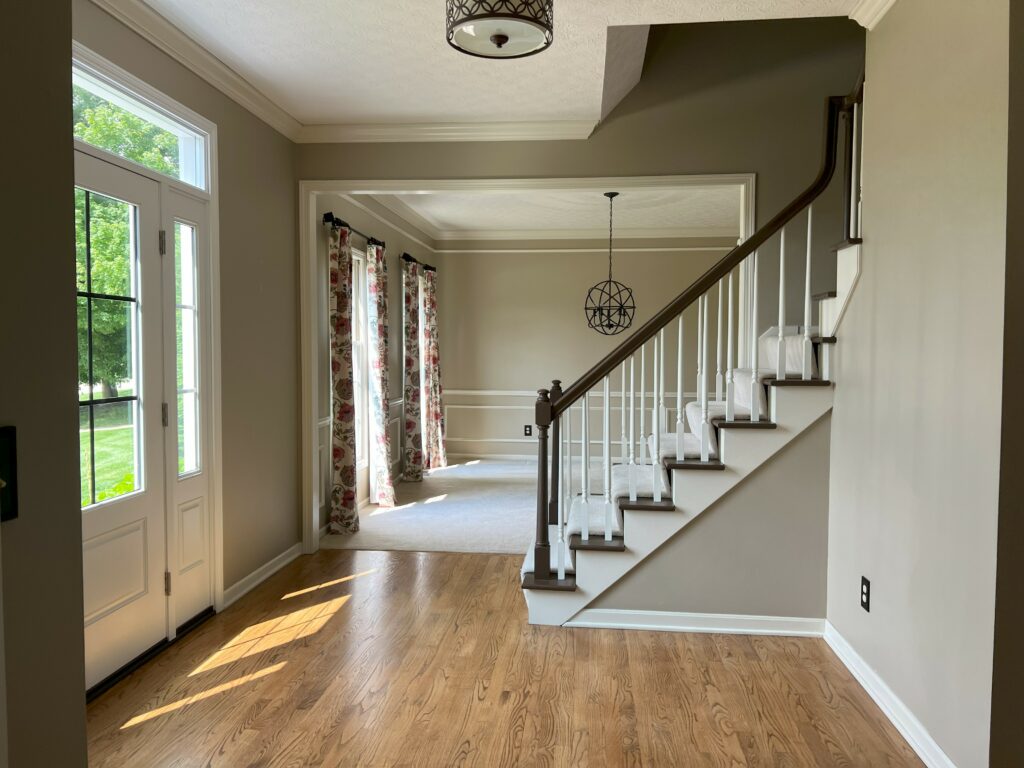 This foyer is sure to welcome our clients' guests!
Contact us to make your foyer a showstopper!