This project was SO fun! My clients were open to lots of colors and patterns, which of course made my life easier and much more enjoyable. Plus, they're awesome people! My client had been living in England for a while and collected some amazing treasures. The culture and history really appealed to them, and they wanted to capture some of that Old World British style in their new Hudson home.
For some perspective, here was the "before."
This family room is really long – long enough that I split it into two "zones."
The Front Zone
The first zone (let's call it the "front half" is the hangout space. My clients needed a large sofa for their 5-person family and also wanted a comfy ottoman to lounge on.
This sofa is 95″ long. The average sofa is between 78″ and 84″ long. The sofa doesn't look that big because it's in a BIG space. A smaller sofa would have looked itty bitty in this big room!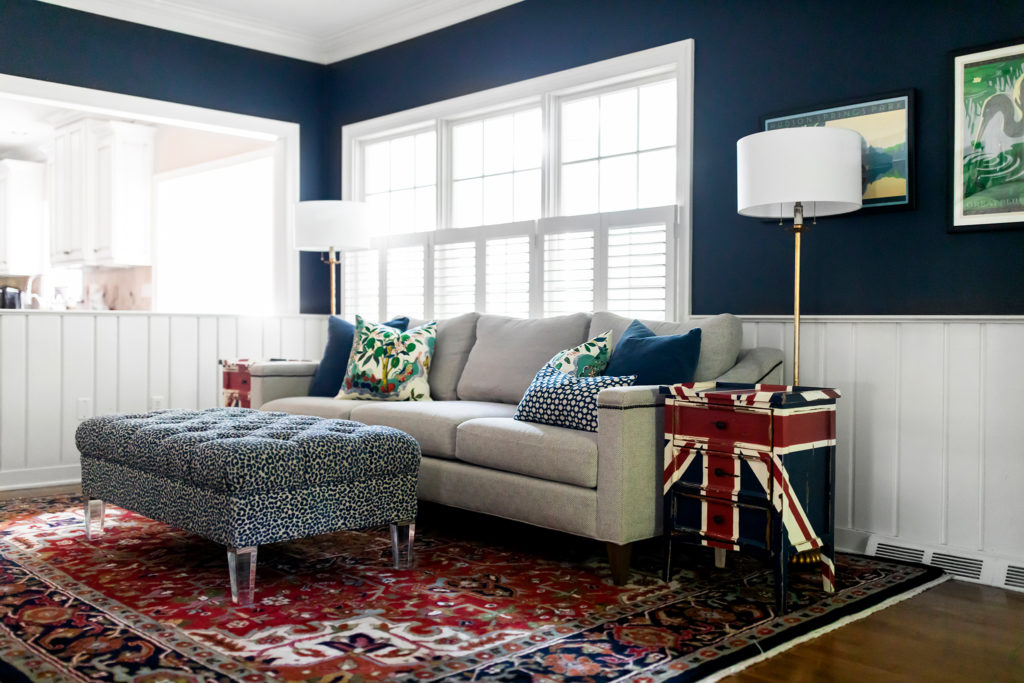 I designed this sofa with my clients' lifestyle in mind. The upholstery is a Crypton fabric, which is a performance fabric that is easily cleanable and won't stain. I also added the nailheads around the arms for a little more style!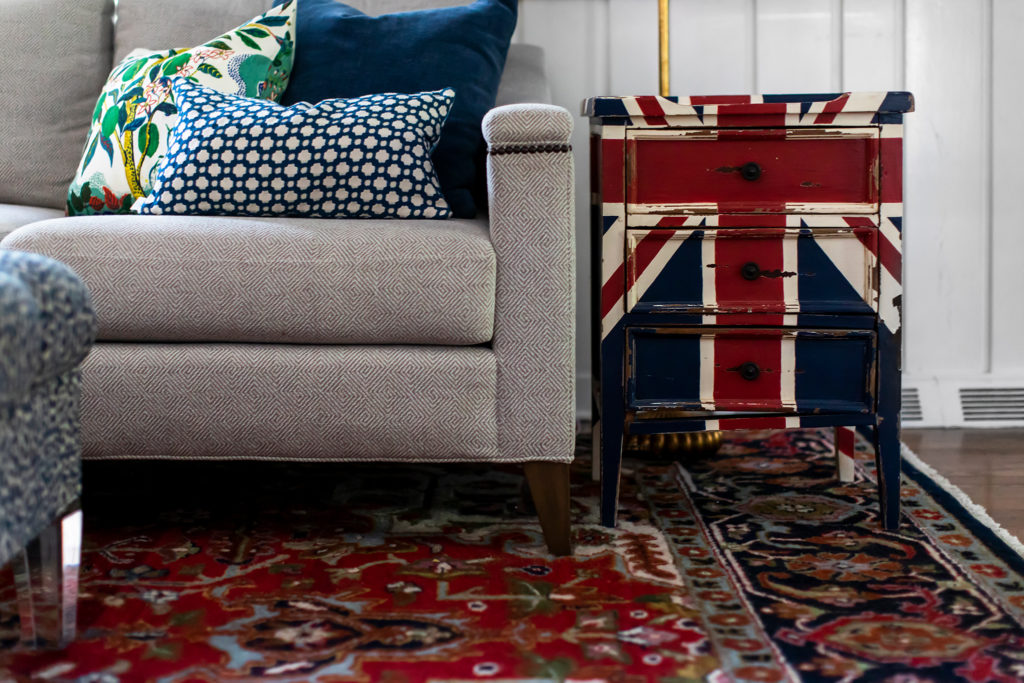 Instead of the usual matching pillows, I used a contrasting blue velvet and some colorful Schumacher fabrics.
Let's take a minute to discuss the gorgeous vintage wool rug. I'm a broken record with this, but I'll say it again: VINTAGE WOOL RUGS ARE GREAT WITH KIDS AND PETS! They're super easy to clean. The mix of colors is very forgiving with spills and crumbs. They don't shed. They're cleanable with water. And they last for CENTURIES!
The ottoman is also a custom design. I couldn't resist the blue cheetah fabric! The mama in this family loves a good animal print, so this is really an homage to her awesome sense of style! The acrylic legs add a little contemporary feel to the otherwise traditional space. And they're just so fun!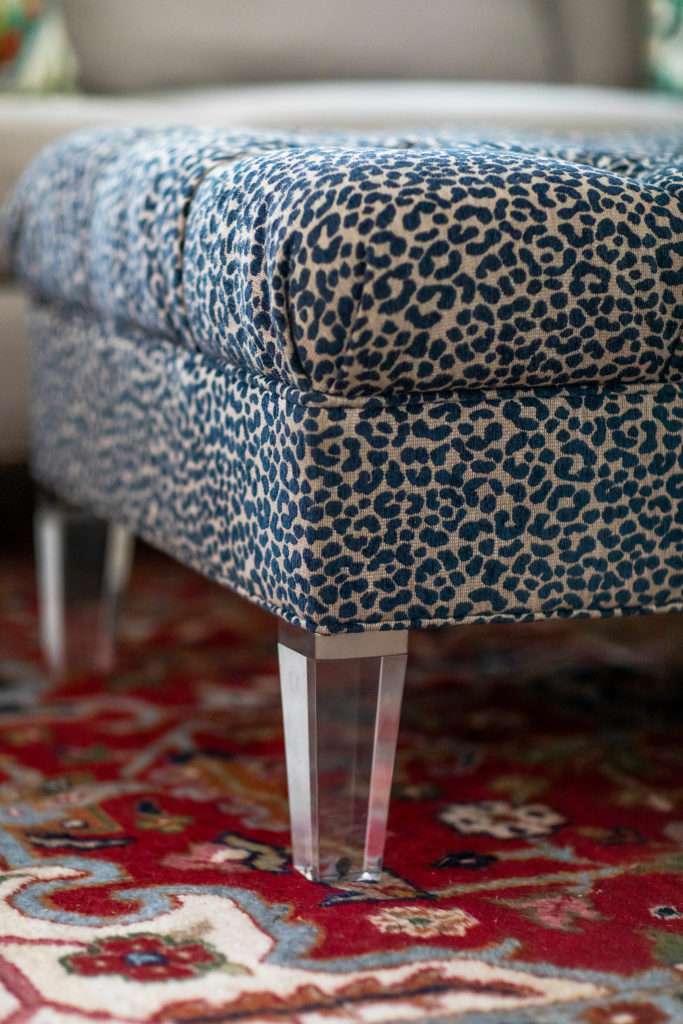 The fireplace across the way was a whitewashed, which turned it very pink. That's my number one issue with whitewashing red brick: red plus white equals PINK. If you don't use pink in your color palette, it's best to just paint it an opaque white and call it a day.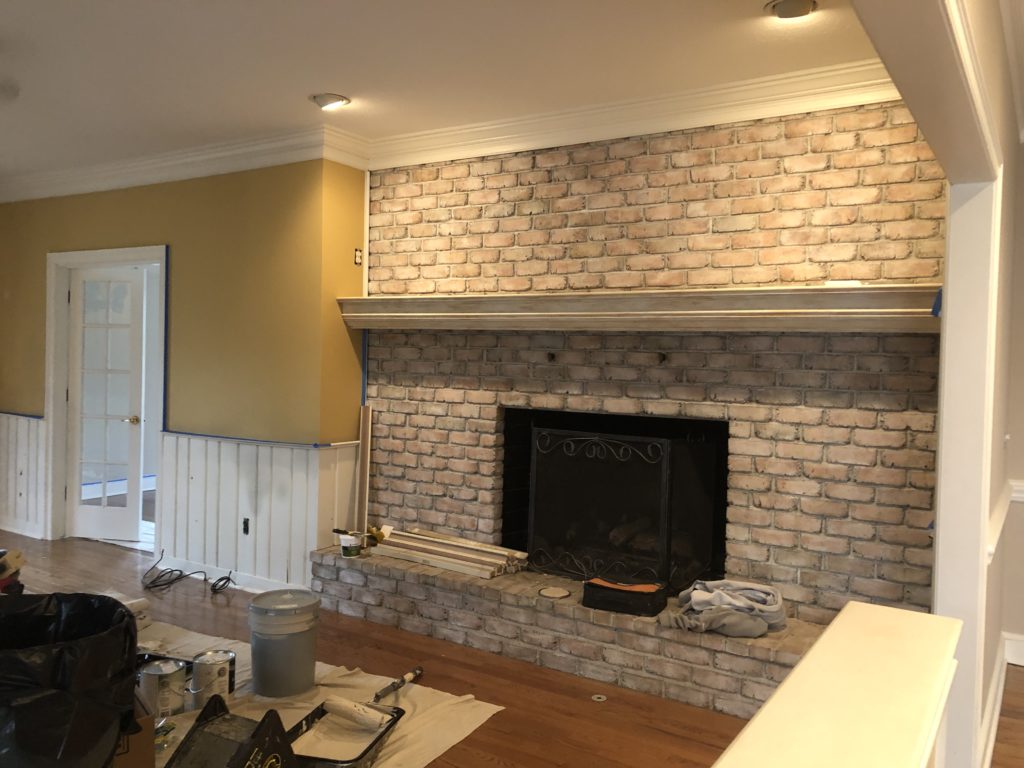 We also added a new gas insert and some colorful accessories completed the look! (Yes, that left candle is crooked and yes, it drives me BONKERS.)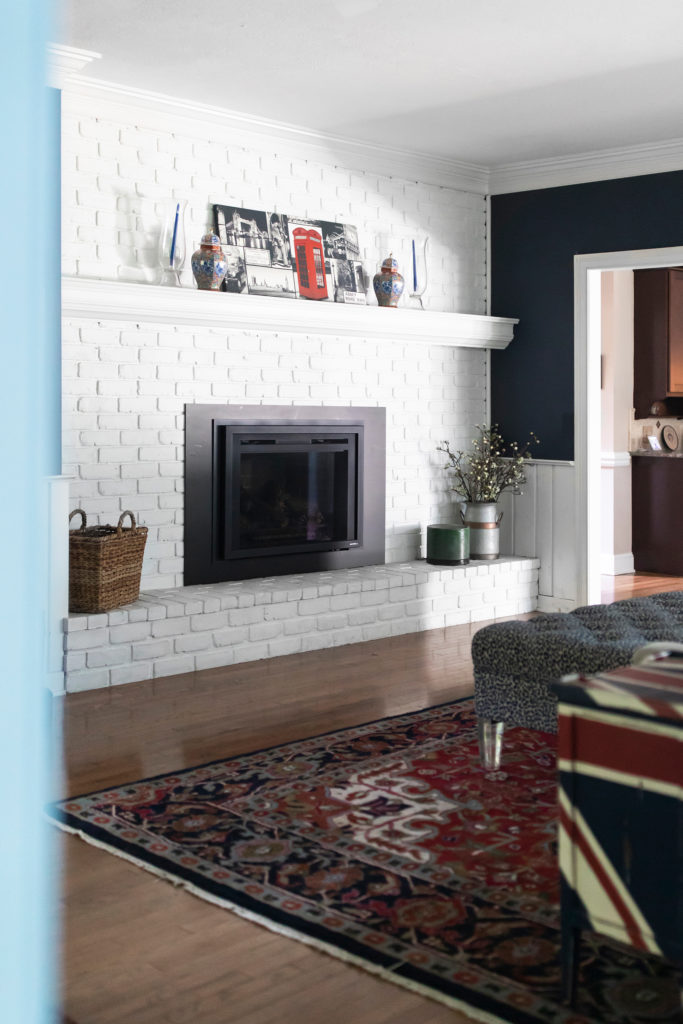 Here's the transition from the front half of the room to the back half.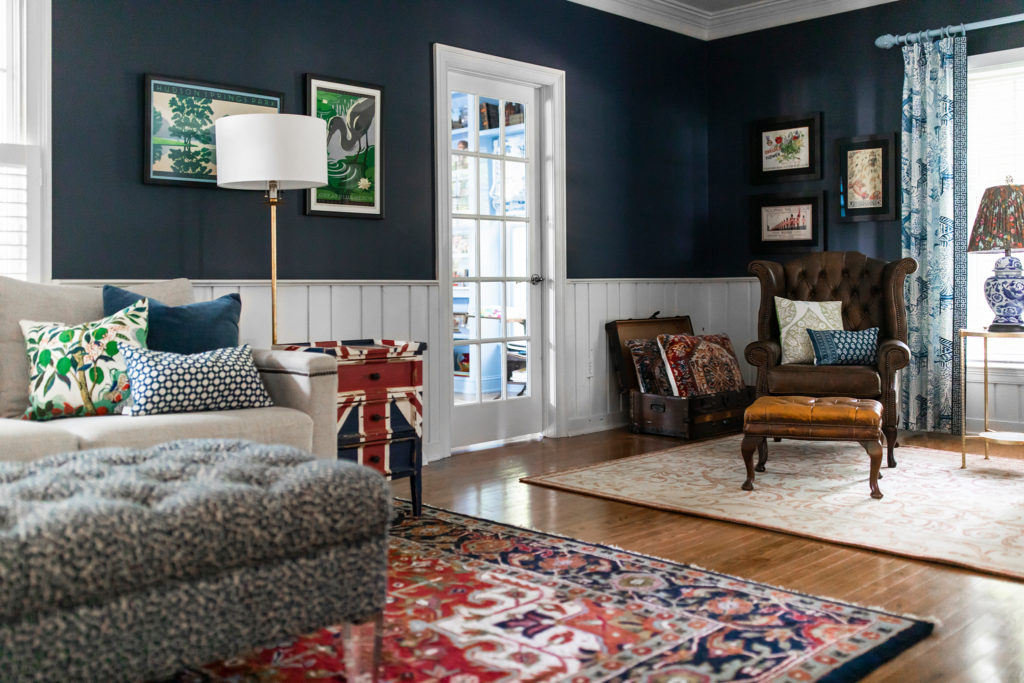 The zones are separated by a walkway that goes from the adjoining office over to the adjoining living room.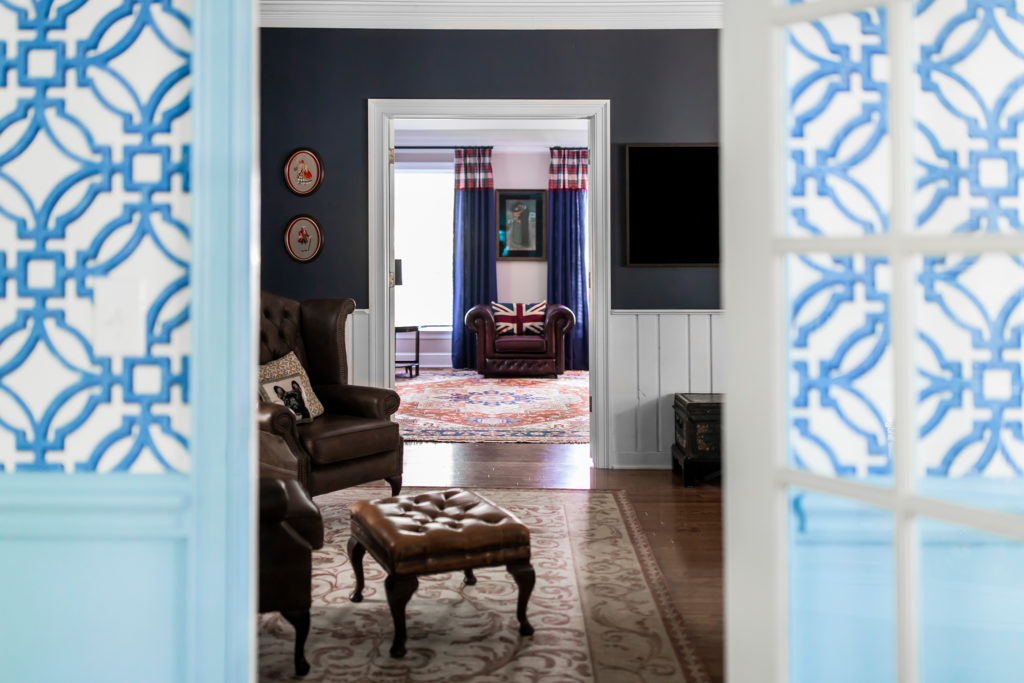 The Back Zone
I also defined the separation by adding a second area rug to the other half of the room (this one my clients already owned and wanted to reuse).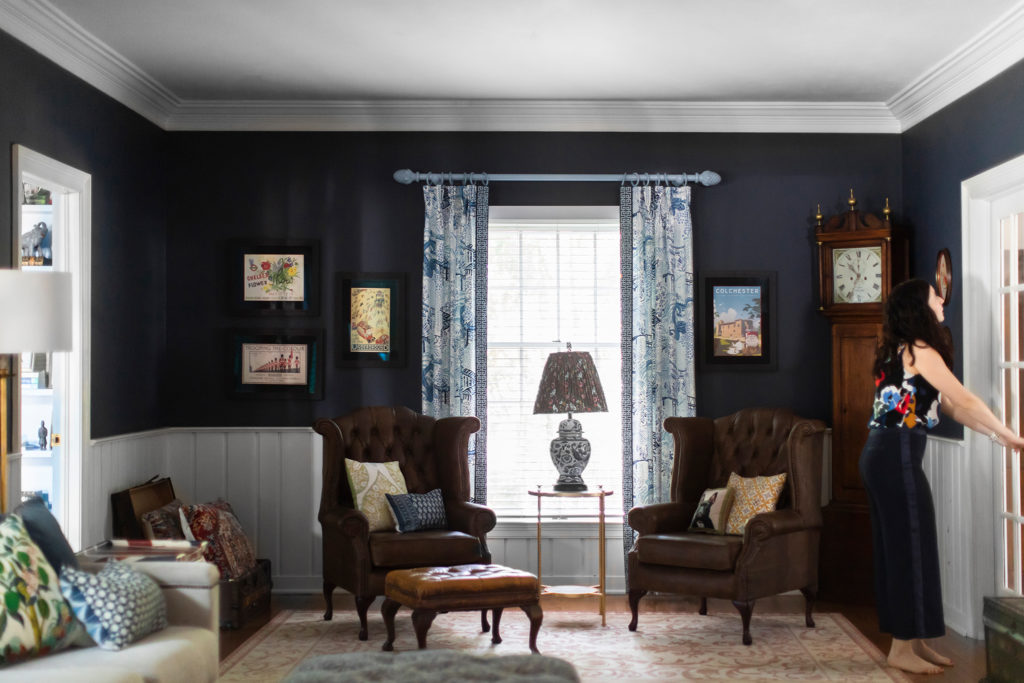 Here's the back half of the room. This part of the room really only needed some finishing touches to shine! The leather chesterfield chairs, the ottoman, the grandfather clock, the wooden chest, and the art prints all came from my clients' travels in England. I LOVE incorporating clients' treasures into my designs. It's a fun challenge to take what they have and fill in the gaps.
Think final touches aren't important? Look how bland this room looks without art and window treatments!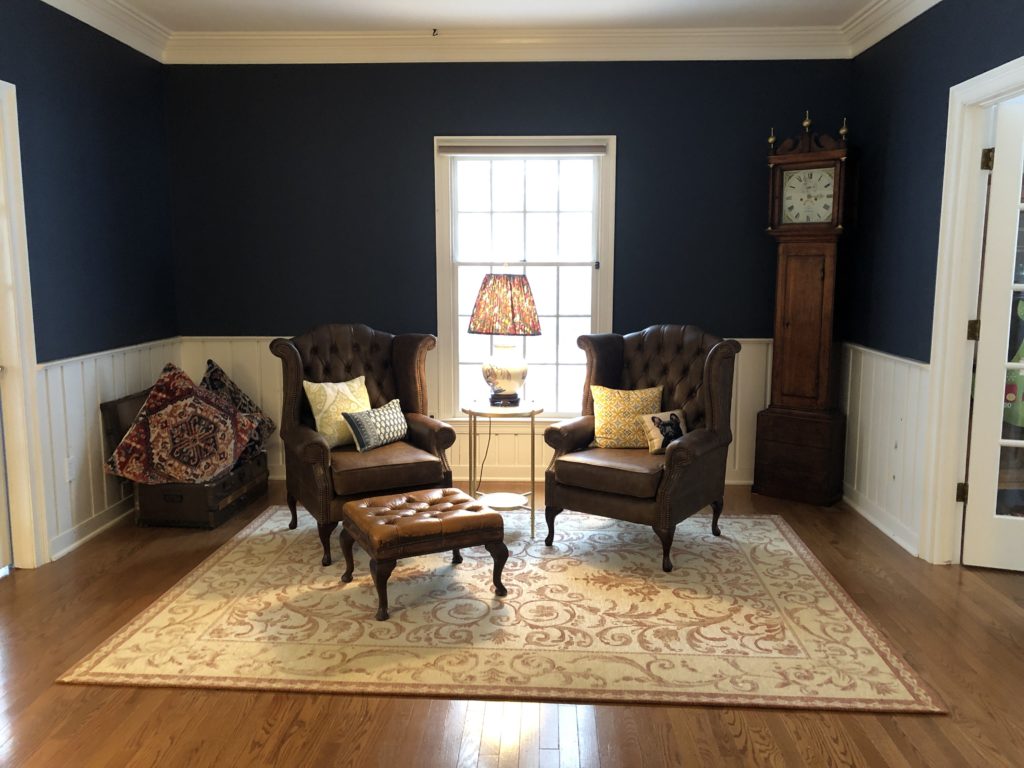 On this side of the room, here's a rundown of the gap fillers!
Window Treatments
First up: window treatments! My clients are fun people who don't take themselves too seriously (read: my ideal clients!!!), and they were up for an adventure with the draperies! These custom draperies feature a beautiful toile print with a Greek key-inspired trim. Because every drape is better with trim!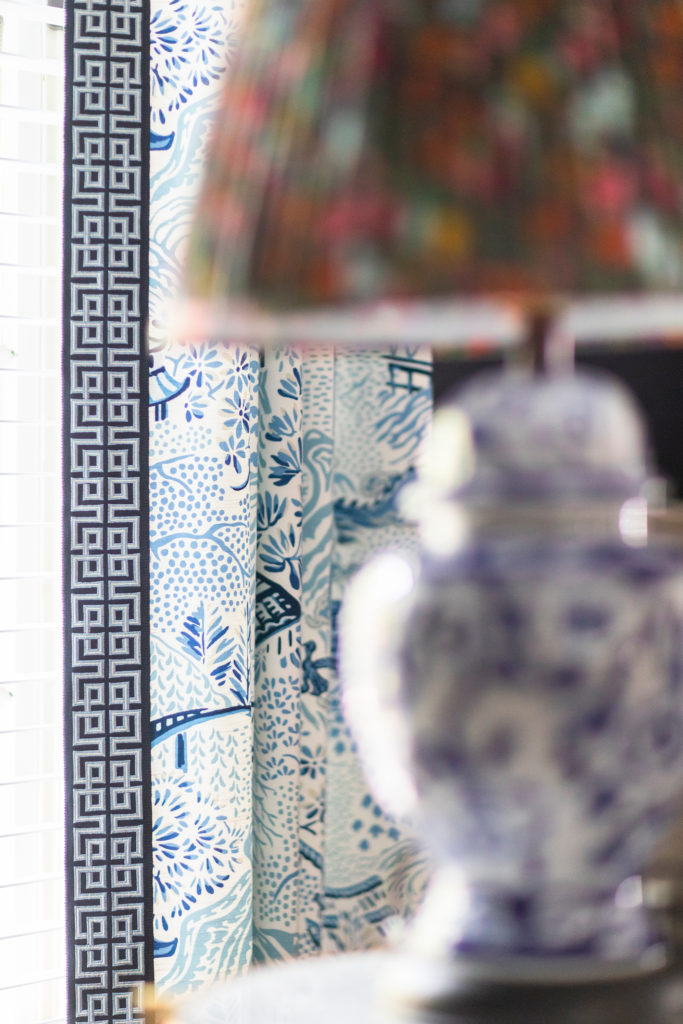 The fun didn't stop there, though – we added a beautiful light blue drapery rod to contrast with the darker walls. And those acorn finials are a perfect complement to the highback chesterfield chairs!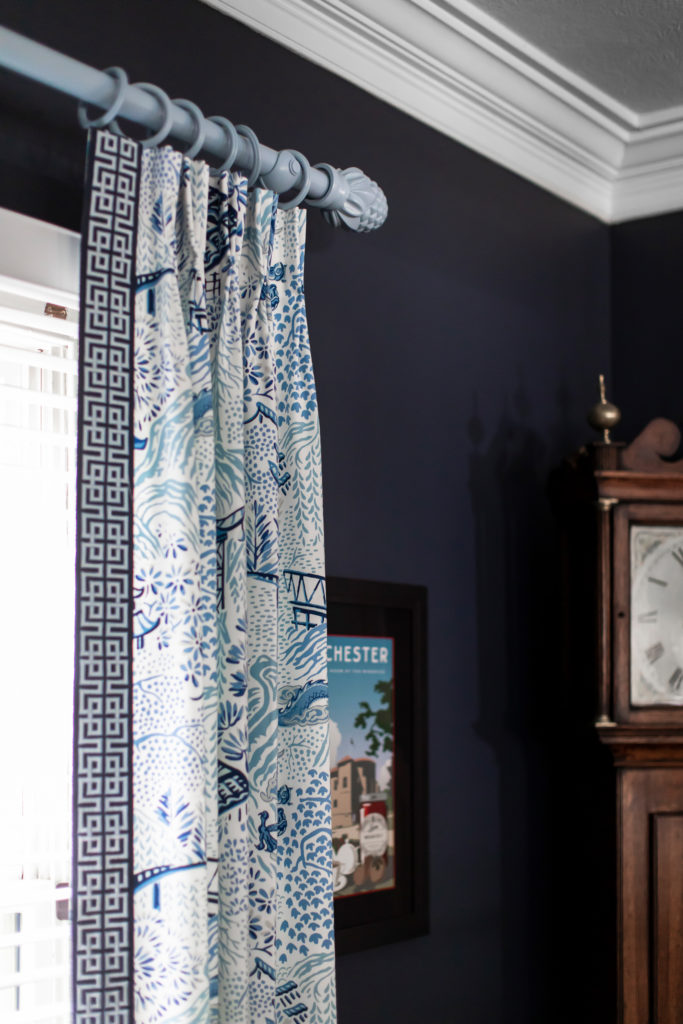 Fun Pillows
We added an assortment of fun pillows to the chesterfield chairs. See that French bulldog? My clients have one and she's so cute! When I saw this French bulldog pillow, I knew they had to have it!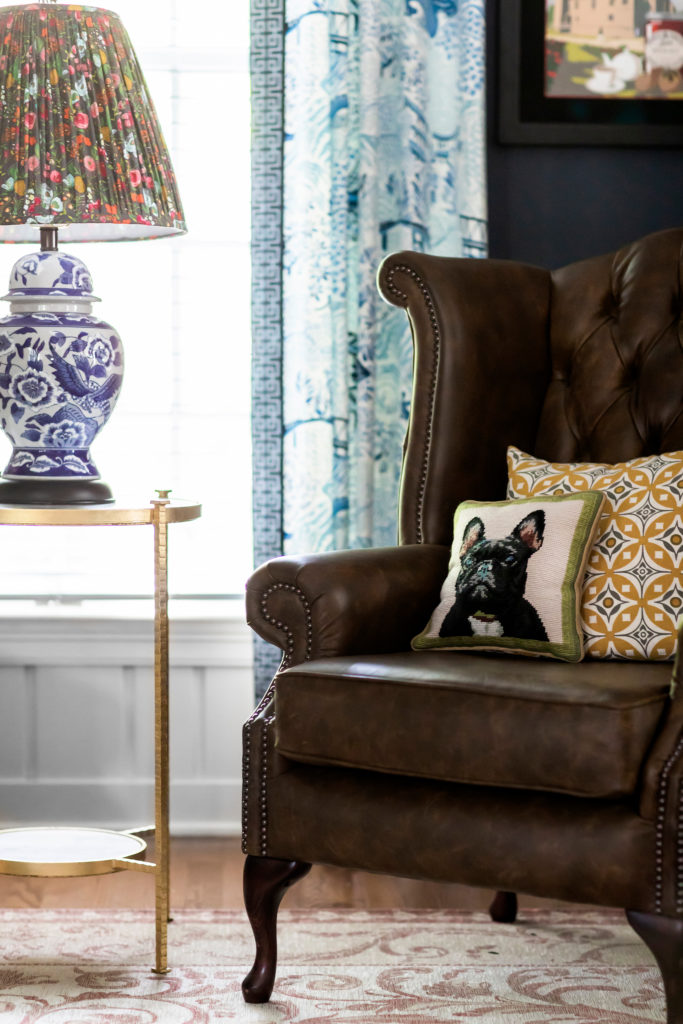 My clients' three children also love to lay on the floor to watch TV, so I sourced three floor pillows for them, which they store in the antique chest.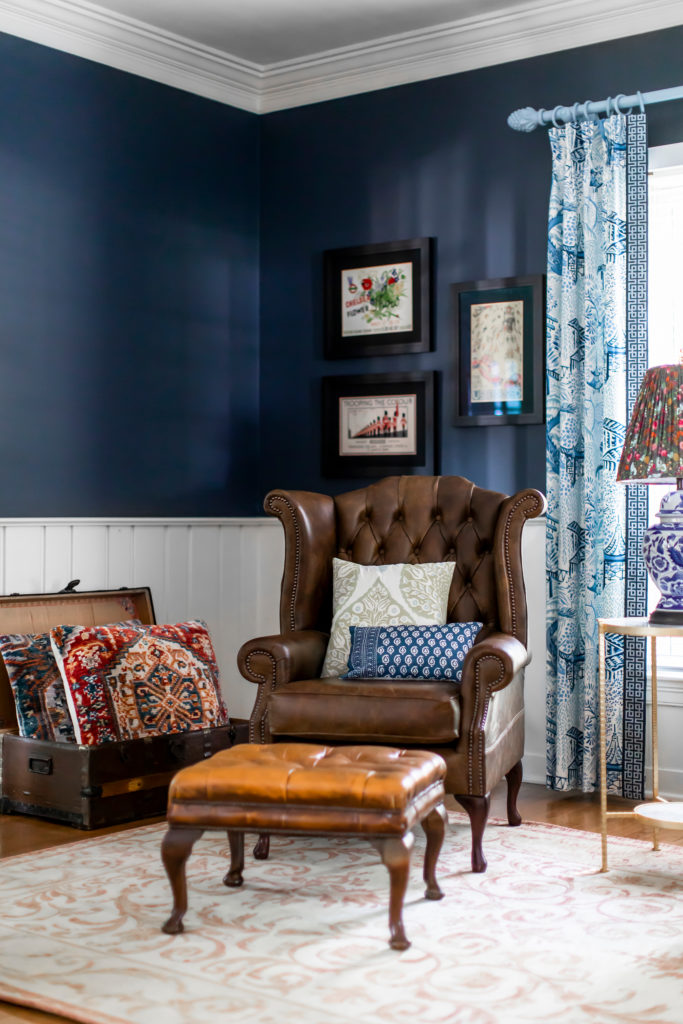 That Lamp!
Well, I have a secret: that's not the original lamp we selected. That cute French bulldog I mentioned earlier may have broken the first one. Oh well! Luckily, I have backups! The lamp shade is a custom design I created specifically for my clients' room. An English-inspired room can never have too many patterns!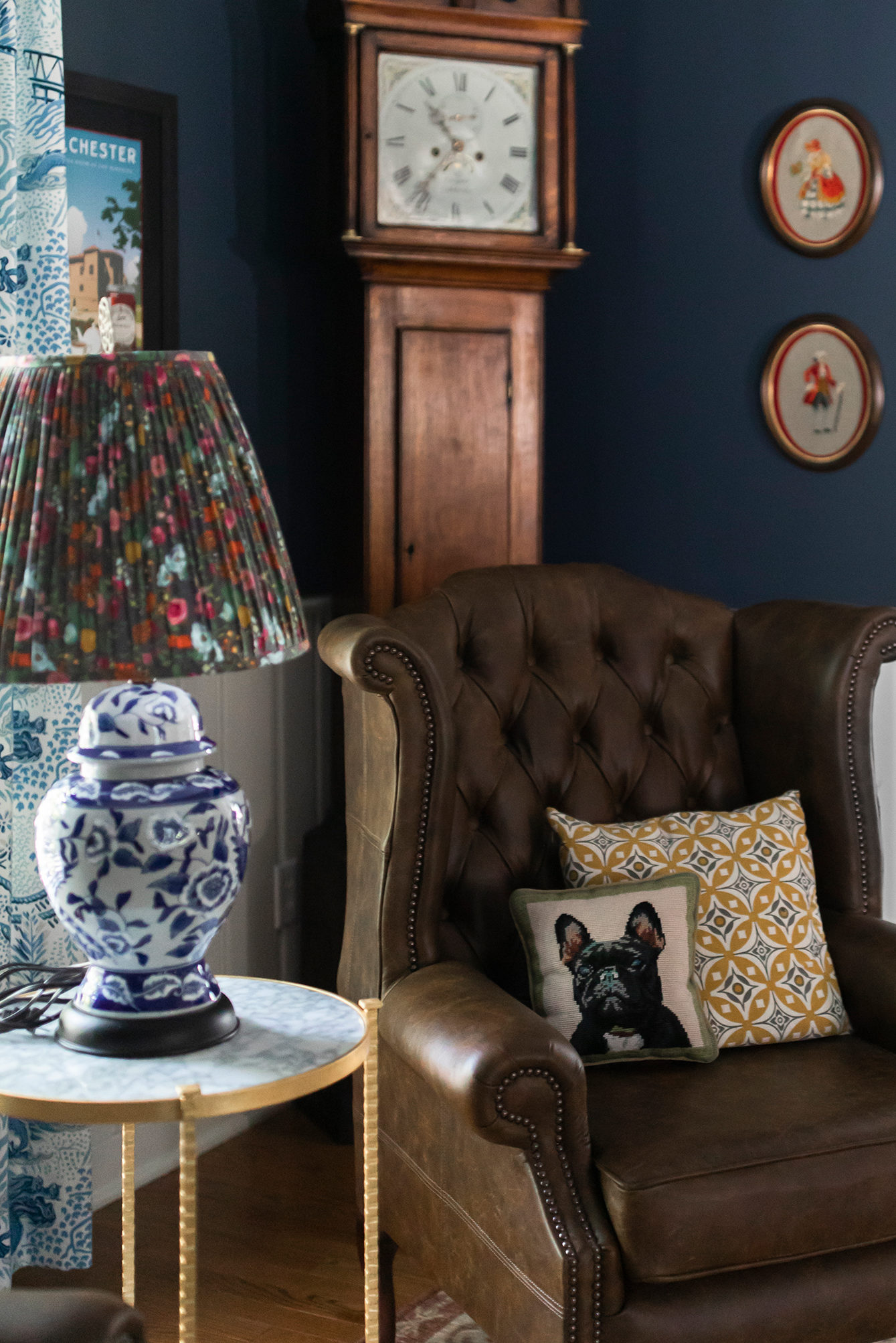 Stay tuned for many more Before & Afters from this full-house design! Want some help with your own home? Contact me and we'll chat!