I'm calling this one New Traditional. Because it's traditional. But it's a new way of doing "traditional." You'll see what I mean in a minute.
I love this transformation for some many reasons. One, the client is an absolute GEM and I love working with her! Two, she has four kitties and one doggy and they were my little helpers every time I came over!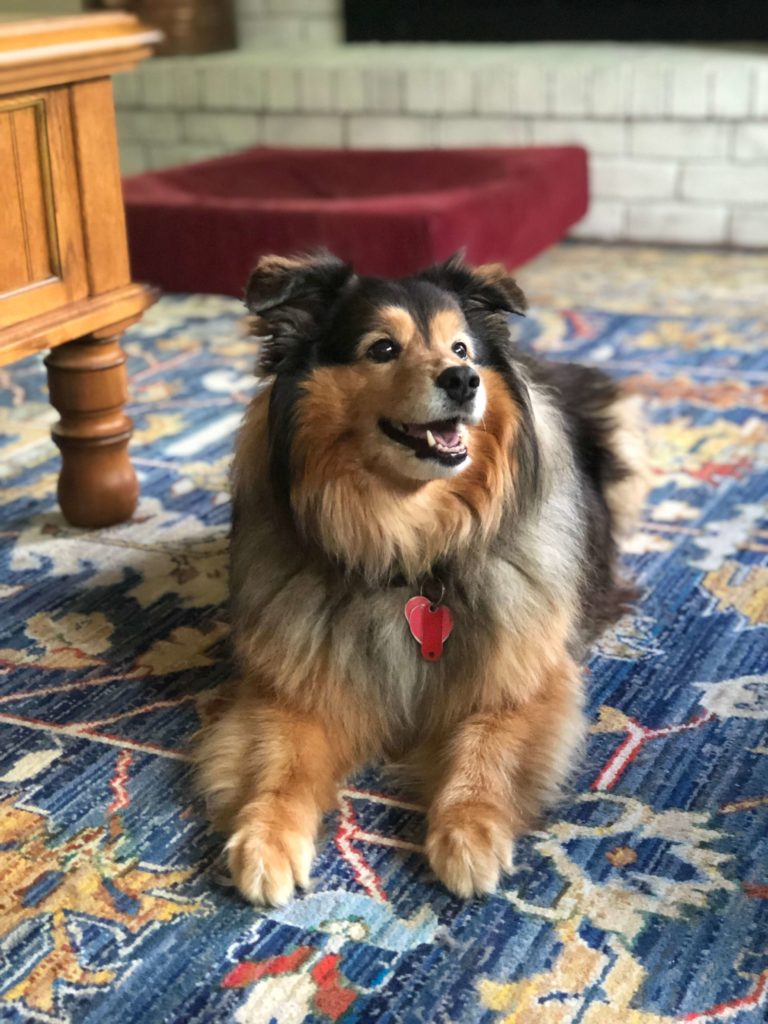 Three, this client is not afraid of color and pattern, and she is much more interested in creating a home SHE loves, versus trying to fit her style into whatever is "trendy" at the moment.
Four, she has the BEST Chinoiserie collection I've ever seen! And I love me some Chinoiserie!
Enough about all the reasons why this project was so awesome – let's dig into the Before and After goodness!
Ceiling fans. Sigh. Sometimes they're absolutely necessary for rooms. In my master bedroom, we get horrible air flow and it's STUFFY up there in the summertime. And wintertime. So basically always. Anyhow, that wasn't the case for this fan. It was a useless atrocity, staring down at the homeowners, mocking their attempts at pleasant décor. It had to go. In its place now hangs a GORGEOUS brushed brass lantern.
Want to know a secret? That lantern was a happy accident! My client bought it for her kitchen dining area (before she enlisted my assistance) and quickly realized it was WAY too big for the space. However, it fits PERFECTLY in the family room!
These things happen. Incidents of wrong scale abound in interior design, and it's generally one of those "it looks great out of context" issues. Online, a lantern like this looks downright petite! But in reality, this lantern comes in 5 different sizes, and you must measure to figure out which size will look best in your space.
The previous family room rug is another example of a nice product that's not the right scale for the room. It's too small. It's also too red and black. We're swapping out the black for blue, so this rug had to go.
I swapped out the red and black rug for a beautiful, bright wool rug in shades of blue, red, green, and gold.
This rug is exactly what I mean by New Traditional: it has a relatively traditional design and color scheme, but it's just a little…different. In a good way!
Moving on to the upholstery. (Which is really just a fancy way of saying "the furniture covered in fabric.")
Her black and white plaid sofas were absolutely adorable – until the sun and kitties beat them into a messy pulp. The frames and seat cushions were in great shape.
And speaking of "shape," the style of the sofas is a classic roll arm with a skirted base. Look in any décor magazine – this same style is still very popular today! The sofas were also a great scale for the space, and the clients found them very comfortable.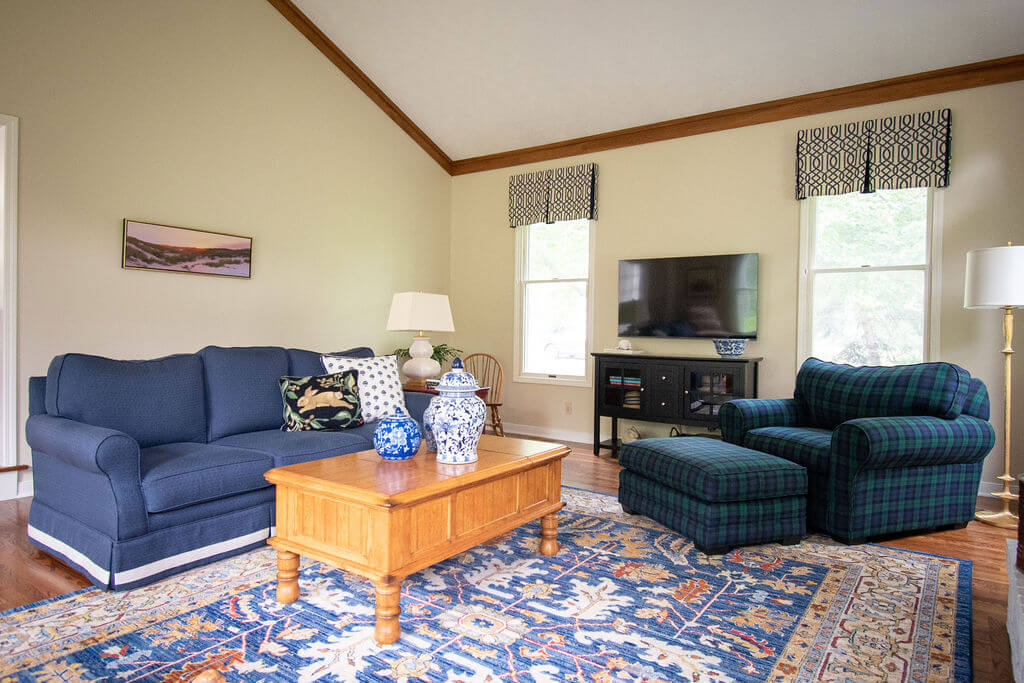 We opted to reupholster both sofas and the chair/ottoman, and the transformation is pretty astounding! For that extra designer touch, I added a pretty off-white trim to the base of the sofas. The trim is the "new" part of the New Traditional.
Side Note: This is the same trim that's on the dining and living room draperies, just in a different colorway.
The chair and ottoman got a serious face lift with this pretty blue and green plaid.
Check out the pattern matching my upholsterer did with the cushions. This is ART, people! It takes serious skills to match patterns like that. (I would have personally given up after 10 minutes…but this is why I have talented tradespeople who are much more patient than I am.)
Now, let's talk window treatments. I designed these puppies myself. From scratch. (Well, with my rendering software…but still. Mostly from scratch.)
These are not your 80's balloon valence or useless swag that looks like someone took a sheet and wrapped it around a pole. No. These are stylish and interesting and add just the right amount of softness to the room!
This kind of treatment is called a "boxed valence with a contrast pleat." It's "boxed" because it's in segments, instead of just being one flat piece of material. The "contrast pleat" is the little bits of plain blue you see peeking out – the pleats themselves are lined with a different material.
My workroom did a truly exceptional job on these treatments. Check out the pattern and how it flows uninterrupted from "box" to "box." Perfection!
In addition to transforming the family room, I also designed custom window treatments for the dining and living rooms.
See the rest of that beautiful décor? My client did at that herself.
I told you, she has great taste! She just needed a little assistance to bring everything together.
Need some help in your house?
#InteriorDesign #BeforeAfter #LightingChanges #HudsonOH #Traditional #FullServiceDesign #Reupholstery #CustomWindowTreatments #Trim