It is absolutely possible to have a fresh, modern home with stained woodwork and/or cabinetry. For the past 10 years or so, everyone's first instinct is paint all the things white. However, this can be both expensive and completely unnecessary in most homes! Not all stained wood is bad. And ANY stain color can be integrated into a design in moderation – even that dreaded 80's orange oak.
Stained Wood Trim with White Cabinets
Let's start by exploring the world of stained wood trim. So many homes are filled with wood trim – windows, doors, baseboards, cabinets, etc. – and it can get so pricey to paint every single surface.
In the photo below beyond the kitchen, there are other rooms with stained woodwork. To keep the kitchen from looking completely disconnected from the rest of the home, we kept the kitchen windows the original oak stain.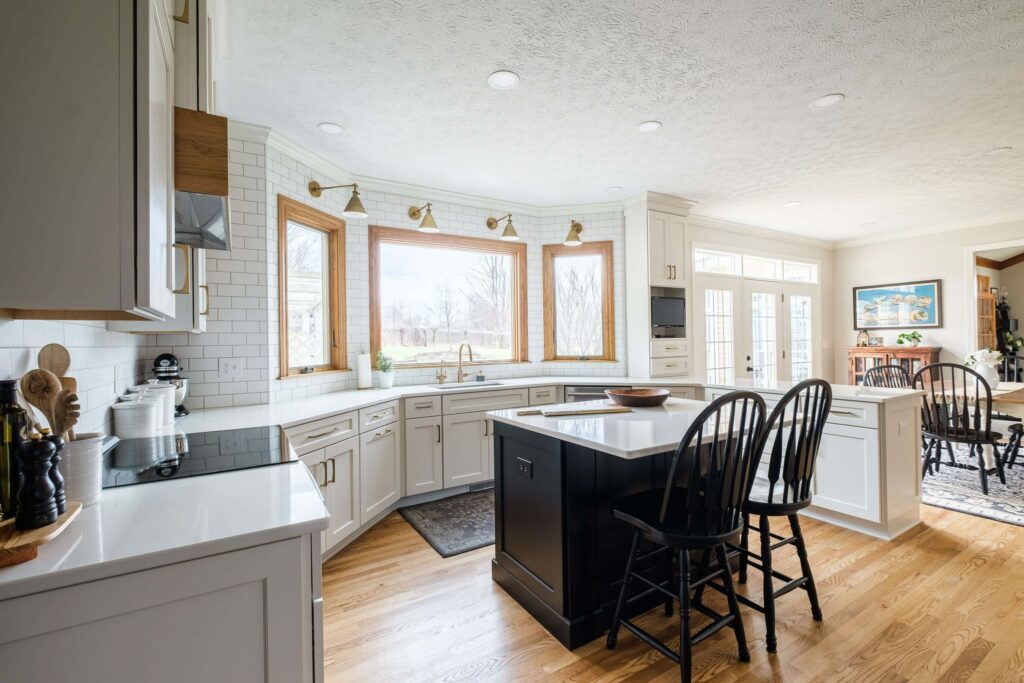 We also added a stained wood range hood and open shelving to incorporate more stained wood into the space so the windows didn't seem like a mistake.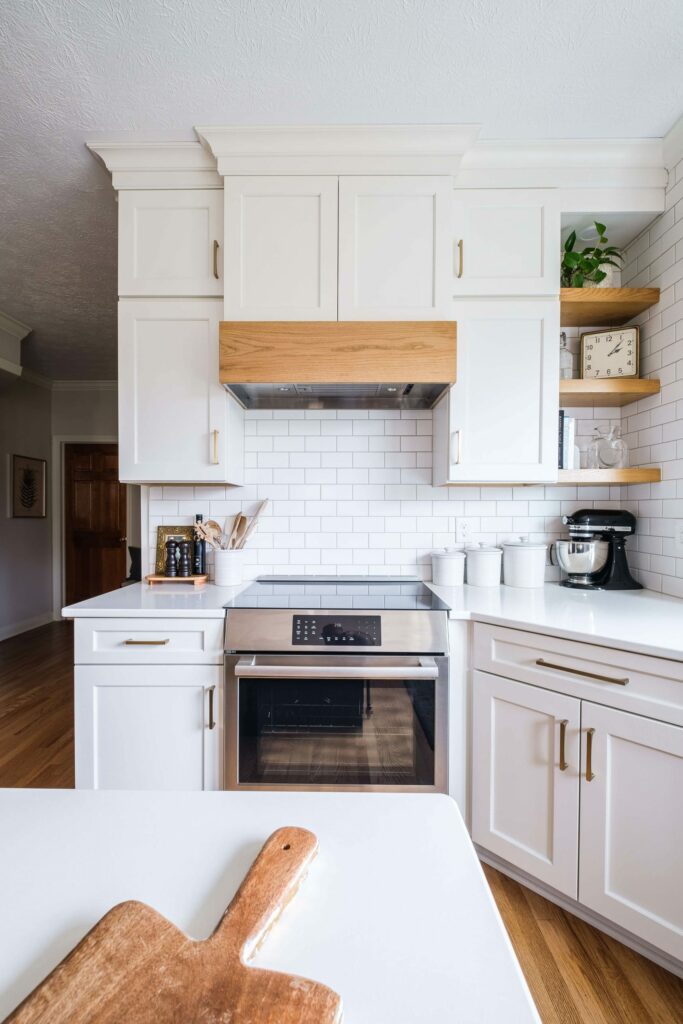 Instead of just keeping the kitchen all white, we incorporated some black cabinetry for more visual interest. (Also, see that stained door in the photo below? We kept those too!)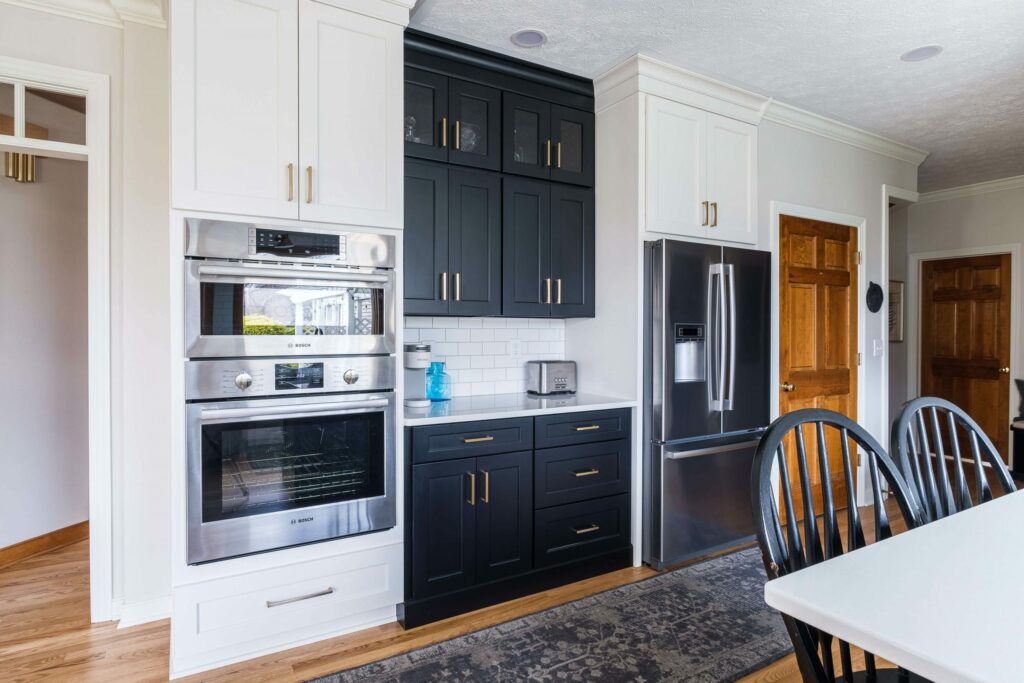 Stained Wood Trim with Colorful Cabinetry
The homeowners really love their warm oak trim but knew it dated the home. Instead of painting all the trim, we opted for some beautiful pistachio green cabinetry!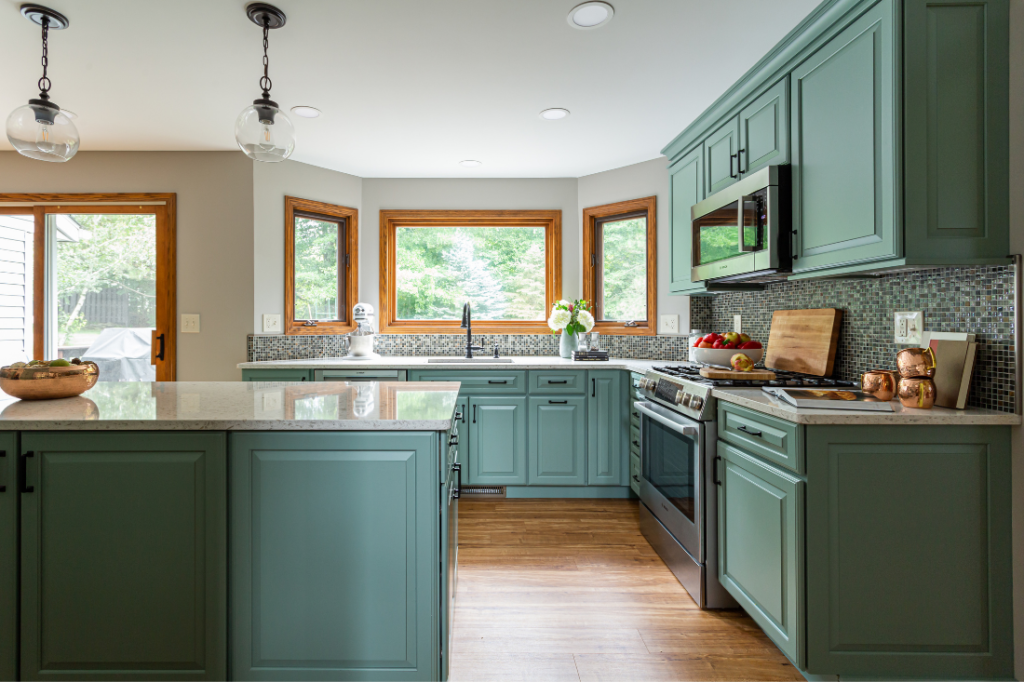 See how changing the cabinetry transformed the whole look?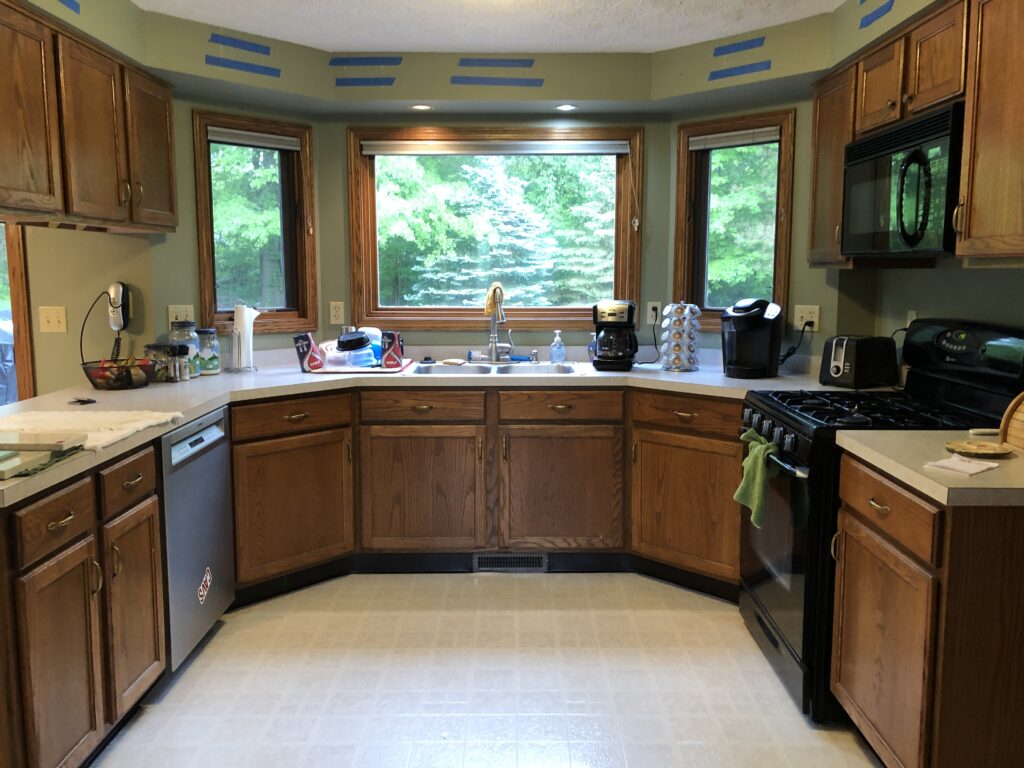 But wait – did you notice that my clients actually ADDED more warm oak? We swapped the dated linoleum for some beautiful luxury vinyl plank.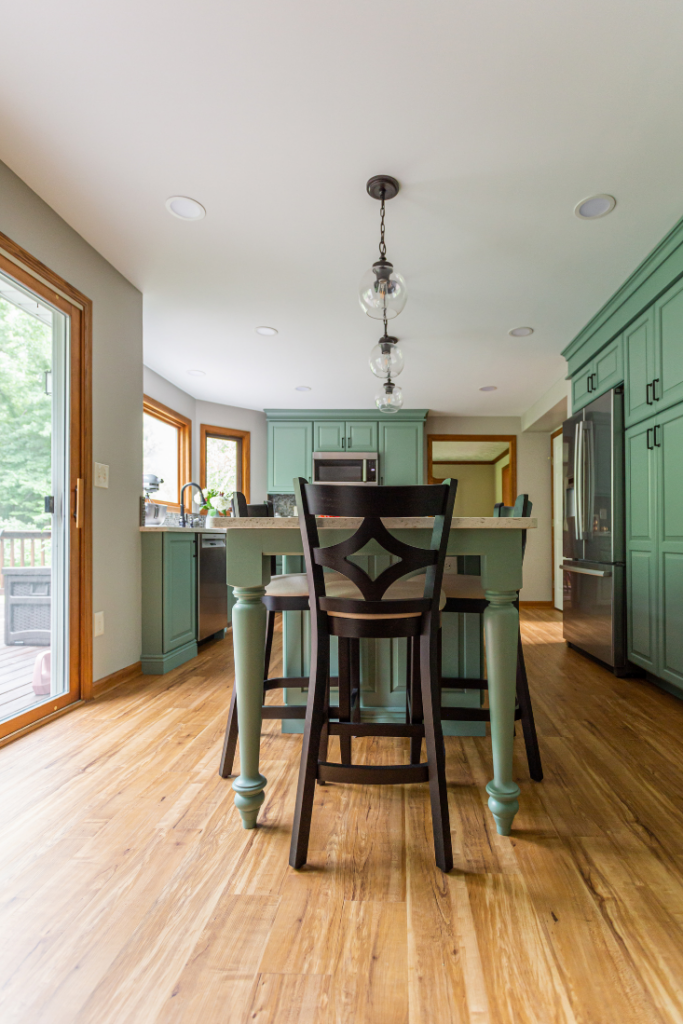 Stained Wood Trim with Colorful Walls
Sometimes the best way to tone down wood stain is with a fun wall color! In this primary bathroom, we kept both the original white cabinetry and the wood trim.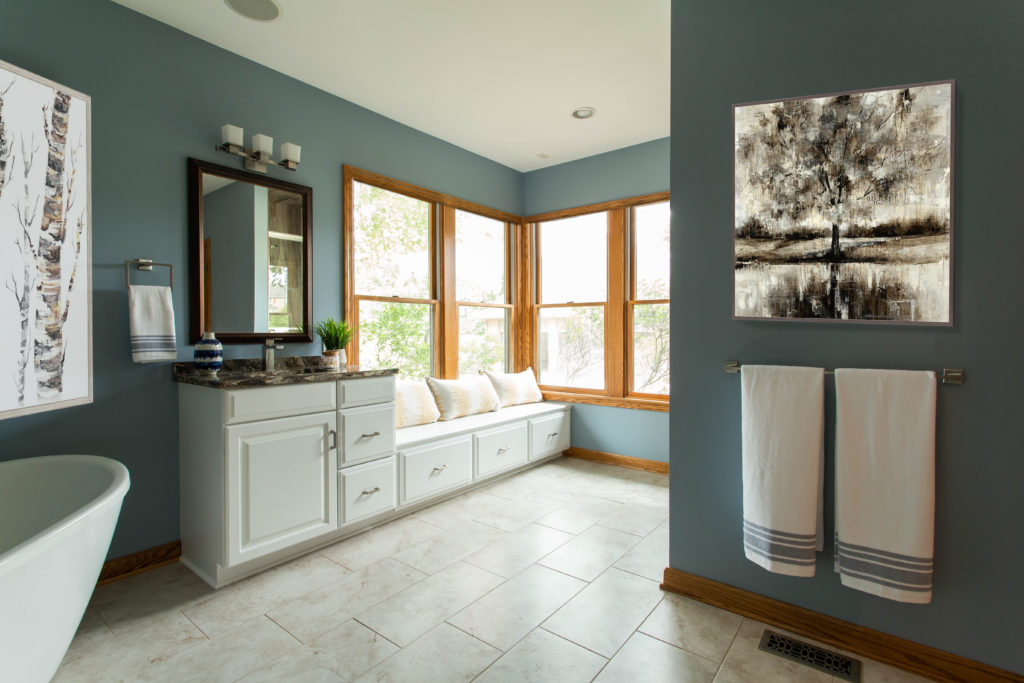 The room went from visual overload to calm and collected. We eliminated the busy wallpaper and extremely blue flooring and opted for a muted blue wall with a neutral, large-scale rectangular tile.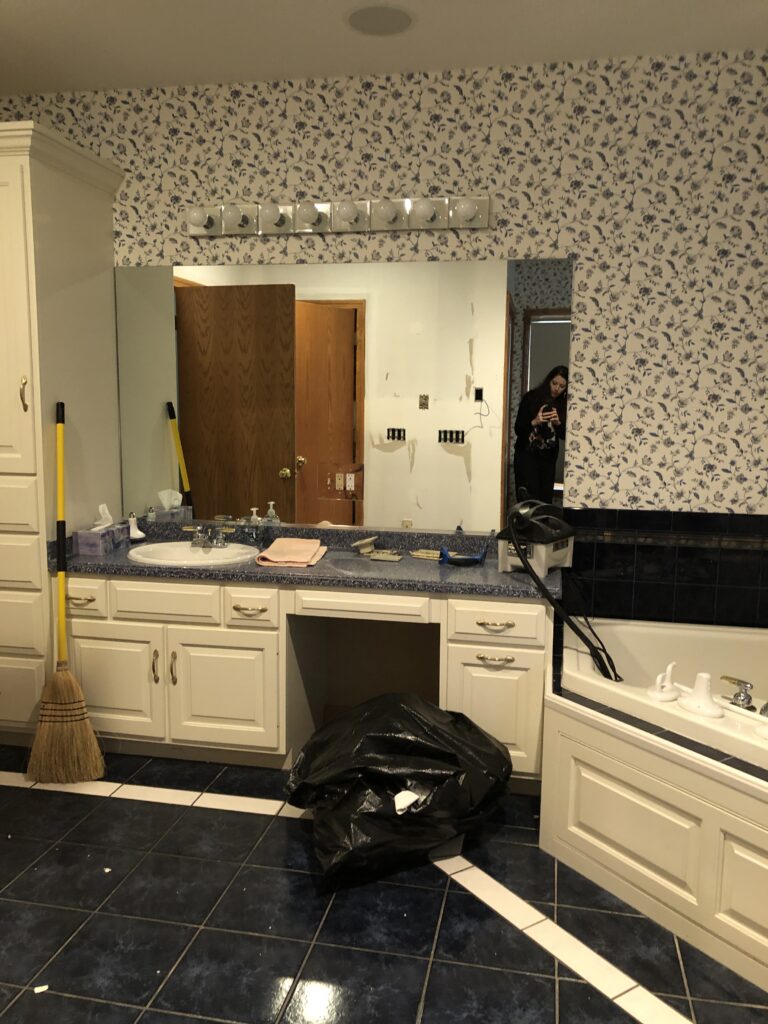 The goal was to create a rustic spa-like environment. Keeping the wood as-is added to the natural charm of the space.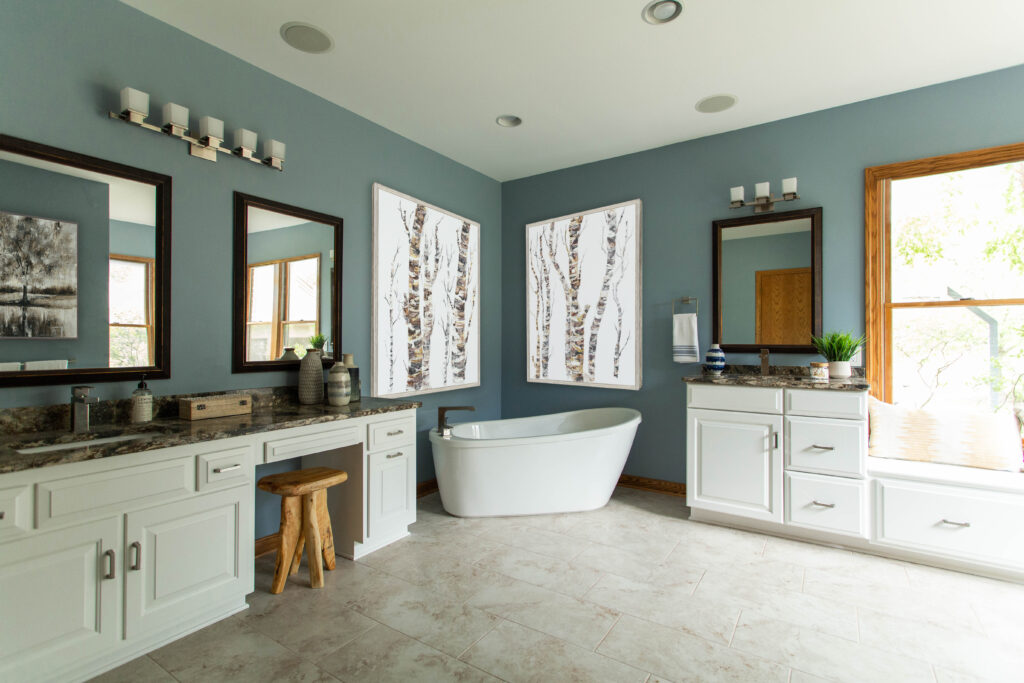 Stained Wood Cabinetry with White Trim
After a decade-long hiatus, stained wood cabinetry is seeing a major comeback!
This kitchen has a slight Nordic vibe. The wood grain really shines with this natural stain color!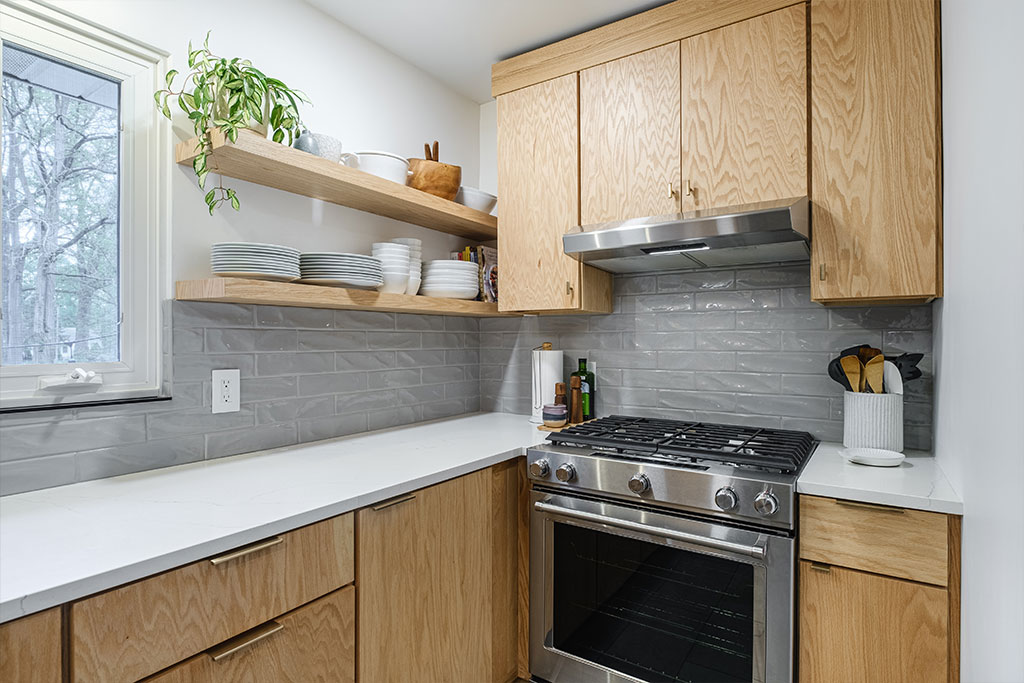 Here's a rendering of another kitchen featuring natural maple that's in progress right now. The wood brings such warmth into the space. Just imagine this kitchen with a couple of colorful runners and some fun accessories!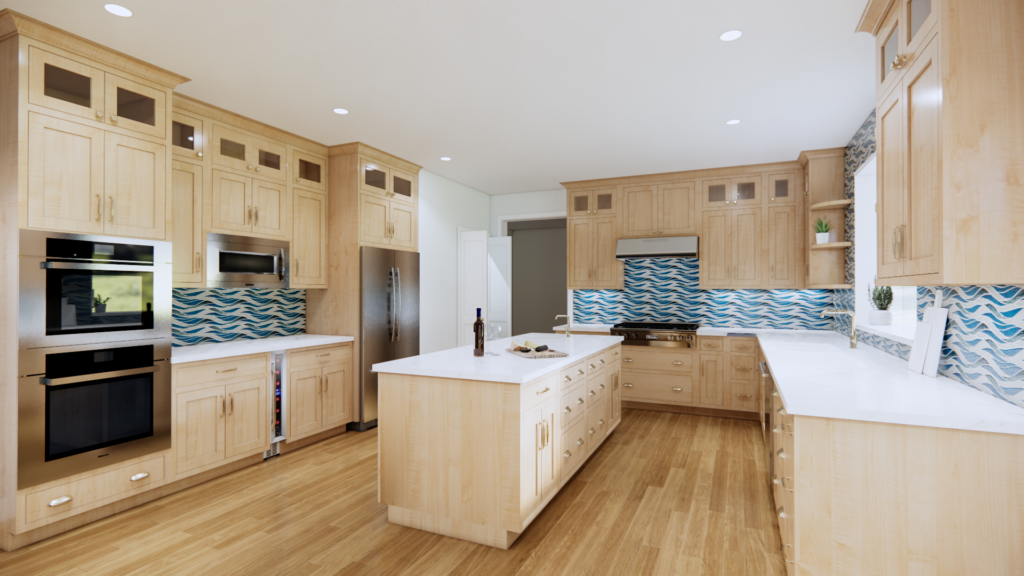 Do you have questions about how to incorporate stained wood into your home design? Set up a Discovery Call with us – we'd love to chat with you!