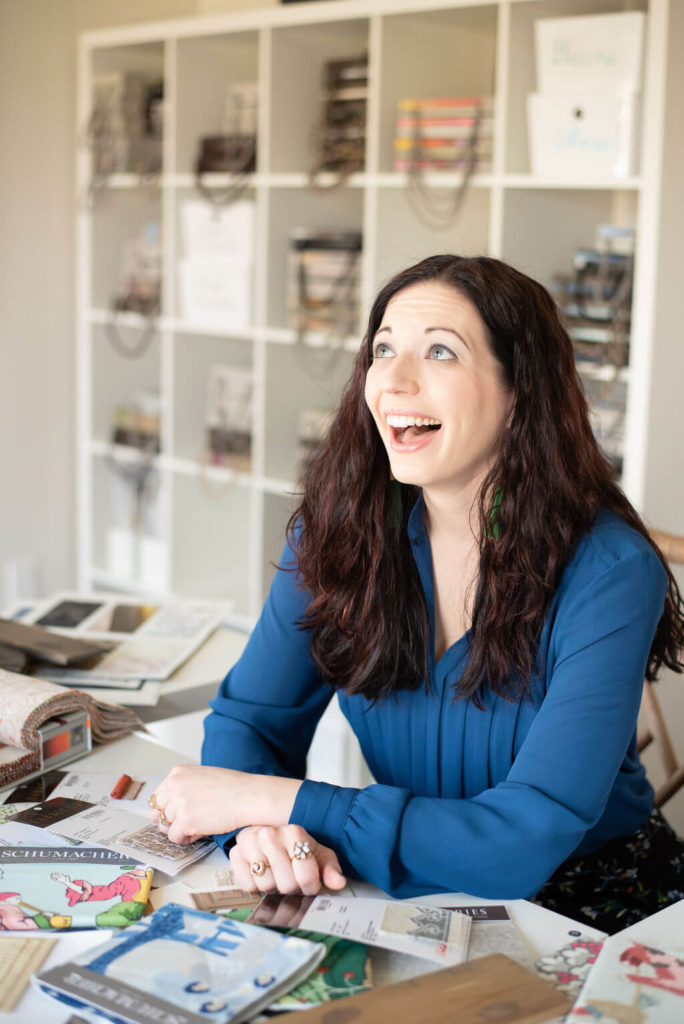 Specifically, let's talk about how I make money. Yep. I'm going there, because I've been reading a LOT of disturbing comments online lately about how interior designers "have the nerve to charge hourly AND take a 'cut' of their product sales." Let's dissect this "double dipping" falsity, so we can all be on the same page. I believe in clear communication regarding how I charge my clients.
I sell products at fair prices, usually well below MSRP (manufacturer's suggested retail price) and at or below what you can find the same product for online. I do not take a "cut" of the sales of my products. Taking a "cut" insinuates that somehow my clients could also purchase products at wholesale prices, which unless you're a legitimate business owner and also have a reseller's certificate and a tax ID, is false.
Yes, selling product is part of my business model and the margins cover many of my overhead expenses, such as insurance, project management software, window treatment software, accounting software, bookkeeping, automotive expenses, website / hosting-related expenses, professional photography, trips to High Point Market, and much more.
Yes, I also charge a service fee for my design work, paid in advance of the work, because the majority of a designer's service has nothing to do with actual products.
At a standalone design consultation, product sales doesn't enter my mind – it's not why I'm there. I'm there to give rapid fire design recommendations and advice. Paint colors. Furniture placement. Furniture sizes. Window treatment options. Where to hang art. What to do with an inherited dresser that doesn't seem to fit anywhere in your house. Products have nothing to do with the first consultation. I'm sharing my expertise.
If a client and I work together past the initial consultation, products may or may not come into play, but prior to selling anything, here are some of the services I offer for which I am charging a design service fee:
1. Measuring the room(s), including the overall room measurements, all door and opening measurements, window measurements, ceiling height, placement of all registers / vents, placement of all electrical switches and outlets, and measurement of any other architectural features, like built-ins and fireplaces
2. Creating a floor plan based on those measurements (and making changes to an existing floor plan, if that's in scope)
3. Determining the minimum and maximum sizes for various furniture in the room, given the room layout
4. Coming up with a design concept, which is perhaps the most artistic part of the process, and the most difficult for me to articulate. I'll often search for inspiration by looking through vendor catalogs and fabric books, and come up with a general concept in my head. I use Pinterest to pin lots of inspirational photos to a board I make for each client. Some of the items I pin end up in the final design, but there are often hundreds that do not.
5. Creating the actual design. This entails:
Making sure each product fits in the room, proportionally and functionally. (And searching for alternatives when, in fact, that one perfect chair you love does NOT fit the space.)
Checking that pieces are in stock.
Selecting wood finishes and fabrics and ordering samples from multiple vendors.
Making sure everything stays near the product budget and offering alternatives for desired items that may end up exceeding the budget.
6. Creating the design presentation. This is a physical presentation that is handed out to each client during the Design Presentation and includes the furniture layouts, 2-D renderings for all furniture and window treatments, descriptions about the quality of each product, and wood finish / fabric / wallpaper / paint samples, as appropriate. It also includes a detailed spreadsheet that breaks down the price for each item, as well as the total investment amount.
That's a lot of non-product-sales-related stuff.
With Designer on Demand, any of the above can be done and everything I'm designing is with retail brands available to clients directly. Designer on Demand clients purchase and manage delivery for everything themselves – so there's zero product sales involved.
With Full-Service clients, yes – they are purchasing products through me. I'm often specifying custom products that don't exist in regular stores. I'm also managing the entire procurement process – from ordering to white glove delivery.
Let's pause and go through some common scenarios that can happen when you're purchasing on your own…
1. You order a sofa and they deliver it on a date that's convenient for them, often with an 8-hour delivery window, during the work week when you have to take a day off to get it.
2. Oh, but you also ordered a chair from somewhere else, and it's backordered, so you have to keep calling the retailer to find out when it's going to be delivered.
3. And then the coffee table you ordered is delivered while you're not home, and left out in the rain, where the box gets soaked and the table gets ruined. The shipping company doesn't care, and when you call customer service, it takes forever to talk to an actual person.
4. The light fixture you ordered is cracked, so you have box it back up and deliver it to UPS, who is inconveniently located 30 minutes away from anywhere you ever drive.
5. The draperies you had custom made are really pretty, but it turns out you're not as handy as you thought and you have no idea how to hang them up, so they sit in the closet for two years.
6. The mirror that you bought is really heavy and it turns out the nails you used to hang it weren't sufficient to support its weight, so it crashes to the floor in the middle of the night.
With Full Service Design, you don't have to worry about any of the above scenarios because I'm managing everything for you, which is why there is a procurement portion of the service fee.
I charge a service fee for managing the product ordering from numerous vendors, tracking the order status for each order, arranging the delivery of each product to my receiver, handling all damage claims and returns, arranging white glove delivery in one day that's convenient for you, supervising that white glove delivery, and cleaning everything while I'm there. (I vacuum and mop the floors, even though the delivery folks are wearing booties. I also clean each piece of furniture and take home any packaging that the white glove delivery company leaves behind.). I also oversee the installation of all artwork, mirrors, and window treatments, and accessorize your home.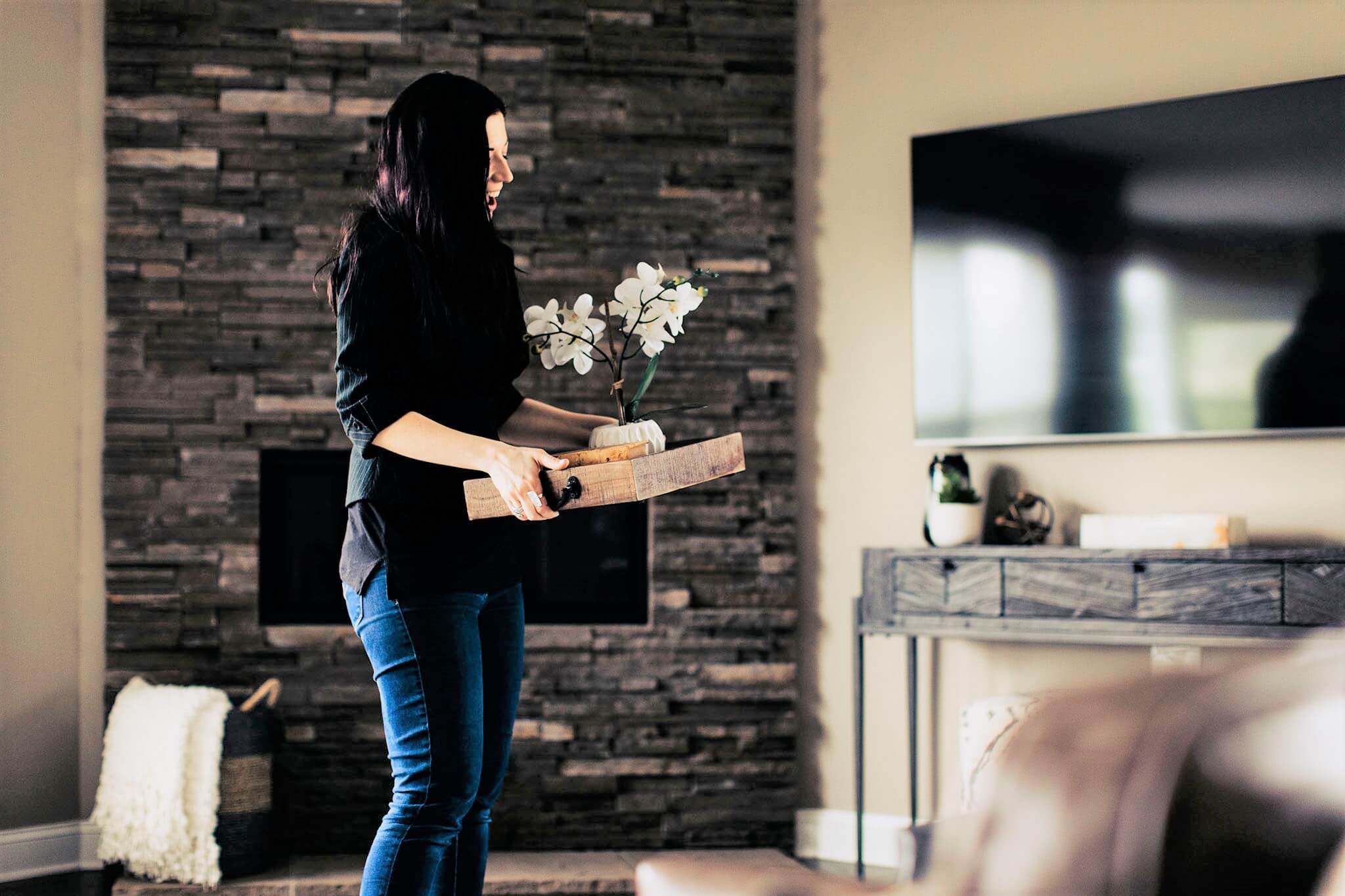 During the procurement process, I am keeping you up to date on the status of your products. I communicate regularly with each client to inform them of any production or shipping delays that will affect the timeline of their project. Informed clients are happy clients!
Essentially, anything that you would have to do if you purchased things on your own, I am doing for you. And then I am arranging items and completing the design in your home. Yes, I do charge for this service, because it is a service above and beyond the normal purchasing of furniture.
Please feel free to ask me any questions if anything is unclear. I hope this post has been informative and eye opening 🙂